Windows 11, like Windows 10, has a lot of processes running in the background. These processes power different parts of the operation system, such as File Explorer, notification center, Settings, apps, and even the desktop. As a result, many processes automatically open at startup.
While the system processes are harmless, third-party processes can sometimes put your desktop into trouble. For example, a nasty process associated with a third-party app could slow down your PC or freeze the system. When an app or task isn't responding, you need to open Task Manger, identify the task name, and kill its process.
With Windows 11 Build 25300, Microsoft is making it easier to quickly kill an entire process or task directly from the taskbar. This new feature, hidden in Windows 11, lets you right-click any app/process icon and quickly kill the process by clicking on the new "End Task" option.

The "End Task" button invokes the same action currently accessible via Task Manager. This is just a new shortcut to Task Manager's famous feature.
For those unaware, Windows 11 currently allows you to kill any process using Task Manager, Command Prompt, PowerShell, and Settings as long as you can identify the name or Process Identifier (PID). Task Manager also comes with a new search bar, making it much easier to identify background processes.
Other improvements or hidden features in Build 25300
Windows 11 Build 25300 comes with a big update for accessibility features. This update improves the Live Captions feature by adding support for several new languages, including Chinese (Simplified and Traditional), French, German, Italian, Japanese, Portuguese (Brazil), Spanish and more.
Microsoft is also trying out different designs for snap layouts, including new ways to improve the discoverability and usage of snap layouts. For example, the updated snap layouts experience now includes the app window's icon and adds a descriptive title to the layouts.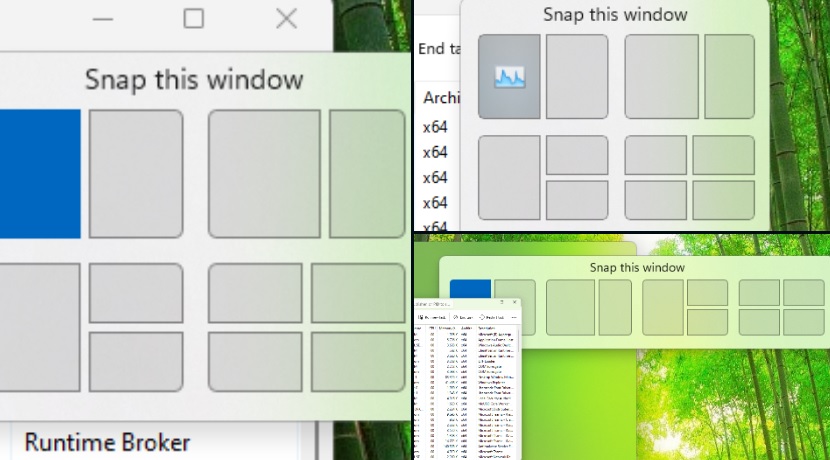 As our friend PhantomOcean noted on Twitter, Microsoft is also experimenting with reduced hover time for invoking the flyout. It also appears that snap layout suggestions will pop up when you hover for too long. There are references to SnapFlyoutSuggestions, but it doesn't appear to be working right now.
It is worth noting Microsoft is testing these improvements in Windows 11 preview builds, and most of them are hidden and can only be enabled if you play with the code. You can expect the new "End Task" feature for the taskbar to ship via a monthly cumulative update in the coming weeks.