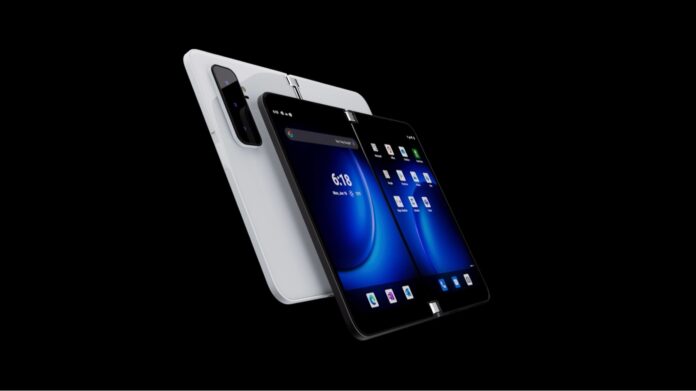 Microsoft is no stranger to innovation, having delivered excellent products under its Surface branding, such as Surface Duo and Surface Book. Microsoft is now working on the next generation dual-screen phone called 'Surface Duo 3' and its next experiment could be more durable, according to recently published patent detail.
A new patent titled "FOLDABLE DISPLAY DEVICE" shows a dual-screen foldable device that uses a single folding display. Microsoft calls it a "single-piece rear cover" that apparently uses a stretchable material in an expandable area and it's located adjacent to the hinge, which means it's similar to the Galaxy Fold.
The primary advantage is that this new design shouldn't take up too much space within the body of the foldable phone, meaning that Microsoft's next-generation foldable Android phones could be slimmer than a dual-screen device, and this "rear cover" design is more durable than Galaxy Fold and similar foldable phones, so it's less likely to break.
In the patent application, Microsoft talks about a foldable device that folds through 360 degrees at a folding portion. It uses a rear cover and a cover glass layer covering the entire display and a light-emitting layer is added between the rear cover and the cover glass layer to ensure a natural experience.
There's also a backplate between the rear cover and the light-emitting layer.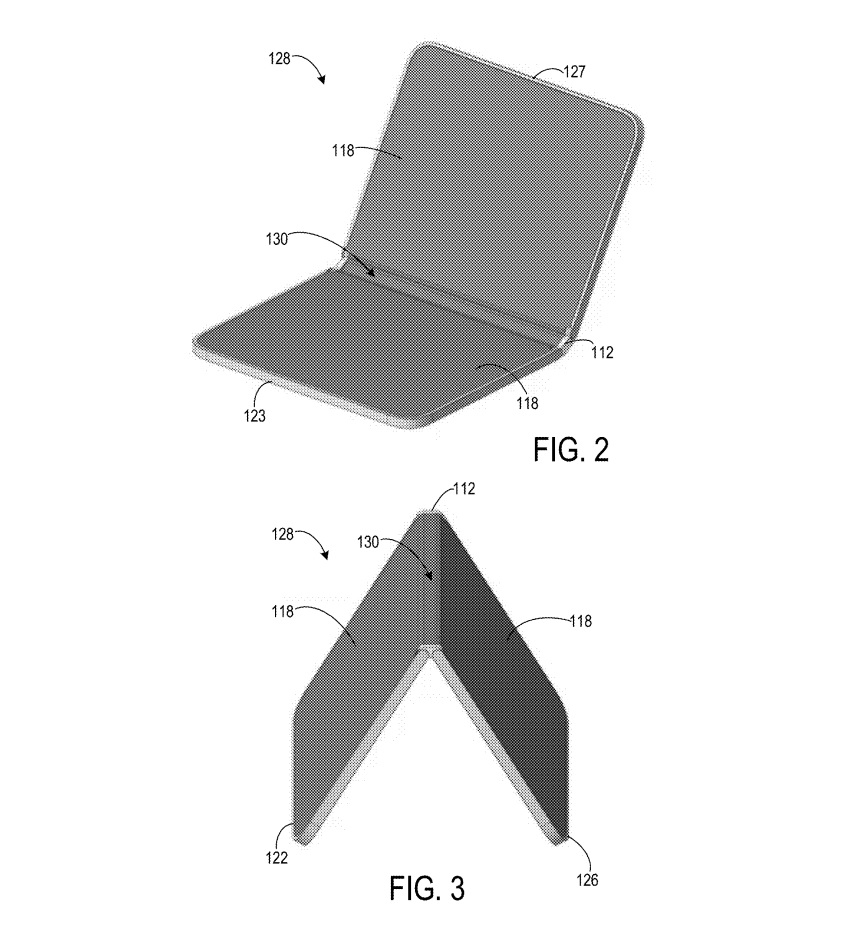 While this sounds exciting, we know that devices using a single screen or ultra-thin glass layer with a plastic film have visible mechanical creases. One perfect example is the Samsung Fold, which has wrinkles and other visual artefacts at the folding portion of the display, and it's also vulnerable to cracking and other physical damage.
This patented Surface Duo 3 uses a foldable glass with a backplate which uses "backplate slots" that enables folding while avoiding mechanical creases.
"The present examples also provide a consistent transparency and light transmission across the display including the folding portion, along with mechanically robust components. In this manner, display devices of the present disclosure can freely rotate through various angles and orientations while also exhibiting substantially uniform and smooth surfaces in various folded and flat orientations to provide a pleasing and high quality appearance and feel to a user," Microsoft noted in the patent application.
The patented Surface Duo 3 could be a durable device with most of the advantages of a foldable phone. At the same time, it will also have fewer problems. Of course, it's just a patent and there's no guarantee it will ever join the Microsoft Surface lineup, but let's not forget the original Surface Duo initially existed on paper only.
Given the recent organization reshuffle and Microsoft's increased focus on the Android platform, there's certainly a chance this device could happen.
We're not convinced that Surface Duo 3 with the existing design or this ambitious idea would land anytime. That's because Microsoft is currently focusing on the software of Surface Duo-like devices and the next-gen dual-screen or foldable phone has been delayed.