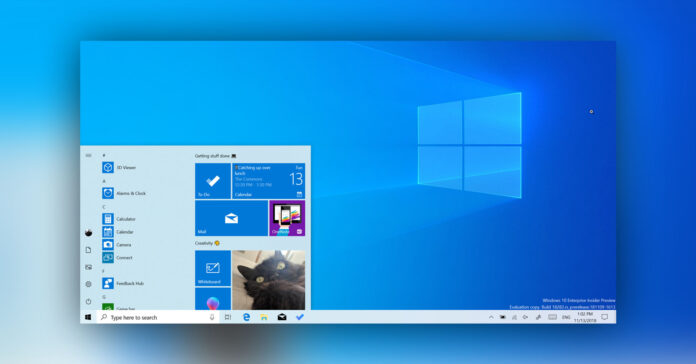 Windows 10 KB5012599 is now heading to users with tons of improvements, bug fixes and one new feature – Search highlights. In addition to Windows Update, direct download links for Windows 10 KB5012599 offline installers are also available for those who prefer to install updates manually.
KB5012599 is an April 2022 Patch Tuesday update and it includes general fixes as well as security enhancements. Like any cumulative update, it also includes improvements from all previous patches. This means you will get Windows Search highlights and other features or improvements which were tested in the last optional update.
However, remember that Microsoft's focus is on Windows 11, so there are no major changes with April 2022 update. The changelog is all about bug fixes or improvements and the only noticeable change is support for highlights in Windows Search. For those unaware, Search highlights is a new way to discover content on Bing.
This cumulative update can be installed on any supported version of the operating system, but remember that the build number would be different for all versions. If you're on version 21H2, you'll be getting Build 19044.1645. Those who have version 20H2 will see the same update as Build 19042.1645.
If you're on Windows 11, there's a different update (KB5012592) for your device and most of the changes are identical. If you check for updates, you'll see either of the update alerts depending on the version of Windows 10:
2022-04 Cumulative Update for Windows 10 Version 21H2 for x64-based Systems (KB5012599)
Or
2022-04 Cumulative Update for Windows 10 Version 21H1 for x64-based Systems (KB5012599)
Download Links for Windows 10 KB5012599
Windows 10 KB5012599 Direct Download Links: 64-bit and 32-bit (x86).
Microsoft has made changes to its Update Catalog site to offer offline installers via a secure connection (HTTPs). As a result, you can now simply click on the .msu link after hitting the 'Download' button to download the package. The update eliminates a step where you need to manually copy and paste the link to start the download.
Windows 10 KB5012599 (Build 19044.1645) Full Changelog
Key highlights:
Colourful notification toasts.
New search interface.
Performance improvements.
With Windows 10 Build 19044.1645, Microsoft is updating the search interface with a new feature called 'highlights'. This feature was first announced alongside Windows 11 preview builds and Microsoft had confirmed that it would be coming to Windows 10 as well. With today's update, it's now available for everyone.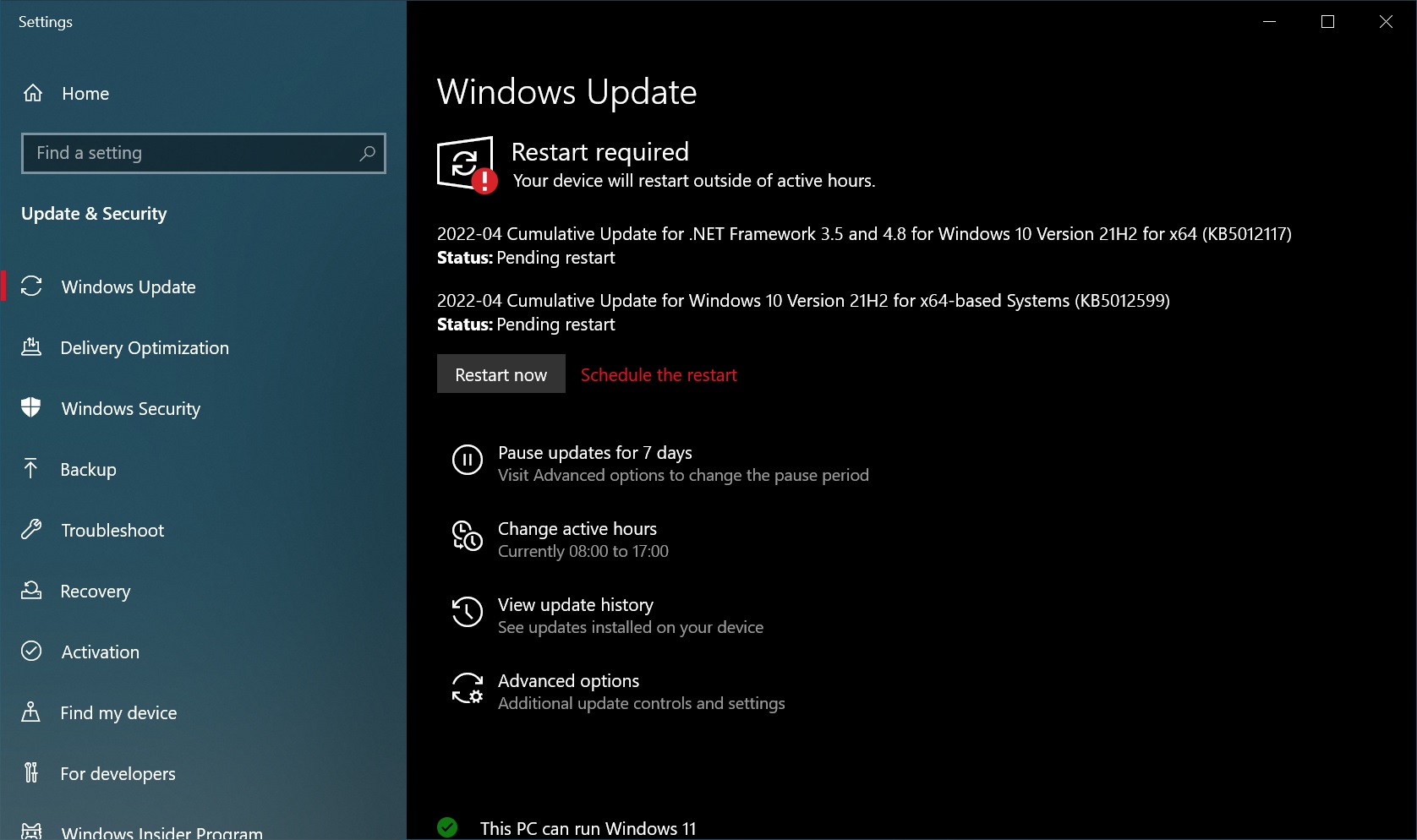 The search highlight feature lets you learn facts and trivia depending on what day it is. For example, April 22nd is Earth Day, so you'll see facts or trivia on Earth Day and suggestions for outdoor activities. Likewise, you can also learn about the origin of Earth Day and other historic events that happened on April 22nd.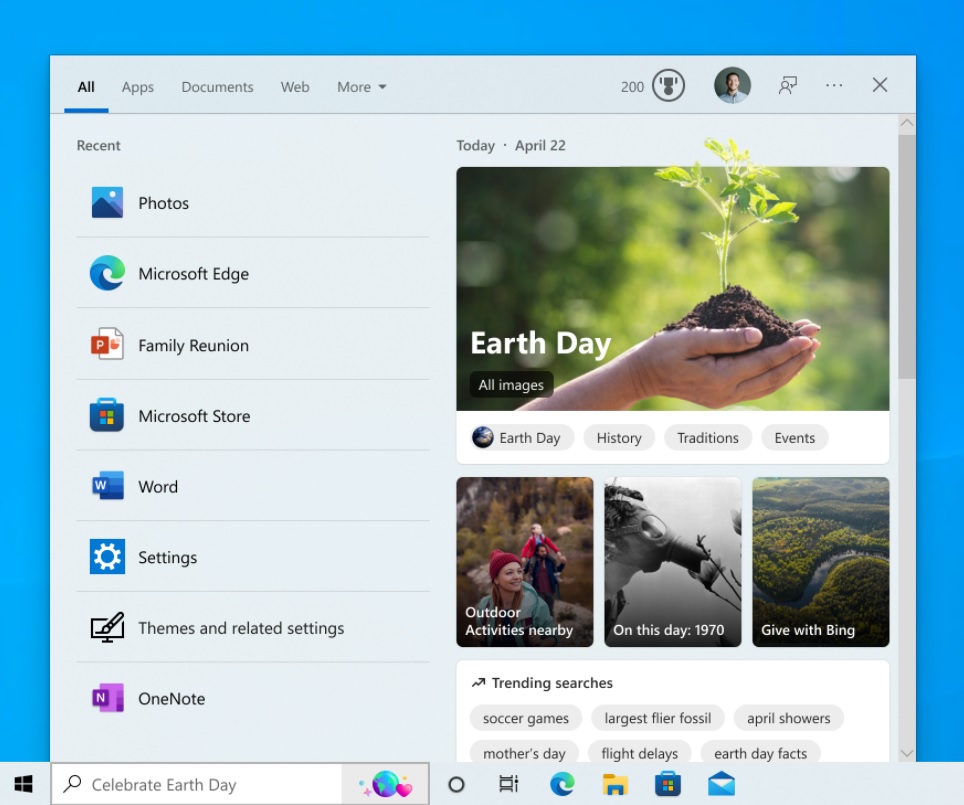 Search highlights will highlight other Bing search features, including "word of the day" and even new Microsoft Rewards offers.
Aside from Search highlights, Windows 10 build 19044.1645 adds another feature that would let you pick different colours for notification toast buttons, so you can create a more personalized and familiar experience.
Likewise, Microsoft is adding a new policy that would expand an app's top three alerts by default in the notification center for apps that rely on Windows notifications. This feature is also available in Windows and it can help users interact with multiple notifications at the same time.
Windows 10 Build 19044.1645 improvements and fixes:
Microsoft fixed an issue where searchindexer.exe stopped responding during a dismount operation.
Fixes an issue where Windows might deactivate if change the National Language Support (NLS) from version 6.3 to 6.2.
Fixed an issue that "Access denied" in the PowerShell test for AppLocker.
Enables Microsoft Account (MSA) in Azure Active Directory (AAD).
Fixes an issue that logs Event ID 37 during certain password changes.
Fixes an issue where Android devices cannot sign in to some apps if they're also used on Windows.
Fixed an issue affecting the Back button of the credentials window.
Fixed issues with Bluetooth A2DP profile where some devices may crash with Blue Screen of Death if they're paired to Bluetooth devices.
Known issues in the update
Microsoft is currently not aware of any critical known issues in the patch, but users should watch out for the following bugs:
Microsoft is aware of an issue where connecting to devices in an untrusted domain using Remote Desktop could fail.
Some devices cannot install new updates due to the error message "PSFX_E_MATCHING_BINARY_MISSING".
Windows 10 Build 19044.1645 is the second last Patch Tuesday for older versions
In a new warning, Microsoft reminded users that versions 1909 and 20H2 of Windows 11 will be getting the axe in a month. This means users must upgrade to a newer and supported version. Users can also use Windows 10 ISO images if they encounter issues when updating via Windows Update.
Microsoft officials stated that the Windows 10 1909/20H2 end of life is set to happen on May 10 and those who continue to use the unsupported versions of Windows 10 will be exposed to potential attacks. That's because vulnerabilities are actively discovered in the OS and a lack of security updates will make the devices more vulnerable,
"On May 10, 2022, the Home and Pro editions of Windows 10, version 20H2, and all editions of Windows 10, version 1909 will reach the end of service, Microsoft officials said.
It is worth noting that the end of servicing is scheduled for May 2022, so these versions of Windows 10 will receive another cumulative and optional update before getting the axe.
As part of its effort to push users toward newer versions, Microsoft says it will be auto-updating devices to version 21H2.
Remember that Microsoft is fully committed to Windows 10 until at least October 2025 and regular updates will be released for devices running newer versions of the OS, such as version 21H2 or version 21H1. After October 2025, the operating system would be dropped and users will be forced to install Windows 11.