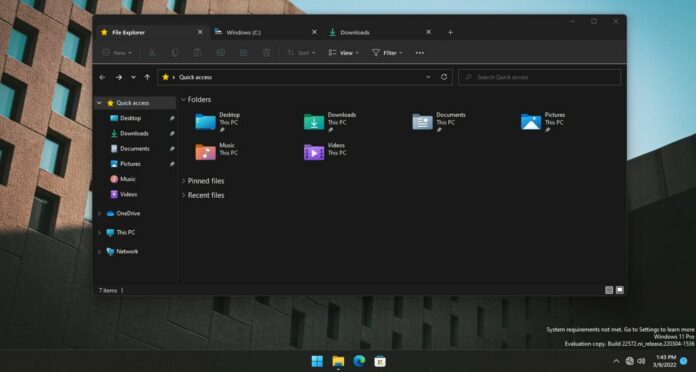 Tabs in web browsers make the browsing experience fantastic and they let you manage multiple web sessions with ease. Windows 11 apps like Explorer do not support tabs officially, but that's set to change with a future update.
So, what would this look like in practice? Let's say you have a directory open in a File Explorer window and you want to easily copy a file from another directory or folder. All you'd need to do is open the second folder in another tab and easily move items between the directories or compare the information.
As you can see in the below screenshots, you can simply click the new button with a "plus" icon to open tabs in File Explorer, just like how you would open a new tab in Microsoft Edge or Google Chrome. You can then launch even more windows of Explorer as a tab within the primary window.
An early version of the tabbed File Explorer first appeared in Build 22572, which is a dev build of Windows 11 version 22H2, but it was removed with newer Build 22579. It then made a reappearance in a minor update (Build 22579.100) for Windows 11, but now the feature has been removed from this week's latest update (Build 22581).
Build 22581 is available for beta channel users and all the features included in this build are in fact tied to Sun Valley 2. Unlike the Dev Channel which will soon include builds from version 23H2, the Beta Channel will have builds from the NI (Nickel) development branch, which is the branch for the Sun Valley 2 development, or 22H2.
As mentioned, Sun Valley 2 Build 22581 removes the File Explorer tabs which were added in earlier dev builds. This led many people to believe that the feature will not be officially included in the next major update for Windows 11 and it will not ship in 2022 at all.
However, there's a chance that File Explorer tabs would still appear in the production or stable builds this year, possibly with the Sun Valley 2 update itself or via a cumulative update for Sun Valley 2.
That's because different Windows 11 branches use different feature configurations (velocity IDs to turn on the experimental features). Build 22579 or Build 22581 from ni_release does not include the tabs, whereas the newer cumulative updates or service pipeline updates (22579.100, 22581.100 etc) from ni_release_svc enables the tabs.
Based on reports and references so far, it's still unclear if the feature will be included in Windows 11 22H2 RTM build.