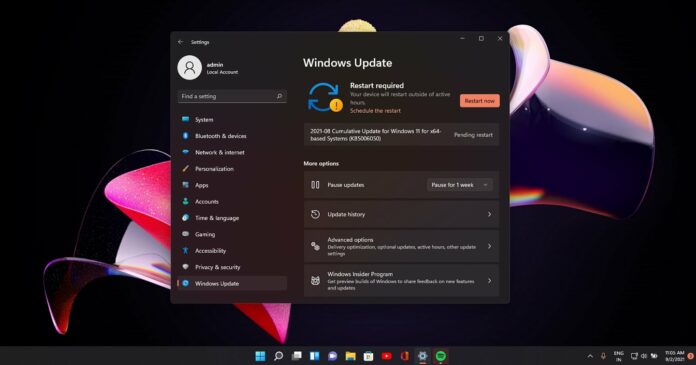 Windows 11 Build 22000.176 (KB5006050) has been released to testers in the Beta Channel of the Windows Insider program. This cumulative update is also available for unsupported hardware in the Dev Channel, and it comes with various bug fixes and improvements. No new features are included in the update.
The patch is titled "2021-08 Cumulative Update for Windows 11 for x64-based Systems (KB5006050)" and it is essentially the same release as previous updates with a strong focus on bug fixes and improvements. For example, Microsoft has patched an issue that resulted in Bluetooth LE connectivity issues.
Windows 11 KB5006050 has also fixed an issue that was causing Bluetooth reliability issues and Blue Screen of Death errors. We're also getting a fix for unexpected errors when trying to take pictures with certain USB cameras. In addition to these bug fixes, Microsoft has also included improvements for the taskbar in this patch.
New improvements in Windows 11 Build 22000.176 (KB5006050)
Windows 11 Build 22000.176 comes with the following improvements:
You can manage Microsoft Teams chat in Arabic and Hebrew languages.
Microsoft has fixed issues with the outgoing calls via Teams.
Microsoft has fixed a bug that broke the install button in the Microsoft Store.
Microsoft has also fixed an issue where the ratings and reviews section was not available
How to install Windows 11 KB5006050
To install Windows 11 KB5006050 (Build 22000.176), follow these steps:
Open Windows Settings.
Head to the Windows Update page.
Click on "Check for updates".

The download will complete in a few minutes.
Once complete, click on the "Restart now" button to finish the installation.
As we mentioned at the outset, today's cumulative update is available to anyone with a device in the Windows Insider program. If you're unable to join the beta testing program or the preview build is not visible, you can either keep using Windows 10 or create new registry entries to bypass the restrictions.
Cumulative update for unsupported hardware
Windows 11's new hardware requirements have caused a lot of confusion and frustration, and Microsoft has also decided to leave the testers behind. In theory, Microsoft is also blocking Windows 11 on high-end hardware which should be able to run the new operating system fine.
Microsoft has started removing unsupported devices from the Dev Channel of the Insider program, but this change will not affect the cumulative updates. In a Twitter thread, Microsoft officials clarified that unsupported PCs are eligible for cumulative updates like today's build 22000.176.
However, there's a chance the company would stop this practice in the near future and users will be asked to downgrade to Windows 10 or buy a new device.
Known issues in Build 22000.176
Windows 11 Build 22000.176 comes with these known issues:
Microsoft is investigating reports of an issue that crashes Surface Pro X devices with Blue Screen error.
Windows Start Menu is still plagued with an issue that could prevent testers from entering text. If you're unable to access the search, open Windows Run and then close it. This will restore the broken Windows Search functionality.
Windows System and Windows Terminal shortcuts may be missing when you right-click on the Start button.
Taskbar could start flicking when you switch between input methods.
The Search may not open on some PCs with a black screen. To fix this, you can restart the "Windows Explorer" process.
Windows widgets may not work or appear in the wrong size.
Microsoft is aware of quality issues with Store results and is working on improvements for search engines in the Store.
Translations could be missing for a small subset of languages running the preview builds.
As always, you can downgrade to Windows 10 or uninstall Build 22000.176 if you encounter undocumented bugs. To remove the cumulative update, open Control Panel or Windows Update settings, and view updates history.
Select the patch that you want to remove and click on uninstall.
Start Menu and Taskbar issues in Build 22000.176
Testers in the Windows Insider program are reporting issues with Explorer.exe (unresponsive Start Menu, Taskbar, and other areas of the OS). To fix this issue, use these steps:
Open Task Manager using CTRL-ALT-DEL shortcut.
Expand Task Manager by tapping on More details.
Go to File.
Choose "Run new task"
Type "cmd" in the "Open" field to open Command Prompt.
Paste the following line of registry code:
reg delete HKCU\SOFTWARE\Microsoft\Windows\CurrentVersion\IrisService /f && shutdown -r -t 0
Hit enter and your PC will reboot.
Windows 11 is in the final stage of testing
Windows 11 version 21H2 is set to release on October 5 and it won't include support for Android apps. For those unaware, Build 22000 is the RTM (release to manufacturing) build and it will ship on new and existing hardware. New cumulative updates will be released in the coming months with quality fixes.
Windows 10's flagship feature, which allows Android apps from the Amazon App Store, will become available for testers in the Dev Channel soon, but those with unsupported hardware won't have access to the Android virtualization technology.