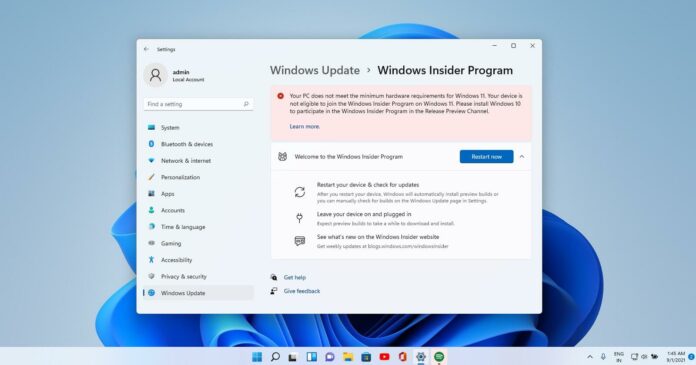 When Microsoft released the Windows 11 builds in the last week of June, it was available to all devices part of the Dev Channel at that time. Unsupported devices were also offered Windows 11 through the Dev channel of the Insider Preview, but this workaround could soon stop working.
If you have an unsupported device and you're on Dev Channel, you won't receive any updates beyond Windows 11 version 21H2. Of course, there is a reason for this. The Dev Channel is designed to offer early access to unannounced Windows releases and features, and it will soon start receiving builds from the development branch (Nickel).
Windows 11 is set to launch on October 5 and Microsoft is now preparing the Dev Channel for the next version of the operating system which is expected to release in the fall of 2022.
The Windows Insider program has different requirements from Windows 11 itself. If you have unsupported hardware and it's part of the Windows Insider program, you can currently download and test Windows 11 preview builds without running into compatibility issues.
However, there's a catch – if your device doesn't support Windows 11 and it is in the Dev ring, you'll only get preview updates until the official release. Microsoft has been very clear that unsupported devices would not have access to Windows 11 builds beyond Build 22000 since the very beginning.
"PCs will be allowed to preview Windows 11 updates only via flighting until General Availability. PCs will then need to take action to go back to Windows 10 and will not be eligible for future Windows 11 Preview builds," the company said in a blog post published on June 24.
As you can see in the screenshot below, Microsoft is now booting unsupported Windows 11 PCs out of the Windows Insider Program.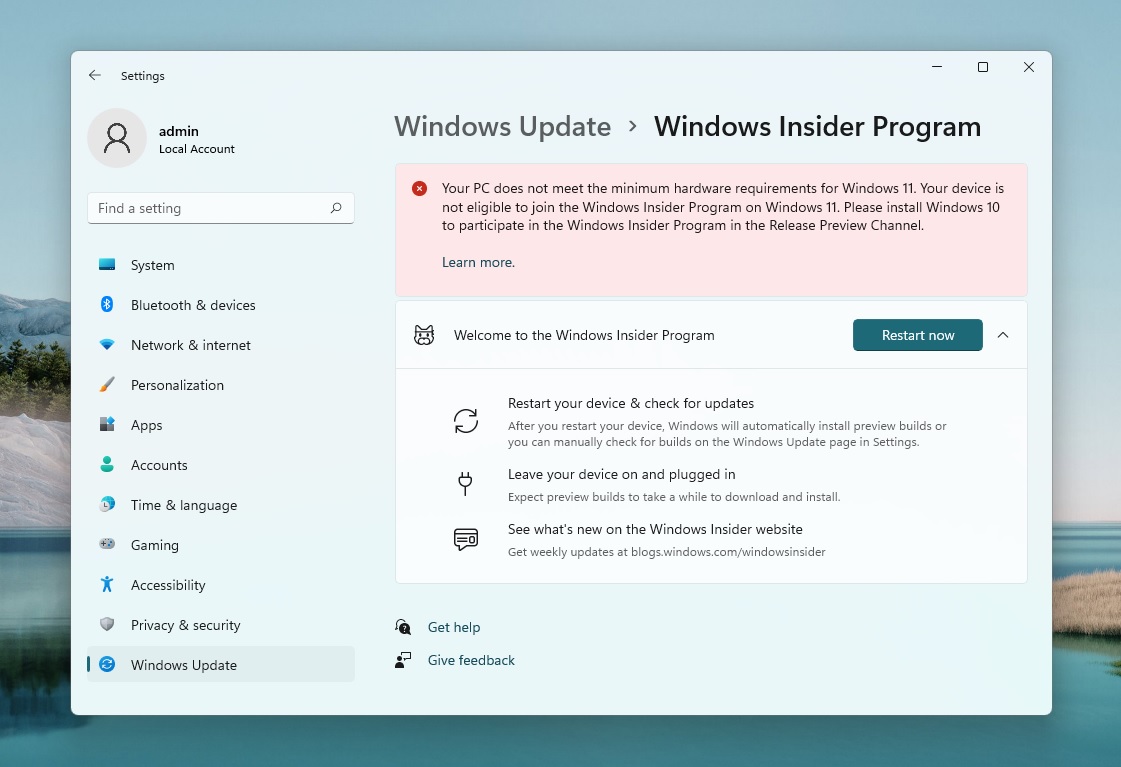 If your CPU isn't supported officially, you'll soon need to roll back to Windows 10 to keep getting regular updates. Microsoft is enforcing this policy to prevent potential compatibility issues and it's similar to the strategy that the company followed for Windows Phones not eligible for Windows 10 Mobile.
"Your PC does not meet the minimum hardware requirements for Windows 11. Your device is not eligible to join the Windows Insider Program on Windows 11. Please install Windows 10 to participate in the Windows Insider in the Release Preview Channel," the error message reads.
It's not yet clear if these unsupported devices in the Windows Insider program are allowed to download the monthly cumulative updates.
Windows 11 requirements will block preview builds on unsupported PCs
Windows 11 requirements have been confusing from the beginning and Microsoft has struggled to explain the strict hardware requirements. Taking to the official blog post, Microsoft officials blamed issues with older processors and drivers for restricting Windows 11 to newer machines.
Microsoft's investigation revealed that older CPUs (including 7th gen CPUs) come with an increased likelihood of Blue Screen of Death errors on Windows 11. Another reason is old driver support that would be particularly responsible for performance issues on Windows 11.
Microsoft has made it pretty obvious that it won't relax the requirements and you may be disappointed if you were hoping to see the tech giant change its stance on the controversial hardware requirements.
Windows 11 currently requires Intel's 8th generation or Ryzen 2000 processors with TPM 2.0 and Secure Boot support.
Microsoft won't be making any major changes to the official system requirements and Windows 11 will launch in early October for supported hardware only.