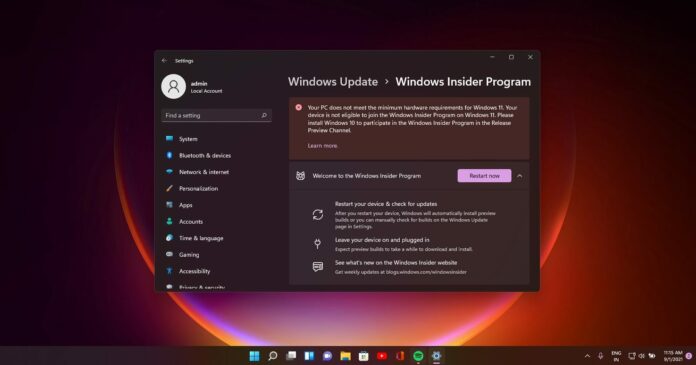 Microsoft has announced October 5 release date for Windows 11, and it has also started warning testers about the upcoming changes to the Windows Insider program.
As you're probably aware, Windows 11 comes with minimum system requirements that are needed to run the new operating system. Windows 11 can be installed on 8th-gen Core processors (Coffee Lake), Ryzen 2000 and newer. Unfortunately, the operating system is not officially supported on devices running Intel's Kaby Lake, AMD Zen 1 chips or older.
You cannot upgrade to Windows 11 via Windows Update if you fail to meet the above requirements. If you've joined the Windows Insider program's Dev Channel and already started testing Windows 11 on unsupported PCs, you should see a warning message in Windows Update explaining the current situation.
The message states that you'll no longer receive builds on PC and you need to reinstall Windows 10. That's because the company has updated the requirements for Windows 11 preview builds, so devices not coming with supported processors or modules are no longer allowed to get new builds.
For those who still want to participant in the Windows Insider program, they can join the Release Preview Channel and begin testing Windows 10 version 21H2 (October 2021 Update).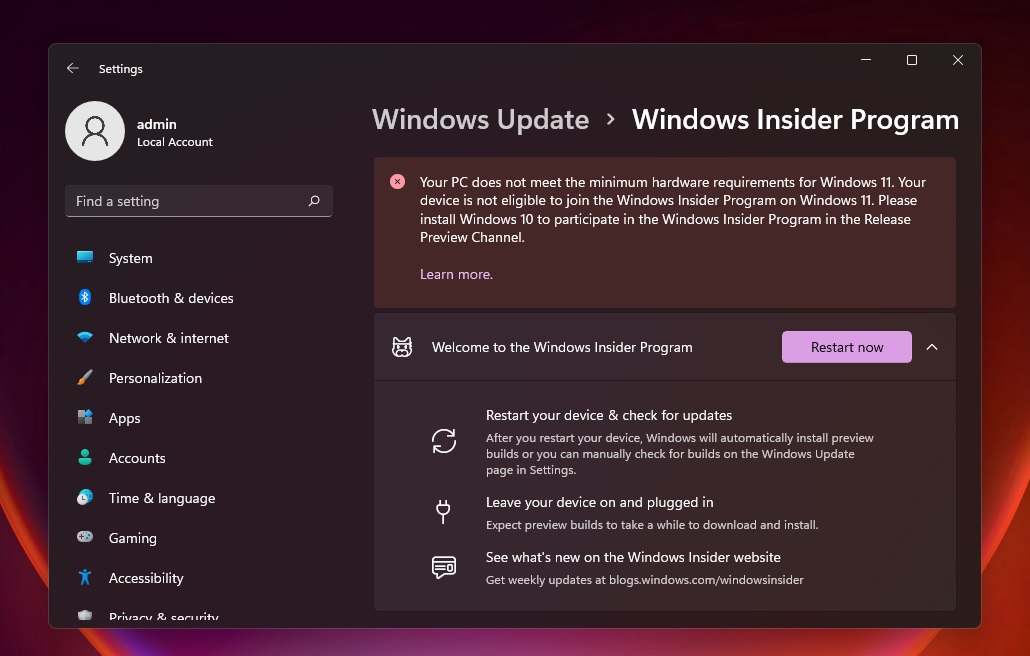 The message suggests that this is the end road for Windows 11 testers with unsupported hardware and they should go back to Windows 10. However, Microsoft has now clarified that users will continue to get "cumulative updates" up to the general availability and the notification is about upcoming development builds from the Nickel branch.
"The PCs given an exception will no longer receive any new future Insider Preview builds from the Dev Channel but will still get Cumulative Updates for Windows 11 leading up to GA. As I said, there is a distinction between *new builds* here," Microsoft's Brandon LeBlanc noted on Twitter.
Although Microsoft is currently not planning to block the cumulative updates for unsupported Windows 11 devices, this could change soon and users may be barred from getting necessary monthly updates via Windows Update.
That's because those devices are in an "unsupported" state i.e not eligible for support from the tech giant.
In theory, it would be possible to bypass these restrictions by making changes to Windows Registry. If you're not comfortable with these "loopholes", you'll need to roll back to Windows 10 to get regular cumulative and minor feature updates.
Windows 10 is supported until at least 2025, according to Microsoft.
Windows 11 rollout plans
Earlier this week, Microsoft officially announced the launch date of Windows 11, confirming that the select devices in the production channel (non-Insider) will begin receiving the new operating system starting October 5.
Windows 11 is already in the final stage of testing and participants in the Insider program are expected to receive the final build soon. Microsoft will continue to release cumulative updates to fix bugs and improve the general performance of the operating system.
The rollout will continue into 2022 and it is expected to complete by the summer of 2022.