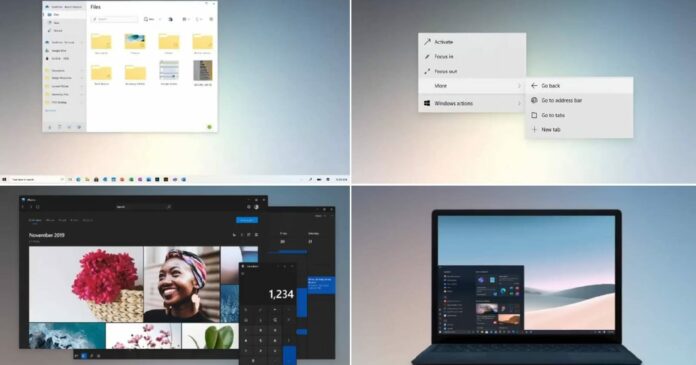 Rumour has it that Microsoft has cancelled Windows 10X to focus on the Sun Valley update for the desktop operating system. During or after the Build 2021 developer conference, Microsoft will reportedly announce 'the new Windows', which is likely to be the Sun Valley update with a brand-new Start Menu and other cosmetic changes.
The 'new' Windows, Sun Valley update – whatever it may be – could be announced in the coming weeks. During the Ignite conference, Microsoft's Chief Product Officer Panos Panay made a couple of comments about the future of Windows, where he said that the "future of Windows is incredible".
Now, in a new LinkedIn post, Microsoft's Corporate Vice President Yusuf Mehdi also confirmed that the company will share exciting Windows and Surface updates in the coming months.
"It was awesome to be back on campus this week for the first time in over a year to record a virtual keynote. This one was for Microsoft employees only, but excited for all the Windows and Surface updates we have to share with you in the coming months…stay tuned," Yusuf Mehdi wrote in a LinkedIn post on April 28.
Of course, it's a vague tease and it's unclear what changes are in the store for Windows 10 and Microsoft's Surface lineup. However, it suggests that Microsoft will begin teasing Sun Valley Update in the near future in some manner. Since Windows 10X has been cancelled, the Sun Valley update is the more likely project being referred to here.
This new teaser also lines up with the previous reports, which suggested that the Sun Valley update will be finalized in June for October/November launch.
As mentioned at the outset, Panos Panay, another senior Microsoft executive, also confirmed that the "next generation of Windows" is in the works and it's going to be "incredible".
"I haven't talked about the next generation of Windows and what's coming next, but I can tell you I am so pumped," Panos Panay said at the Ignite 2021 conference.
The future of Surface lineup
In addition to Windows, Microsoft is also believed to be working on new Surface products.
Our sources have indicated that Surface Duo 2 and Surface Pro 8 are still on track for the fall 2021 launch.
The first-generation Surface Duo was launched in 2020 and it got a mixed response from both consumers and reviewers. Poor camera and a botched software experience were a few shortcomings of the device.
The second iteration of the Surface Duo is expected to address these shortcomings and offer better camera, software, and it's also said to be 5G ready.