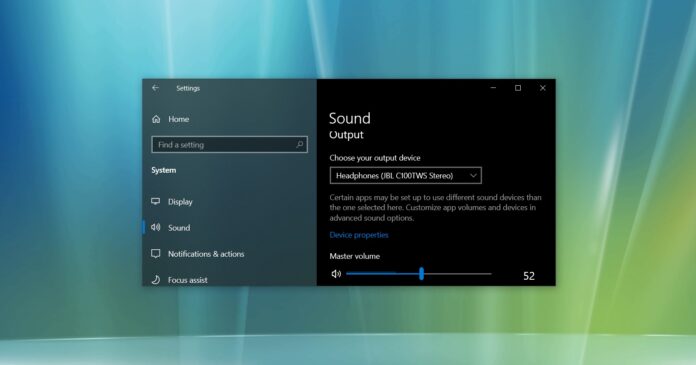 After the latest Windows 10 updates, a number of issues have arisen, specifically for version 20H2, or the October 2020 Update. Microsoft recently confirmed that it's aware of issues with game performance and it has already deployed a server-side fix for affected PCs.
Now reports have come through from users experiencing audio issues after the update and it appears that the Redmond giant is already investigating the reports. The bug has been reported after the May 2021 Patch Tuesday update, particularly Windows 10 KB5003173, which was released on May 11 for version 20H2 and version 2004.
The problems seem to occur randomly and users have experienced audio issues in games too. However, it doesn't affect sounds played in browsers like Microsoft Edge. The audio issues may include volume much lower than usual, audio shuttering or high-pitched noise even when using the system's default volume setting.
"I had also audio problems after this update. Also, it messed up group policies too. So I rolled back with system restore," a user wrote in a Reddit thread.
The good news is that Microsoft has acknowledged the problem in a new update to the support document. According to the company, some devices (particularly 5.1 Dolby Digital) may play a high-pitched noise on PCs running all the latest versions of Windows 10.
In addition to Dolby issues, users can also experience squeak sound (a spike in the volume) in certain apps when using affected audio devices.
Here's the list of affected Windows 10 updates and versions:
Windows 10 version 20H2 and version 2004: KB5000842 (released in March), KB5001330 (released in April), KB5001391 (released in April), and KB5003173 (released in May).
To address audio issues, you can either uninstall the Windows 10 updates manually or follow these steps:
Method 1: Stream the video or audio in your web browser instead of the app affected by the problems. For example, if you're having issues with Groove Music, switch to the web browser and try playing the audio there.

Method 2: Right-click on the volume icon pinned to the taskbar and click on Spatial sound (Off). Select Windows Sonic, Dobly or any other available options.
If the above workarounds don't work, you can also try switching between the audio quality from Control Panel audio settings. In some cases, enabling and disabling sound effects will also fix the issue.
Hopefully, Microsoft will address the audio issues in Windows 10 with the upcoming optional updates and include the fix for everyone in the next Patch Tuesday update, which is scheduled to arrive on June 8.