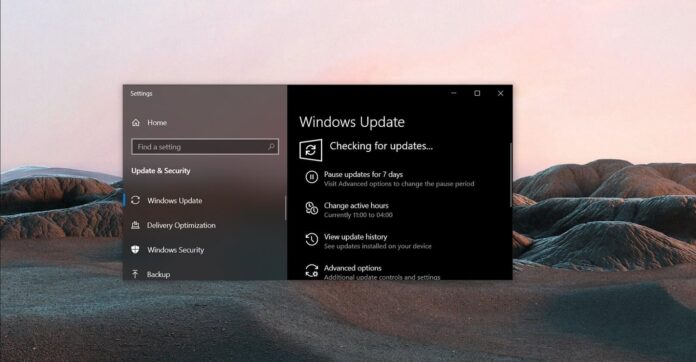 Windows 10 May 2021 update "Patch Tuesday" (not to be confused with version 21H1) is now rolling out for those using supported versions, such as version 20H2 and version 2004. This month's Patch Tuesday release comes with quality improvements and it also fixes an issue that causes high CPU usage when using multiple apps.
Windows 10 May 2021 update also comes with a long list of security fixes. This release addresses at least three zero-day vulnerabilities and admins are recommended to apply the updates immediately as per the changelog.
Total 55 vulnerabilities have been fixed, out of which four are classified as "Critical", while the rest are marked Important and Moderate. In addition to these important bug fixes, Windows 10's May 2021 update brings the "News and Interests" taskbar widget to more users.
To install the May 2021 cumulative updates, follow these steps:
Open the Start menu or Windows Search.
Look for Windows Updates.
Click on Updates & Security.
Click on "Windows Update" on the left side pane.
Click on Check for updates.
Select "Download and install".
Before rebooting the system, make sure that you've unchecked the optional driver updates.
Depending on the edition and version of Windows 10 installed on your device, the build number will change after applying today's update. In case you've upgraded to version 20H2 (October 2020 Update), Microsoft will be pushing Build 19042.985 to your compatible device.
For those still using Windows 10 version 2004 (also known as May 2020 update), they'll get the same patch as version 20H2. However, the build revision number would be slightly different as Microsoft has published Build 19041.985.
Windows 10 May 2021 cumulative updates:
KB5003172 (Build 10240.18932) for version 1507.
KB5003197 (Build 14393.4402) for version 1607.
KB5003174 (Build 17134.2208) for version 1803.
KB5003171 (Build 17763.1935) for version 1809.
KB5003169 (Build 18363.1556) for version 1909.
KB5003173 (Build 19041.985 and 19042.985) for v2004 and 20H2.
Windows 10 May 2021 cumulative updates overview
May 2021 Patch Tuesday update is one of the rare updates to ship with a new feature. As mentioned at the outset, this release ships with a taskbar widget that lets you access news and weather information directly from the desktop.
It also includes plenty of security fixes and quality improvements.
Build 19042.985 for Windows 10 version 20H2
As part of the May update, Windows 10 version 20H2 is getting upgraded to Build 19042.985 (KB5003173). It also includes general fixes and quality improvements from the last optional patch.
The latest Patch Tuesday update should solve a lot of the headaches experienced by users after applying the recent round of security patches. Microsoft is constantly trying to fix the issues, but with every update, new issues are introduced. Some bugs are widespread, while others depend on your specific hardware and software configuration.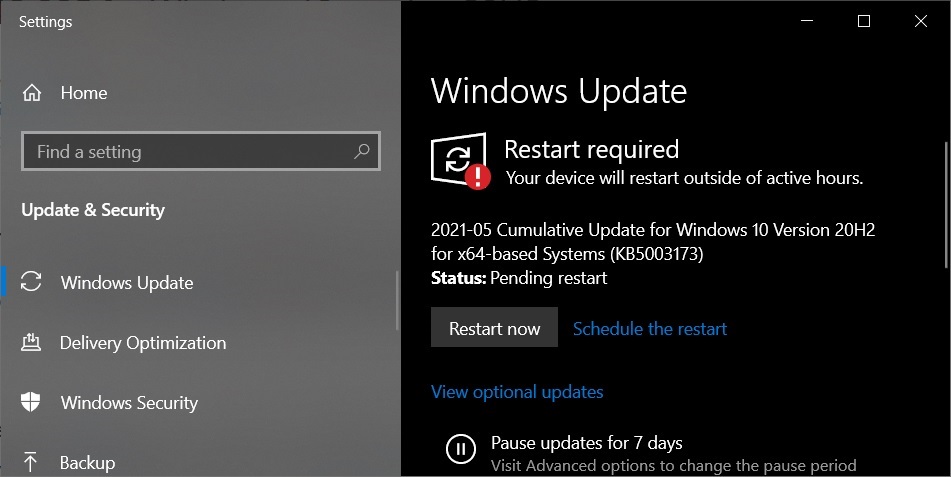 For some people, one of the updates resulted in high CPU usage. With this month's Patch Tuesday update, Microsoft has addressed the performance issues. The high CPU usage is a result of a race condition where two threads attempt to access shared memory and render one or more processes unresponsive.
If you have issues with high CPU usage, it might be worth installing the latest round of security update that's currently available through Windows Update.
May 2021 Patch Tuesday update also addresses an issue that causes an unexpected 'deadlock' with NTFS storage drives. Likewise, another bug has been fixed where media playback won't work on devices with hybrid graphics.
Windows 10 version 20H2 rollout status: available for everyone
As pointed out by us recently, Microsoft has fixed all the critical bugs and the October 2020 Update is now available for more folks ahead of version 21H1 rollout.
Some users who have experienced problems when upgrading their PCs due to Conexant audio driver compatibility issues should now be able to upgrade.
Build 18363.1556 for Windows 10 version 1909
If still have to be using Windows 10 version 1909, there's a new update for your device that advances the system to Windows 10 18363.1556 (KB5003169).
It's worth noting that this is the last update for Home and Pro editions of Windows 10. If you're using the Enterprise or Education edition, you will receive updates for another year (12 months).