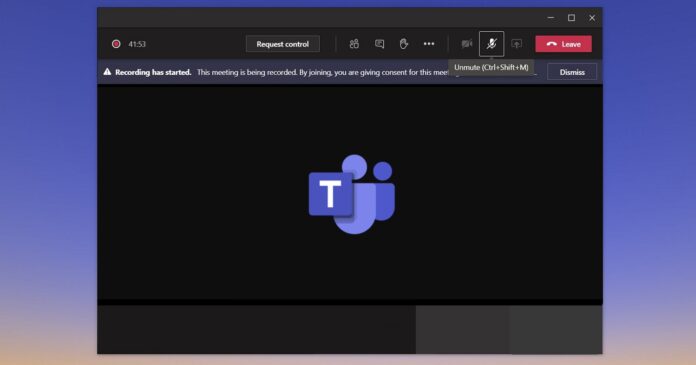 The Microsoft Teams desktop app has been working on meeting improvements for some time now with helpful features like new mute controls live in several regions. Now, Microsoft is preparing an enhancement to the existing meeting recording feature that sees Teams for Windows and macOS automatically recording meetings.
Unlike Microsoft Teams, Zoom has always offered the ability to automatically record meetings. On the other hand, if you use Microsoft Teams, there's really nothing to be done right now. This basic functionality is currently missing in Microsoft Teams for unknown reasons and nothing official has been released until now.
In the upcoming update, it appears that the software maker will enable users to have the Microsoft Teams automatically start a recording when the meeting starts. It seems like a great idea for educations institutes where it's nice to have the meetings recorded automatically.
For privacy reasons, an alert message will still be displayed to all participants to notify them about the recording.
This update was quietly confirmed by Microsoft on the UserVoice forum. On the UserVoice forum, the tech giant stated they're working on addressing the request for auto meeting recordings and they "will share an update as soon as one is available".
Right now, it's unclear when the company intends to launch this feature and when it will be enabled for mobile users. It's important to remember that Microsoft may or may not enable the automatic meeting recording feature in the next big update, which is due to land later this month.
Microsoft Teams is getting other improvements in the latest update
Over the weekend, Microsoft has also started rolling out a new presence status "Out of Office" for more users. After the update, you can switch to "Out of Office" as your Teams status, which will be displayed when your colleagues reach out via chat or call.
In addition, Microsoft's Outlook Calendar will get updated automatically to reflect the new presence status.
As part of the next big update, Microsoft is planning to enable support for native notifications and noise suppression on macOS, Dynamic View with Presenter View, and more.
Keep in mind that there's no guarantee these features will be enabled in the next update as Microsoft's plans are always subject to change.