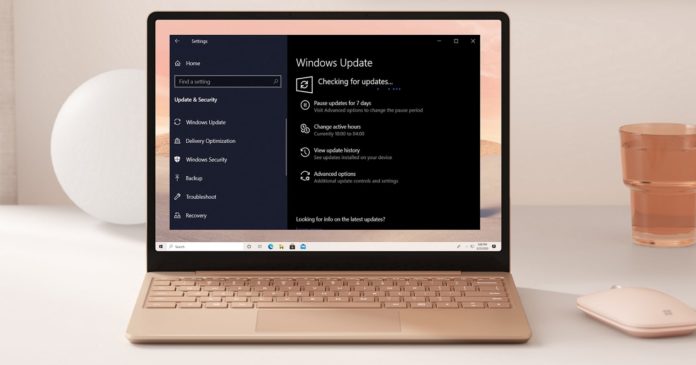 Windows 10 January 2021 update has now started rolling out to PCs running version 20H2, version 2004, and version 1909. January Patch Tuesday release comes with important security fixes for more than 83 vulnerabilities in the Windows operating system and other products.
Windows 10 January 2021 update fixes a zero-day vulnerability in the Microsoft Defender antivirus. The critical security issue, which has now been patched, allowed attackers to run malicious code on vulnerable devices.
The vulnerability could be exploited on unpatched systems only when users open a malicious file and Microsoft Defender is enabled. As part of January 2021 Patch Tuesday update, Microsoft has also fixed bugs hitting Windows Storage Service and Peripherals.
As always, you can apply the January 2021 cumulative updates by following these steps:
Open Settings and click on Update & Security.
On the left pane, select 'Windows Update'.
Check for updates and click on 'Download and install' button.
If you're using Windows 10 version 20H2, you'll get Build 19042.746 with fixes for security issues. Version 20H2 is based on version 2004, which means Windows 10 version 2004 is also getting the same update. For those still on version 2004, they'll get Build 19041.746.
Windows 10 January 2021 cumulative updates:
KB4598243 (Build 14393.4169) for version 1607.
KB4599208 (Build 15063.2614) for version 1703.
KB4598245 (Build 17134.1967) for version 1803.
KB4598230 (Build 17763.1697) for version 1809.
KB4598229 (Build 18363.1316) for version 1909.
KB4598242 (Build 19041.746 and Build 19042.746) for v2004 and 20H2.
You can also download and these updates without connecting to Windows Update. To install the Patch Tuesday update manually, copy the KB package number from the above list and paste it in the search box of Microsoft Update Catalog. Once done, select the 'Download' button and double click on the update package.
Windows 10 January 2021 cumulative updates overview
In addition to Defender bug, Microsoft has also fixed 83 security bugs across its Windows, developer and enterprise tools. For example, the tech giant says it has patched an issue that could be exploited to gain access to affected systems.
This month's cumulative update also aims to improve the security of the external devices that you use, such as your keyboard, controller and even your camera.
Build 19042.746 for Windows 10 version 20H2
The January 2021 cumulative update for both Windows 10 version 20H2 and version 2004 is focused solely on security fixes. It doesn't come with any additional bug fixes because Microsoft had paused the rollout of the optional updates in December.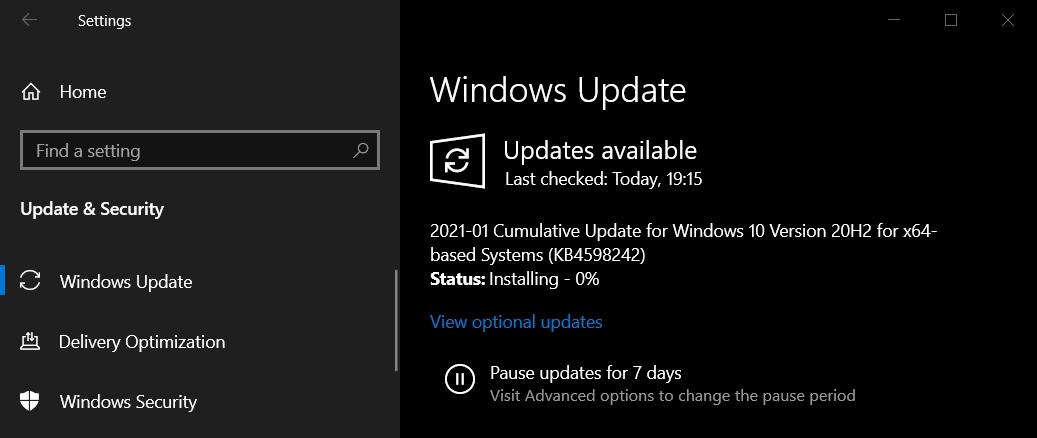 As we mentioned above, Windows 10 20H2 (October 2020 Update) is being advanced to Build 19042.746 (KB4598242) with the following changes:
Improvements to basic operations of the OS.
Fixes dark mode gremlins in File Explorer.
Fixes a security vulnerability issue with intranet configurations.
Microsoft hasn't fixed any user-centric critical bugs, but there are plans to deliver important fixes later this month via optional preview update.
Windows 10 20H2 rollout status as of January 2021
Back in October, Microsoft released version 20H2 as a small "enablement package" that can be installed in a matter of minutes on systems running version 2004.
It has been released as an optional update and users have to explicitly choose to download and install the updates. However, some users have encountered compatibility issues during the installation.
The most obvious reason, of course, is the upgrade blocks deployed by Microsoft.
Previously, devices with outdated audio drivers would receive Blue Screen of Death error and a warning message when users tried to install the update.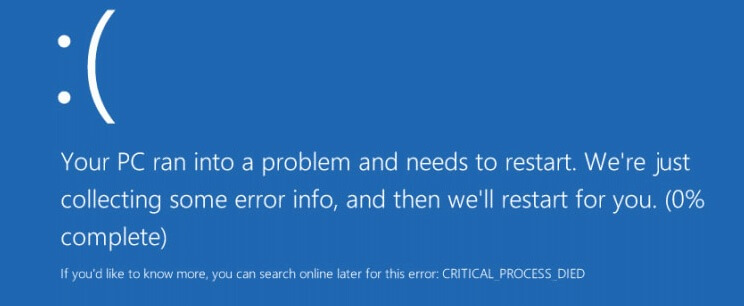 In a new support doc, Microsoft has confirmed that issues have now been resolved and upgrade block is being removed. As a result, more users can now download Windows 10 version 20H2 and the upcoming Spring 2021 (version 21H1) update.
Later this year, Microsoft is also planning to fix a critical bug damaging Windows 10's Credential Manager and authentication process. For those unfamiliar, Windows 10 password bug is hitting a number of applications, including Chrome, Edge, Acrobat, Lastpass, etc.
Build 18363.1316 for Windows 10 version 1909
If you've got a device that still uses Windows 10 version 1909, Microsoft has published KB4598229 with fixes highlighted above.
Starting January 2021, no new updates will be released to devices on Windows 10 version 1903.