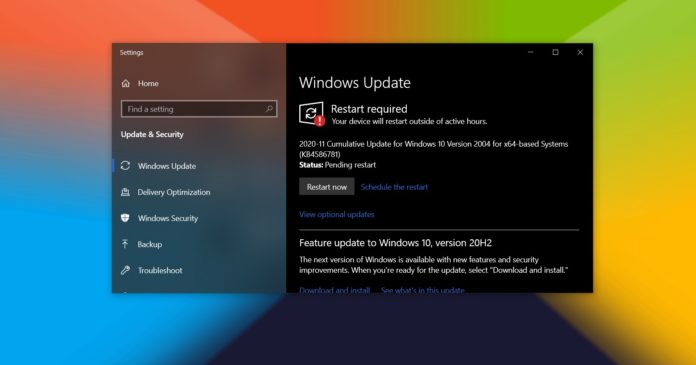 It's Patch Tuesday, a day when Microsoft releases security patches for all supported versions of Windows 10. As part of this process, Microsoft has now released Windows 10 November 2020 cumulative updates and you'll be able to download them using the Settings app.
Windows 10 November 2020 update is not all about bug fixes and security improvements as it also comes with one new feature (sort of). The new feature is a new video conferencing mode, which allows you to use Skype directly from the desktop.
If you haven't received the patch yet, you'll be prompted to download it on Wednesday morning or later. Windows 10 Patch Tuesday updates are supposed to modify the files with potential security issues, but the updates will be larger than 300mb if you skipped the last optional release.
If you're on Windows 10 October 2020 Update (20H2), you'll be getting the patch with Build 19042.630 and it will fix performance issues on some devices. For those using version 2004, they'll be getting the same update with Build 19041.630.
Windows 10 November 2020 cumulative updates:
KB4586830 (Build 14393.4046) for version 1607.
KB4586782 (Build 15063.2554) for version 1703.
KB4586785 (Build 17134.1845) for version 1803.
KB4586793 (Build 17763.1577) for version 1809.
KB4586786 (Build 18362.1198 and Build 18363.1198) for version 1903 and 1909.
KB4586781 (Build 19041.630 and Build 19042.630) for version 2004 and 20H2.
As always, Microsoft says it's rolling out these updates to users via the built-in Windows Update or WSUS for business. To get the update, simply head to Windows Updates and hit the 'check for updates' button. Remember that you can always download and install updates manually.
Windows 10 November 2020 cumulative updates overview
Key highlights:
Update will be downloaded automatically if you don't hit the pause button.
Size of the update is between 200-400mb.
Installation time is less than 10 minutes.
Requires one reboot.
Windows 10 November 2020 update fixes 112 vulnerabilities including remote code execution (RCE) bugs. Microsoft noted that the security bugs were hitting a wide range of products including Microsoft Edge.
Microsoft has also fixed a Windows zero-day vulnerability which was discovered by Google last month. The security issue is being exploited in the wild and it allows attackers to escape the Chrome security sandbox and attack Windows systems.
With today's update, Microsoft has even fixed remote code execution (RCE) attacks in apps such as Microsoft Teams, Sharepoint, Network file system, Excel and more.
Build 19042.630 for Windows 10 version 20H2
November 2020 update for Windows 10 version 20H2 and version 2004 fixes potential performance issues affecting some systems. It's unclear how many devices are affected, but the tech giant said that this patch will mitigate one issue that causes system freezes.
As we mentioned at the outset, version 20H2 is receiving Windows 10 KB4586781 patch that will increase system number to Build 19042.630. Windows 10 version 2004 users will also receive the same update, but the build revision number would be 19041.630.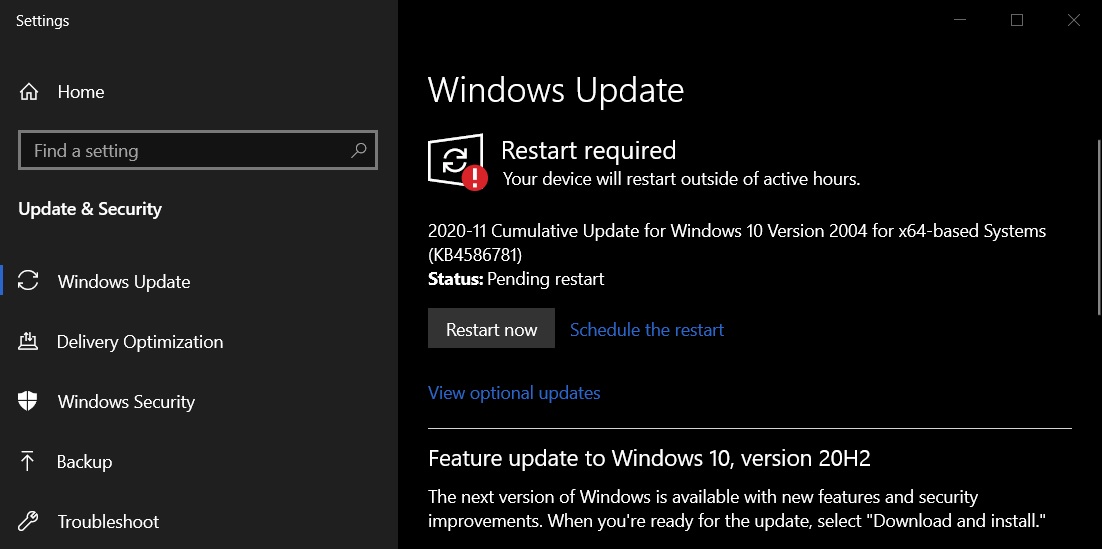 With today's update, Microsoft has also fixed issues with legacy Edge, Group Policy Editor, Internet Explorer, and more.
October 2020 Update (20H2) status as of November 2020
Windows 10's October 2020 Update was released to the consumers late last month, but it's not yet available for everyone.
The Redmond-based tech giant noted that a bug in October 2020 Update causes some PCs to crash with a Blue Screen of Death. To prevent Blue Screen of Death error, Microsoft has already blocked affected users from upgrading to this feature update.
Microsoft says the bug is being observed on PCs with external NVMe SSD plugged into a Thunderbolt port.
Microsoft is also aware of the following issues in this feature release:
Audio driver problems.
Forced reboots.
Password problems.
Build 18362.1198 and Build 18363.1198 for version 1903 or version 1909
For those still running version 1903 or 1909, Microsoft has published Windows 10 KB4586786 (Build 18363.1198).
After applying the update, Microsoft says users will get better security when using Office products, input devices such as a mouse, keyboard, or pen.
Windows will now also perform basic operations more securely.
The patch includes security improvements for Windows Kernel, Microsoft Graphics Component, Windows Input and Composition, Windows Wallet Service, Microsoft Scripting Engine, and Windows Fundamentals.