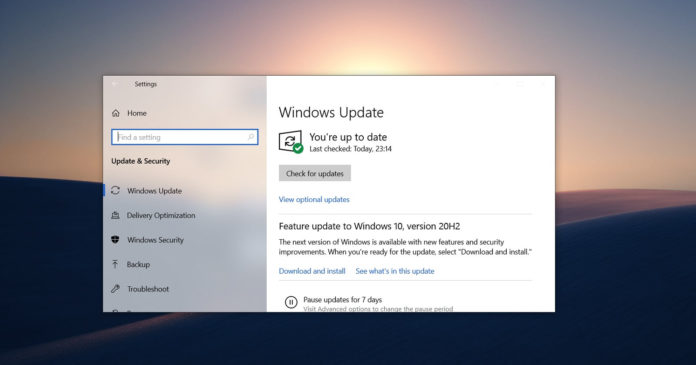 As part of Patch Tuesday rollout, Windows 10 is receiving a new batch of cumulative updates. Like always, Microsoft is also offering the direct download links for Windows 10 KB4586781 offline installers via its Update Catalog for those who want to upgrade multiple PCs.
Windows 10 KB4586781 is part of the Patch Tuesday, which is the name given to updates released on the second Tuesday of each month with security fixes. Also, this is a mandatory update and it'll install automatically unless you freeze the Windows Update Settings.
This month's update is aimed at both Windows 10 version 20H2 (19042) and version 2004 (19041). If you're on version 20H2, you'll get Windows 10 Build 19042.630. Those still running version 2004 will get Windows 10 Build 19041.630.
Here's what you'll see when you check for updates in the Settings app:
2020-11 Cumulative Update for Windows 10 Version 2004 for x64-based Systems (KB4586781)
Download Links for Windows 10 KB4586781
Windows 10 KB4586781 Direct Download Links: 64-bit and 32-bit (x86).
Windows 10 KB4586781 (Build 19042.630) Full Changelog
Windows 10 Build 19042.630 comes with a long list of improvements if you skipped the last optional update and it also comes with one new feature.
The new feature is Skype's Meet Now button in the taskbar. After the update, you'll notice a new video camera icon in the system tray and clicking on the option will launch Skype's free meeting feature.
With this new taskbar feature, you will be able to easily connect with friends and family using Skype. You don't have to sign up for Microsoft account or download anything to access the new meeting experience.
According to the changelog, Microsoft has fixed an issue where some devices display nothing on the screen for up to five minutes when you launch Windows 10's remote desktop session.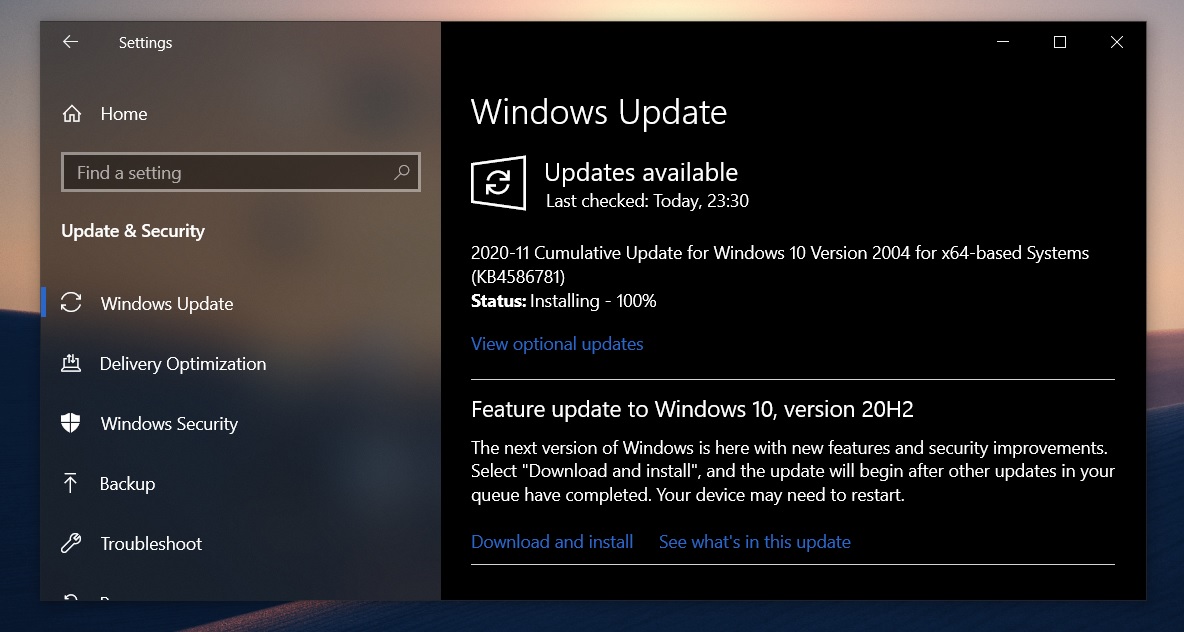 Windows 10 KB4586781 also fixed an issue that causes performance issues where some computers stop responding to user inputs. Another bug has been fixed that causes issues when you use Internet Explorer with Group policy preferences or when you navigate untrusted URLs from IE 11.
Microsoft has also acknowledged and patched an issue that causes apps to stop responding without any error.
This mandatory cumulative update also fixes issues with Task Manager, PowerShell, Microsoft Outlook, Remote Desktop Services (RDS), and Dynamic Data Exchange apps.
For businesses, Microsoft says it has mitigated one issue that degrades Windows performance and prevent some services from starting.
Known issues
Microsoft noted that the company is aware of issues with Input Method Editor (IME).
Earlier today, Microsoft confirmed that a bug in Windows 10 version 2004 or newer causes issues with saved passwords. At the time of writing this story, the problem remains unresolved, but it's unclear if this month's cumulative update is also affected.