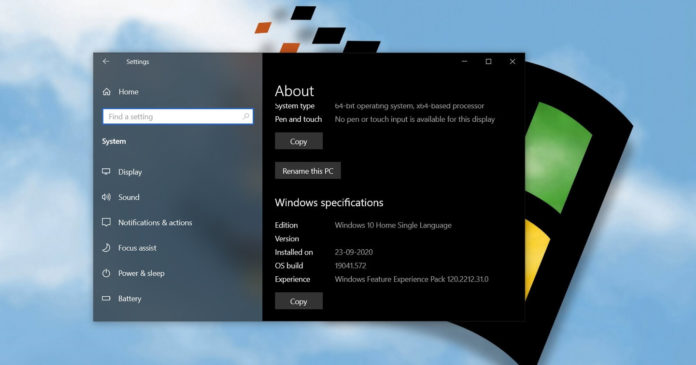 After downloading Windows 10 KB4579311 and KB4577671, users have found that it's causing a wide range of issues, including system crashes and endless installation loop.
On October 13, fondly referred to as Patch Tuesday, Microsoft rolled out the October Patch Tuesday cumulative updates to Windows 10 version 2004, version 1909, version 1903, and other supported versions.
Microsoft shipped two Windows 10 updates – KB4579311 for version 2004 and KB4577671  for version 1909/1903. KB4579311 is a crucial update as it fixes vulnerabilities in the operating system and long-standing network connectivity issues, including the infamous no internet bug.
As has been the case with September patch, it didn't take long for users to report installation issues, system crashes, and other general bugs.
Users on Microsoft's community forum, Reddit, and Feedback Hub are reporting several issues after installing Windows 10 KB4579311 and Windows 10 KB4577671.
KB4579311 fails to install with 0x8007000d, ox800f0988
Windows 10 KB4579311 is failing to install for users with the following error messages:
0x8007000d
ox800f0988
0x800f0831
0x80073701
0x80070002
0x800f081f
Note that KB4577671 for version 1909 and version 1903 is also failing for users with the aforementioned errors.

These are most-common error code reported by users and these usually relate to missing files in the Windows Update, WinSXS, and other components responsible for processing updates on Windows 10.
Unfortunately, the old trick of downloading the update manually from the Microsoft Update Catalog no longer works. Windows 10 installation issues have become par for the course with Windows Update and users reported the problems last month too.
It's possible to fix these issues with an in-place upgrade via Microsoft's Media Creation Tool, but this option is not available at the moment.
The major advantage of doing an in-place upgrade is that you can fix all underlying issues with Windows Update and you don't have to delete your files or apps. This process takes the least amount of time and it's the safest way to install updates that are failing.
Unfortunately, you will have to wait until the third or fourth week of October to install October patches using Media Creation Tool. We've observed that the Media Creation Tool is updated every third and fourth week of the month with fresh cumulative updates.
For now, you can pause updates for a while until Microsoft publishes the update in the Media Creation Tool or irons out the bugs. You can pause updates from Settings > Update and Security > Windows Update.
Blue Screen of Death and other bugs
Unfortunately, Windows 10 KB4579311 is also trashing display monitor for some users, while others have again reported blue or black screen problem.
System crashes, Blue Screen of Death, and audio issues are common for some users after Patch Tuesday update. Also, it's important to understand that only some users are seeing these issues and it's unlikely to be widespread, at least for now.
Here's a list of issues reported by users:
Long download and installation time.
Update fails to install.
System crashes.
File Explorer, printing, audio issues.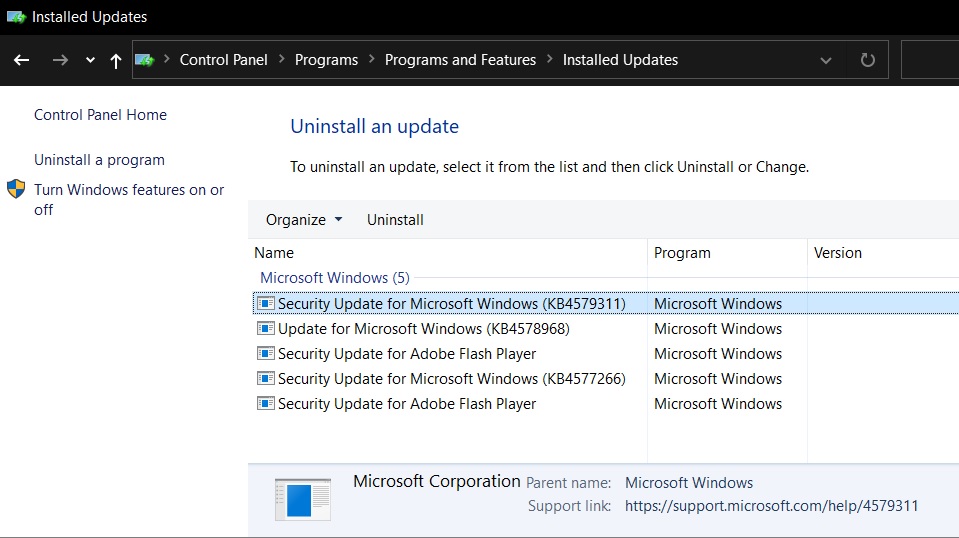 If you do come across these issues, there's one simple solution: uninstall the patch and pause update, and wait until Microsoft (hopefully) fixes the bugs.