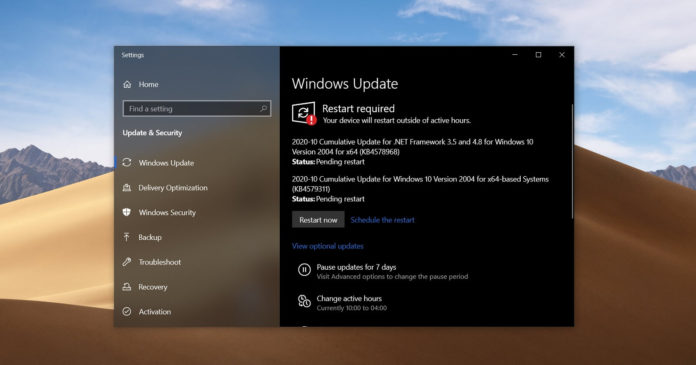 It's Patch Tuesday and fresh Windows 10 cumulative update with important security fixes is rolling out to users. If you're unable to grab the patch via Settings, Microsoft has also published the direct download links for Windows 10 KB4579311 offline installers.
Windows 10 KB4579311 is a security-focused update and it doesn't come with new features or major bug fixes, but if you haven't applied the September optional patch, you will receive fixes for the infamous internet connectivity bug.
After applying the update, Microsoft says your system revision number will bump to Windows 10 Build 19041.572 (version 2004). If you're still using older versions (1909/1903), you will receive a different update with exactly the same bug fixes.
Windows 10 Build 19041.572 is actually a mandatory update for version 2004 (May 2020 Update) and it will install automatically.
Download Links for Windows 10 KB4579311
Windows 10 KB4579311 Direct Download Links: 64-bit and 32-bit (x86).
Windows 10 KB4579311 (Build 19041.572) Full Changelog
This update comes with security fixes for an issue where attackers could abuse win32k. In addition, the update also fixes an issue with Group Policy service where file deletions might cause boot failures.
Windows 10 KB4579311 comes with fixes for a host of bugs, including one nasty issue which has been plaguing May 2020 Update users for four months.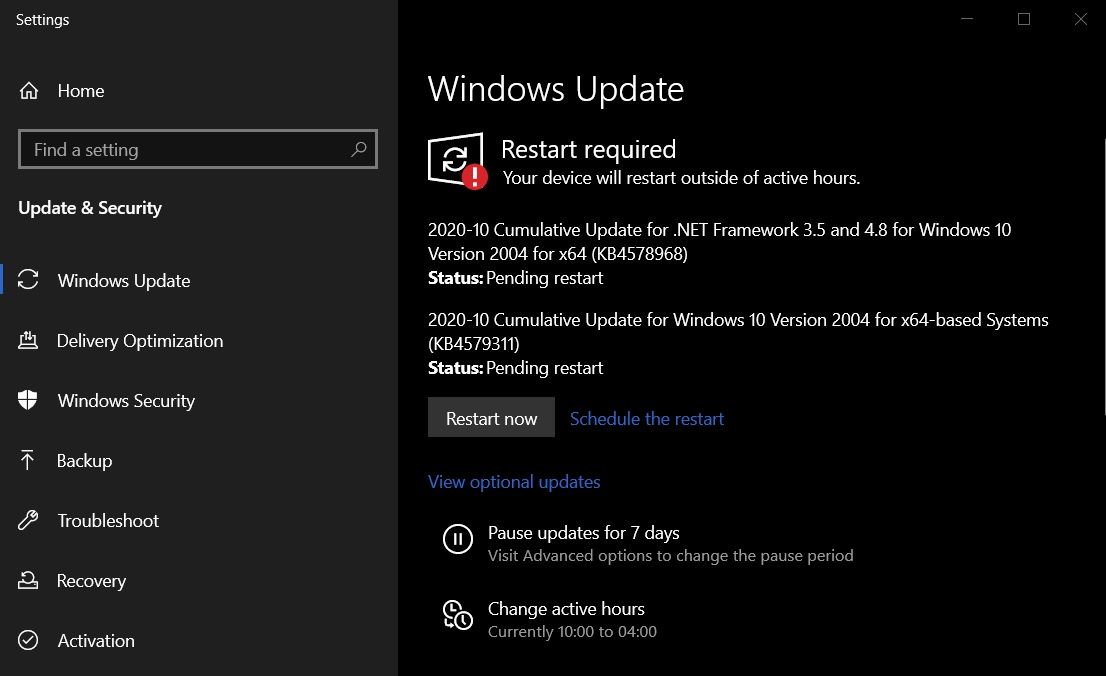 The update finally fixes an issue which causes Windows Subsystem for Linux to crash with "Element not found" error. The problem was first reported in September and it's finally getting fixed in this release.
Windows 10 Build 19041.572 also fixes internet connectivity issues on devices with some LTE modems. Likewise, Microsoft says it also fixed an issue where users might see "no internet" message even when their devices are connected to the internet.
In July, Microsoft acknowledged a problem in the May 2020 update that affects the Network Connectivity Status Indicator (NCSI). For those unaware, the 'NCSI' feature sits in the taskbar and it's designed to detect if your device is connected to the internet.
After applying the May 2020 Update and recent cumulative updates, some users started seeing a yellow triangle in the NCSI, which resulted in the "no internet access" problem.
The NCSI bug also crashed Store apps, such as Spotify, Feedback Hub, Microsoft Store, etc.
Known issues
In the release notes of October 2020 cumulative update, Microsoft has acknowledged that this patch could prevent users from applying third-party drivers. If this happens, Microsoft says you should contact the OEM (your PC manufacturer).
Microsoft is also aware of problems with the Input Method Editor (IME) where users might have issues with input itself.