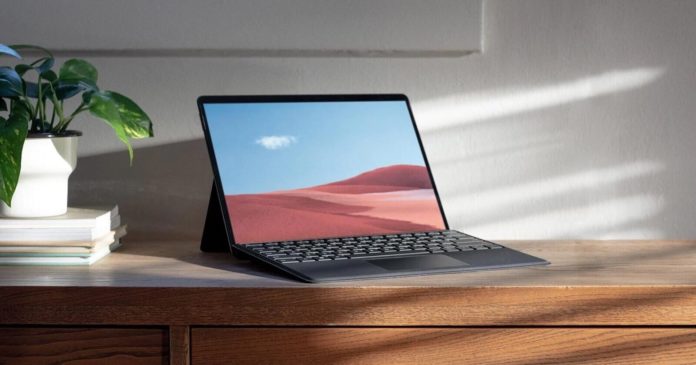 Microsoft's October 2020 event is expected to host a couple of new products, but the company hasn't confirmed anything about the alleged event. The reports suggest that there will be at least two Surface products and as well as accessories, including new bumper cases for the Surface Duo.
Microsoft is again proceeding with its usual Surface hardware launch, but there will be no media event this time.
The headline product of the potential October 2020 virtual launch event is a smaller Surface Laptop with a 12.5-inch display and Intel's Core i5 processor. Microsoft is also planning to launch the next-generation Surface Pro X with Qualcomm's latest processor, which was announced last month.
According to sources, Microsoft could be planning an event in the next two weeks. Depending on the timezone, the event could take place on September 30 or October 1 where the tech giant will announce two new Surface and accessories.
Surface Laptop "Sparti"
The next Surface Laptop comes with 12.5-inch PixelSense display, Intel Core i5, 4GB of RAM, and at least 64GB of storage. The affordable laptop is codenamed "Sparti" and is expected to start at around $500 for 4GB of RAM and 64GB of storage.
With Surface Laptop Sparti, Microsoft is hoping to deliver a larger display, slimmer bezels and better performance than the Surface Go 2. The 12.5 display could be great for viewing content, productivity, and video conferencing.
Best of all, the smaller display and Windows 10 in S Mode is also expected to blossom the battery life, so you don't need to keep it connected to a power socket.
It's also worth noting that Surface Laptop Sparti can't ship with Windows 10X "Web OS" because Microsoft's new operating system won't be ready until Q2 2021.
Surface Pro X
Surface Pro X refresh will be offered in a new "platinum" colour option and it will feature an updated Microsoft SQ2 processor. Unfortunately, Microsoft won't make any design changes to the device and the most important change will be the new Microsoft SQ2 processor.
This processor will be based on Qualcomm's Snapdragon 8cx Gen 2 chip, which offers better performance, Wi-Fi 6, and Bluetooth 5.1.