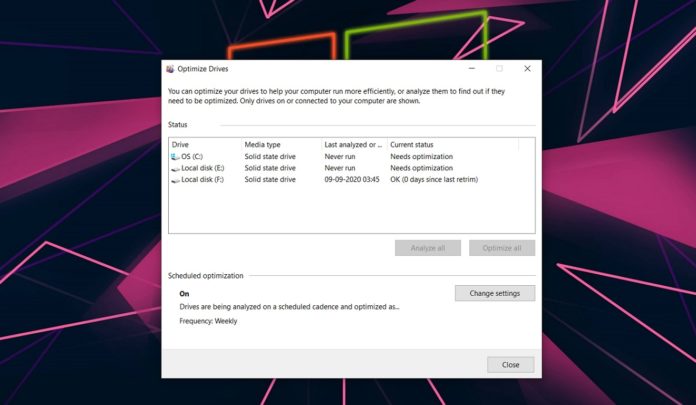 Some users believe that it's not sensible to defrag the SSDs at all, but Microsoft experts have previously stated that Windows 10 does defragment your SSDs on purpose and it's normal.
Typically, SSD is defragged once a month by default if you've Volume Shadow Copy feature enabled. Volume Shadow Copy is enabled when you manually turn on Windows System Restore, which is a feature that allows you to roll back to a previous version of the OS.
To facilitate the drives optimization process, Windows 10 comes with a tool called "Optimize Drives" that would record the last time a drive has been optimized/defragged/trimmed.
Windows also use the Automatic Maintenance feature to automate the defragmentation or optimization process.
Windows 10's Automatic Maintenance is a feature that helps to keep your computer healthy with automated system optimizations when required. During its casual run, this feature will run specific maintenance tasks, such as security scans, system scans, and disk optimization or defragmentation.
The Automatic Maintenance feature relies on the "Optimize Drives" tool to see if the drives need to optimized (defragged when required). With May 2020 Update (version 2004), Microsoft broke the Optimize Drives (aka defragmentation tool) and the defrag tool was unable to flag that it's already done a scheduled optimization on your SSD.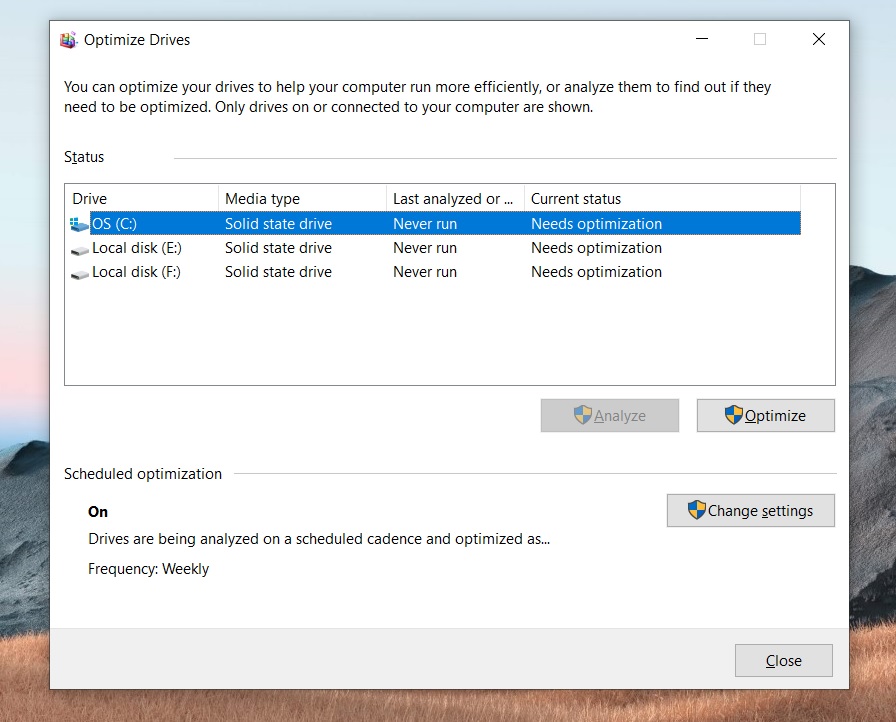 The tool could warn you that your storage is unoptimized when it is not. If you try to optimize the already optimized drive, the process will finish instantly and Windows won't make any changes to the drives.
The problem about this flaw, though, is that the Automatic Maintenance feature could end up defragging your SSDs on every reboot because the built-in defrag tool doesn't correctly report that it's already done scheduled defragmentation on your SSD.
Microsoft patches the SSD defragger bug in September 2020 update
With Windows 10 KB4571756 (Build 19041.508), Microsoft has finally resolved the issues with Drive Optimize tool and Windows will stop defragging your SSDs automatically on every reboot.
Here's a timeline of how the bug was discovered and acknowledged:
Windows Insiders flagged the issue in January 2020.
January's preview Build 19551 resolved the issue.
The bug somehow slipped into the final release of May 2020 Update.
On August 14, Microsoft told us they're aware of the reports.
Build 19041.488 August optional update fixed the bug in May 2020 Update.
Build 19041.508 patches the problem for everyone running May 2020 Update.
If you're aware of any other issues with May 2020 Update (version 2004), let us know in the comments below.