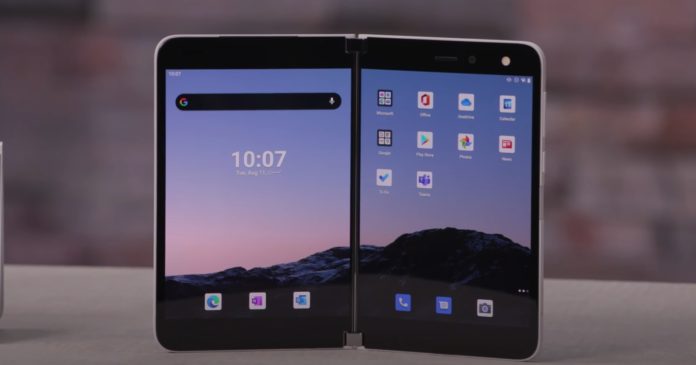 For the first time since the launch of Lumia 950 and 950 XL in 2015, Microsoft will be releasing a new mobile device called 'Surface Duo' and it sports a dual-screen layout with a 360-degree hinge in the middle.
Surface Duo was announced last year and it was originally scheduled for release during the 2020 holiday season, but plans were changed after Microsoft pushed back the Surface Neo to 2021/2022.
Surface Duo sports two 5.6-inch screens and it can fold out to a total maximum of 8.1 inches of the screen at 401 pixels per inch. Surface Duo screens are AMOLED panels with proprietary calibration process and active pixel alignment for vibrant colours.
It also comes with Qualcomm Snapdragon 855 processor, 6GB of RAM and 128 or 256GB of base storage. Like Galaxy Z Flip, there is no SD card support, so you'll need to pick a variant with the correct amount of storage.
As expected, Surface Duo apparently doesn't have wireless charging or NFC and it cannot be used for contactless EMV mobile payments.
This is because Microsoft tried to focus on "mobile productivity" and "new ways to complete complex tasks" with the Surface Duo. In other words, the first-generation Surface Duo focuses on the fundamentals and it is built solely with many benefits in mobile productivity and getting work done on the go.
"No, Surface Duo does not currently offer NFC. Surface Duo is purpose-built for mobile productivity and giving people new ways to complete complex tasks while away from their computer," a statement from Microsoft reads.
Surface Duo starts at $1,400 and you can already pre-order it from the Microsoft Store, AT&T, and Best Buy. Judging from the price of the Samsung Galaxy Z Flip and Fold, this high price tag should not be a surprise.
Microsoft says the phone will begin shipping to customers starting September 10 and it will work on T-Mobile, AT&T, and Verizon wireless networks.