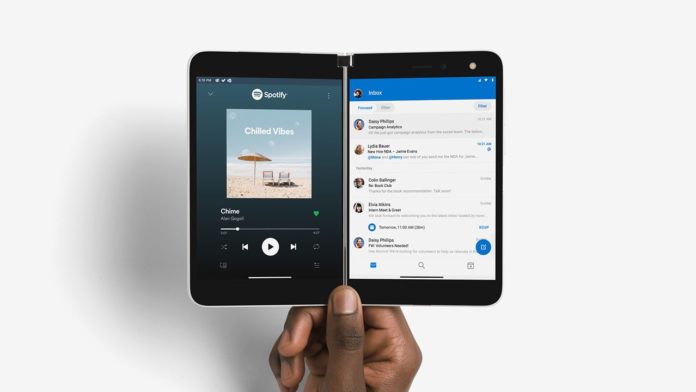 Microsoft's revolutionary Surface Duo is scheduled for release on September 10, but the company is already allowing consumers to pre-order the phone.
In the United States, buyers will have to pay $1,399 for the 128GB storage and $1,499 for the 256GB. Microsoft says this pre-order is eligible for trade-in, so you can get cashback if you return your current phone.
Microsoft is promising that users can save up to $700 by trading in their existing phones for the Surface Duo, which is scheduled to ship on September 10.
For example, if you exchange your Samsung Galaxy Z Flip, you'll save $700 on your purchase of the Surface Duo. Likewise, you can save $650 if you trade-in your Samsung Galaxy Note10 with 256GB of storage and charger.
Surface Duo details
As we know, Surface Duo comes with dual 5.6-inch AMOLED screens and 1800×1350 resolution, which can be expanded to 8.1-inch (2700×1800) when unfolded. The phone is also impressively thin. It's 4.8mm thick when open, and 9.9mm when closed.
The device also supports Surface Pen, thanks to the custom processors designed by Microsoft.
Microsoft is also offering a 360-degree hinge, glass body, Android 10, and all Google services with the Surface Duo.
The Surface Duo is using last year's Snapdragon 855 processor, 6GB of RAM, up to 256GB of storage, and 11-megapixel camera.
The main attraction of the Surface Duo is obviously the form-factor, which is durable and unique at the same time.
Keen on Microsoft's first Android phone? Then you can hit the button below to pre-order your device. If you're interested in trading in your existing phone, you can view trade-in values here. Otherwise, you can head to the Microsoft Store from the link given below and book your Surface Duo.