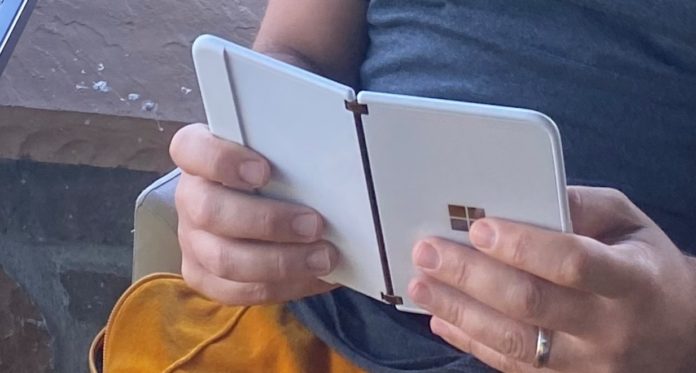 Microsoft's upcoming Surface Duo has been teased by the executives repeatedly over the last few months. The dual-screen smartphone has been teased again by Microsoft's chief product officer Panos Panay and Communications lead Frank X. Shaw on Twitter and LinkedIn.
Frank X. Shaw's latest post on LinkedIn features the Surface Duo. Based on the images shared by the Microsoft executive, it appears that the power button and the volume rocker will be on the right side of the dual-screen device.
Surface Duo prototype design puts the USB Type-C port on the bottom of the device and the SIM tray somewhere on the right side.

On the right-side display, there is a camera next to a speaker grille. There appears to be a single speaker and camera on the Surface Duo. In a teaser posted earlier by a Microsoft executive, a flash was also seen accompanying the single camera.
Microsoft announced Surface Duo back in October and the hardware has got that strong traditional Surface aesthetic.
While Microsoft does not want to label it a phone, Surface Duo resembles a sleek phone in its folded state and it's not a traditional foldable handset like the Galaxy Fold or Motorola Razr.
According to leaked specifications, Surface Duo comes with a 360-degree hinge mechanism that joins the two 5.6-inch displays together. When you would unfold the handset, you'll have a tablet-like device that measures 8.3-inches horizontally.
It's also worth noting that Surface Duo is a slim and durable device and it measures 4.8mm thin.
While Surface Neo with Windows 10X has been pushed back to 2021, Surface Duo could launch as early as September. According to our findings, Surface Duo is also set to pass Google's Compatibility Suite Test with Android 10, which suggests that the device is almost ready for the launch.