With rumours about the Surface Duo possibly hitting the shelves earlier than its promised holiday 2020 release, more and more details surrounding Microsoft's smartphone experiment are circulating on the Internet.
According to commits made by Microsoft, Surface Duo is all set to pass Android Compatibility Test and launch with Android 10.
Google sets requirements that manufacturers must follow if they want their phones to pass Android's Compatibility Test Suite. According to our findings, Microsoft is apparently seeking to get Surface Duo running Android 10 pass Google's Compatibility Test Suite, which suggests that the launch of the device is imminent.
Microsoft's engineer working on Surface Duo made multiple commits to the open-source Android project to enable support for devices that use "non-standard Windowing Modes", such as the Surface Duo.
"This adds a check to test cases to support devices that use non-standard Windowing Modes. Tests have been updated where there is logic that is specific to single screen devices or fixed sized displays," one commit reads.
The commits were made by Microsoft engineer to the 'Android10-dev' branch, which confirms our reports that Surface Duo will run Android 10 out of the box. Microsoft is planning to upgrade Surface Duo to Android 11 later this year when the operating system comes out of the beta testing.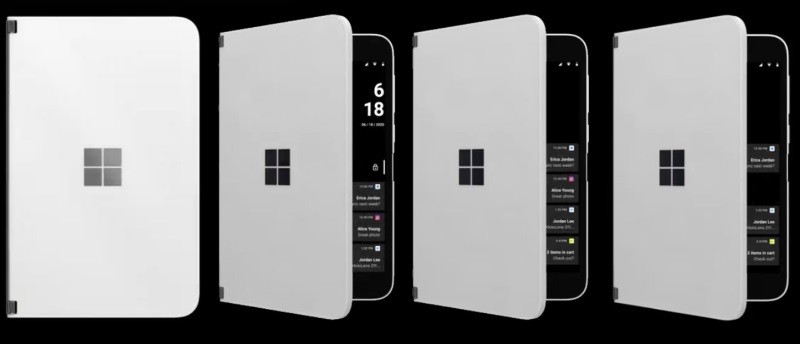 Surface Duo is set to feature two 5.6-inch screens with 1800×1350 resolution and the AMOLED panel displays will have a pixel density of 401.
The device includes a 3,460mAh battery that should give you one day of backup. Surface Duo phone will have a Qualcomm Snapdragon 855 processor under the hood, according to leaked specifications. The dual-screen hardware will be paired with 6GB of memory, as well as 64GB, 128GB or 256GB of storage.
Surface Duo will also come with an 11-megapixel single camera module, which can be used as both the front and rear-facing camera.  and
Unfortunately, Surface Duo v1 will lack support for NFC, wireless charging, 5G and two camera modules (aka great camera).