Windows 10 21H1, also known as the 'Iron' update internally, will be the next major update for the operating system after May 2020 Update (20H1). Microsoft has already released the May 2020 Update and the next release for 2020 is '20H2′, which could be another service pack-style minor update.
Last month, Microsoft had accidentally revealed that Insiders will be able to test out next year's major Windows 10 update in June. According to that edited blog post, the first builds of Windows 10 21H1 will be flighted soon to Insiders in the Fast Ring and testers will switch to the Iron update in the second half of June.
The testing that is currently underway in the Fast Ring of Windows Insider program is for Windows 10 20H2 'Manganese' update, which is expected to ship in the second half of 2020.
Now, according to a Windows build tracker, Microsoft has apparently started to compile the first Windows 10 21H1 builds and Build 20133.1000 was listed as compiled in late May.
As usual, the initial builds of Windows 10 21H1 'Iron' update will not have any customer-facing features, but improvements will start surfacing later this year.
It's not yet clear exactly what we can expect with Windows 10 21H1 update, but one of the changes we could see next year is the significantly improved Start menu with translucent tiles.
Changes to the Windows Insider program
Last year, Microsoft confirmed that it doesn't want to lock features to specific releases, which means the features that users will see in the Fast ring won't be tied to a specific update such as 21H1.
"All Windows 10 Insider builds coming from the rs_prerelease (Canary, Selfhost, & Insider Fast) fbl*, are not tied, or locked to any 'specific' release of Windows 10, and has no codename either, so you are pretty much seeing, & testing features from Manganese (20H2), Iron (21H1), Cobalt (21H2), & future OS releases, all at the same time," an alleged Microsoft employee noted.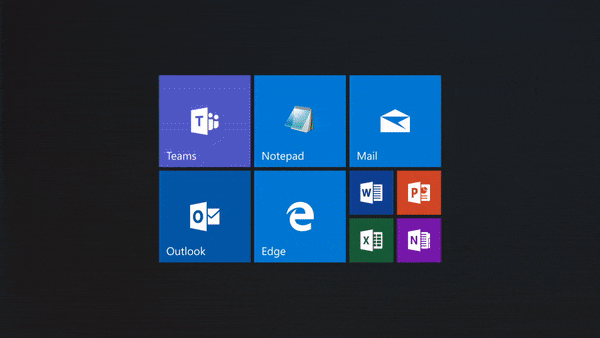 For example, if a new Start menu is introduced in a future preview build, it won't be tied to a specific release and Microsoft will decide later if it wants to include the new Start menu in 21H1 or 21H2.
In past, Microsoft has run into trouble after promising exciting changes and then not delivering on time.
You can still expect Start menu improvements, Win32 Container support, and other exciting improvements next year, but we don't know whether they'll first show up in 21H1, 21H2 or Windows 10X.