Windows 10 version 2004 (May 2020 Update) will be arriving later this week for many of those individuals and companies not presently using it. This update would be the first major release of the year and it will introduce several improvements and a few new features including Cloud Reset, Cortana app and more.
Microsoft has been gradually preparing for the launch of the May 2020 Update. In April, Microsoft moved the May 2020 Update to the Release Preview Ring, and Intel GPU drivers were also released with support for the feature update.
In a leaked schedule, Microsoft also confirmed that Windows 10 version 2004 will be released on May 27 or May 28.
We are now hours away from the public rollout of Windows 10's May 2020 Update and Microsoft has now published support documents (information pages) on the company's website.
The page titled "Windows 10, version 2004 and Windows Server, version 2004" is currently empty, but in another page, Microsoft says there are no active known issues with the May 2020 Update.
The other support documents for May 2020 Update are also empty and there's no real information available at the moment.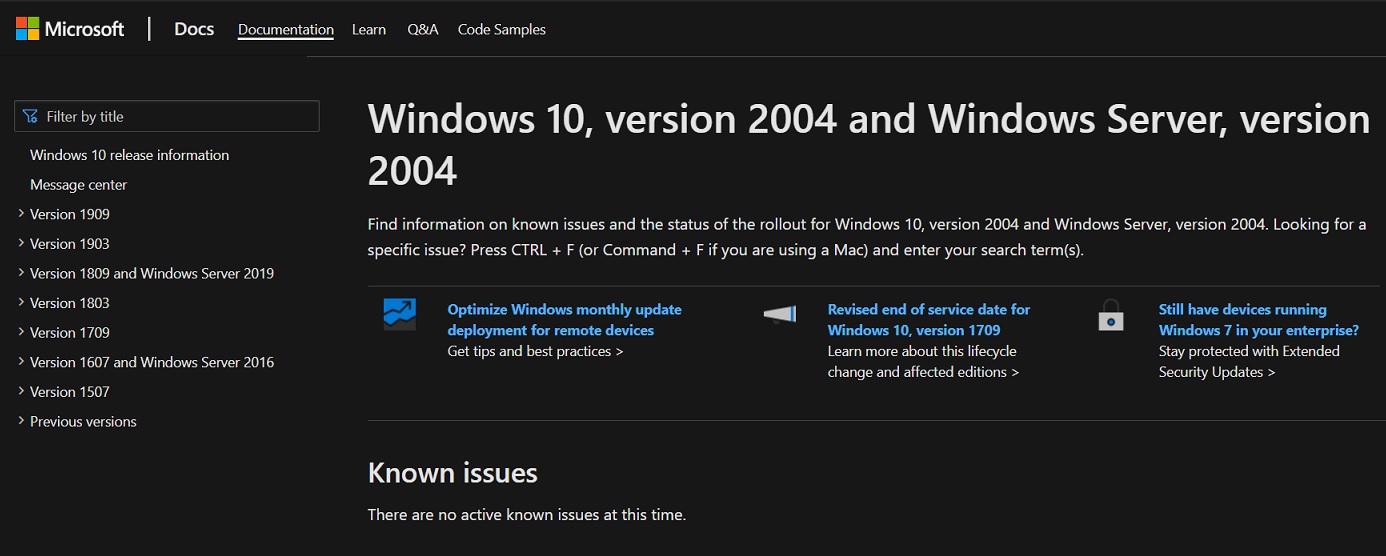 It's very likely that Micorosft will update these pages with actual information including known issues later this year. In a blog post, Microsoft previously stated that the company is aware of at least one issue in Windows 10 version 2004 where the DISM tool reports status incorrectly.
After the October 2018 Update's disastrous launch, which caused many people to lose their data, Microsoft will be supremely cautious with the feature update. May 2020 Update will be rolling out slowly unless you manually force it on your PC.
You can manually install feature updates from Settings > Update & Security > Windows Update. In the Windows Update page, you need to click on 'Check for updates' and tap 'Download and install now.'
However, that option may not appear for everyone as May 2020 Update will be rolled out in phases. That said, if you really need the feature update, you can always get it with Media Creation Tool or Microsoft's Update Assistant.