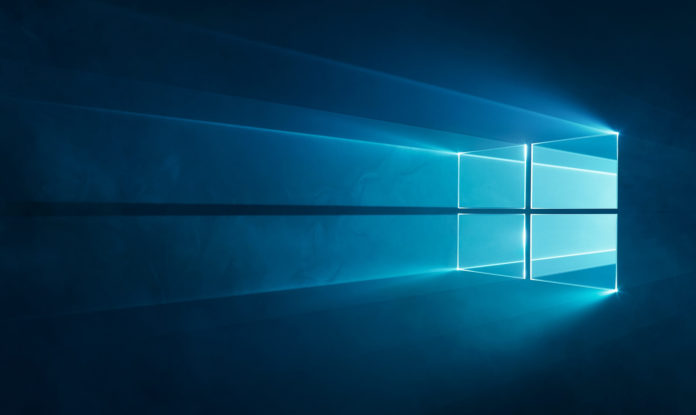 It's been almost six months since the last Windows 10 feature update started rolling out to users. Later this week, Windows 10 May 2020 Update, which is the first major update of the year, will begin rolling out to users across the world with new features, enhancements and refinements to the overall user experience.
Windows 10 May 2020 Update, also known as version 2004, is now rolling out to consumers.
With Windows 10 May 2020 Update, Microsoft is not forcing any significant or radical changes onto users. Windows 10 version 2004 is much bigger than the November 2019 Update (version 1909) with subtle improvements, a few new features and faster performance for older hardware.
List of all new features in Windows 10 May 2020 Update
In this article, we've highlighted all the new features and improvements arriving with Windows 10 May 2020 Update.
1. Optional Updates experience
Windows 10 May 2020 Update introduces new "Optional updates" page that will allow you to select and choose non-critical Windows updates for your drivers or other parts of the system.

As you can see in the above screenshot, Windows Update page will have a new Optional Updates area. It will contain drivers for your keyboard, mouse, PCI bus, and other products.
The drivers can be manually installed or you can also skip the installation. The experience is much like things were with Windows 7, which also included optional updates in the Control Panel.
To find new Optional Updates page, head to Settings > Update & Security > Windows Update and click on 'View optional updates'.
2. Bluetooth A2DP
When you install the update on your device, you'll be able to use your computer as a pair of Bluetooth speakers and play music from your phone.
May 2020 Update finally reintroduces support for Bluetooth A2DP sink, which was available in Windows 7 before being disabled with Windows 8 update. The older versions of Windows 10 are limited to A2DP source role, which only allows you to stream a song from your laptop to speakers or smartphone.
For now, it appears that Bluetooth A2DP sink support will remain disabled until you turn it on with a third-party app from the Microsoft Store.
3. Cloud Recovery
The update introduces a cloud recovery option for Windows 10 and it makes the process of recovering your desktop or laptop from a corrupted installation of the operating system much easier.
To reset Windows 10 when something goes wrong, you need to use Windows image that shipped with your device in a recovery drive, compact disk or a USB storage device with the ISO image.
May 2020 Update introduces cloud recovery option for users. Windows would offer two options when you reset your device: Cloud download or Reset locally.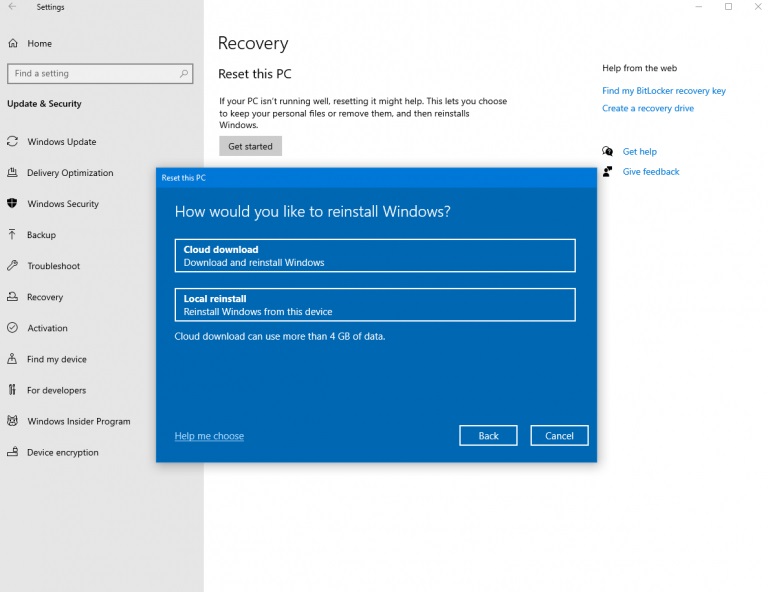 Cloud download option would download the latest version of Windows 10 from Microsoft and install it for you without manual interaction.
In other words, Cloud Recovery allows you to bypass Windows 10's traditional recovery process that may not work every time.
To use Cloud download option, head to Settings > Update & Security > Recovery and select the option 'remove everything' option. In the next screen, you can tell Windows to use "Cloud Download."
Once selected, Windows will download the most recent copy of Windows 10 from Microsoft servers and install it on your system.
4. Faster performance
If you use HDD, you're likely to notice performance improvements after installing the May update.
In May 2020 Update, Windows Search has been tweaked to reduce the stress on your system, Disk and CPU usage.
Windows Search actively indexes files on your hard drivers to make searching for them faster. While indexing process improves search experience, it also puts hard drive under a lot of strain and Windows Search can slow your whole PC down.
Starting with May Update, Windows Search will no longer cause high disk usage when indexing your files.
You will notice faster performance on devices with older hard disk drives (HDDs), thanks to the reduced resources usage by Windows Search. However, you are unlikely to notice any significant difference in devices with SSDs, which doesn't suffer from slowdowns caused by Windows Search indexing.
Microsoft is also improving Windows Search's built-in spell correction feature. Windows Search will intelligently understand and correct small typos like "exce;". Previously, incorrect words would return no results.
Later this year, Microsoft plans to release another update that will allow Windows Search to detect when you're actively using your device and reduce indexing activities.
5. WSL2
Windows Subsystem for Linux (WSL) was introduced with Windows 10 Anniversary Update in 2016, but it wasn't running a real Linux kernel. As a result, developers couldn't run certain kernel modules such as device drivers in Windows Subsystem for Linux.
WSL2 introduces its own kernel and you'll be able to place Linux files within the Linux root file system. You can also access the Linux files with File Explorer inside the Linux virtual hard disk.
Since WSL2 has its own Linux kernel, performance is expected to improve. Starting with May 2020 Update, subsequent updates for WSL2 will be handled by Windows Update if you've manually enabled the WSL2, which remains optional on Windows.
6. Windows Update bandwidth controls
Windows 10 actively uses your internet for Windows Updates, Microsoft Store and other products
With May 2020 Update, Windows 10 will you to configure how much bandwidth (internet data speed) should be used for the Windows Update and Microsoft Store with 'absolute value'.
"Absolute values" provide users with more control over how their internet connection is used by the Windows Update process. In Windows Update > Advanced options > Delivery Optimization, you can set absolute limit in Mbps and throttle Windows Update downloads more accurately.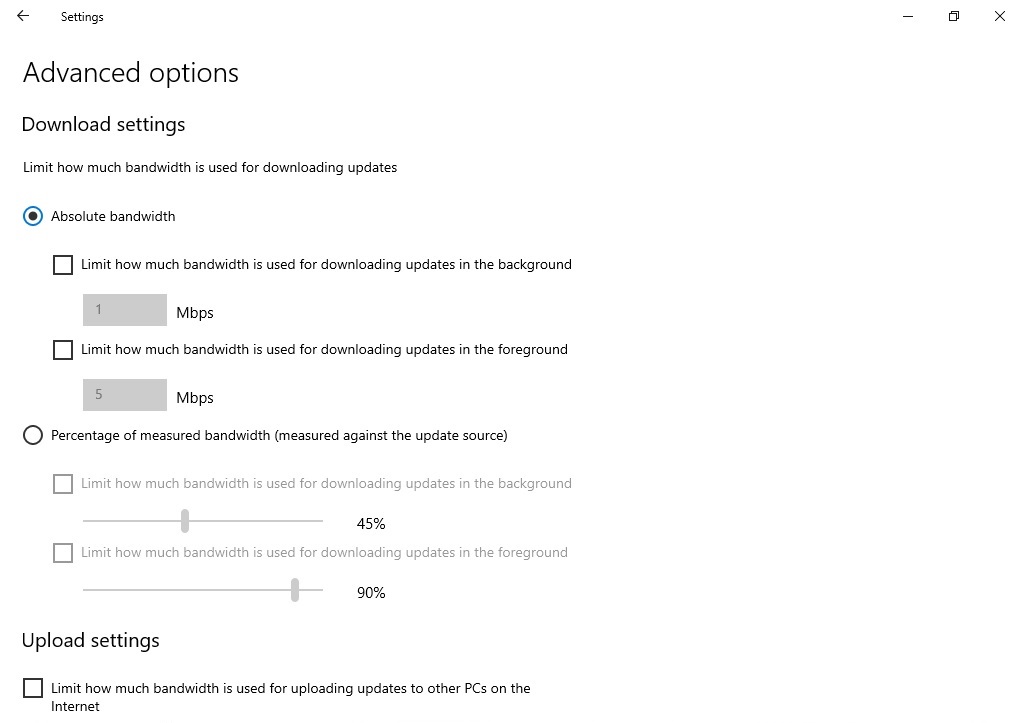 This is ideal for scenarios where you are using a metered connection or you have multiple devices on the same internet connection.
To use the feature, head to the Settings app > Updates & Security > Advanced options > Delivery Optimization > Advanced options.
In Delivery Optimization's advanced options page, enable these two options:
Limit how much bandwidth is used for downloading updates in the background.
Limit how much bandwidth is used for downloading updates in the foreground.
Enter a value to set the limit for updates. For example, if you enter 20, only 20 Mbps of your internet speed will be used to download Windows Updates, Microsoft Store apps and other services.
7. Cortana
Last year, Microsoft separated Windows Search and Cortana. Now, Cortana is becoming a windowed app that can be updated from the Microsoft Store, undocked from the taskbar and it can be moved around your desktop.
Cortana also comes with a new conversational UI and it has been updated with the ability to receive requests via text and voice.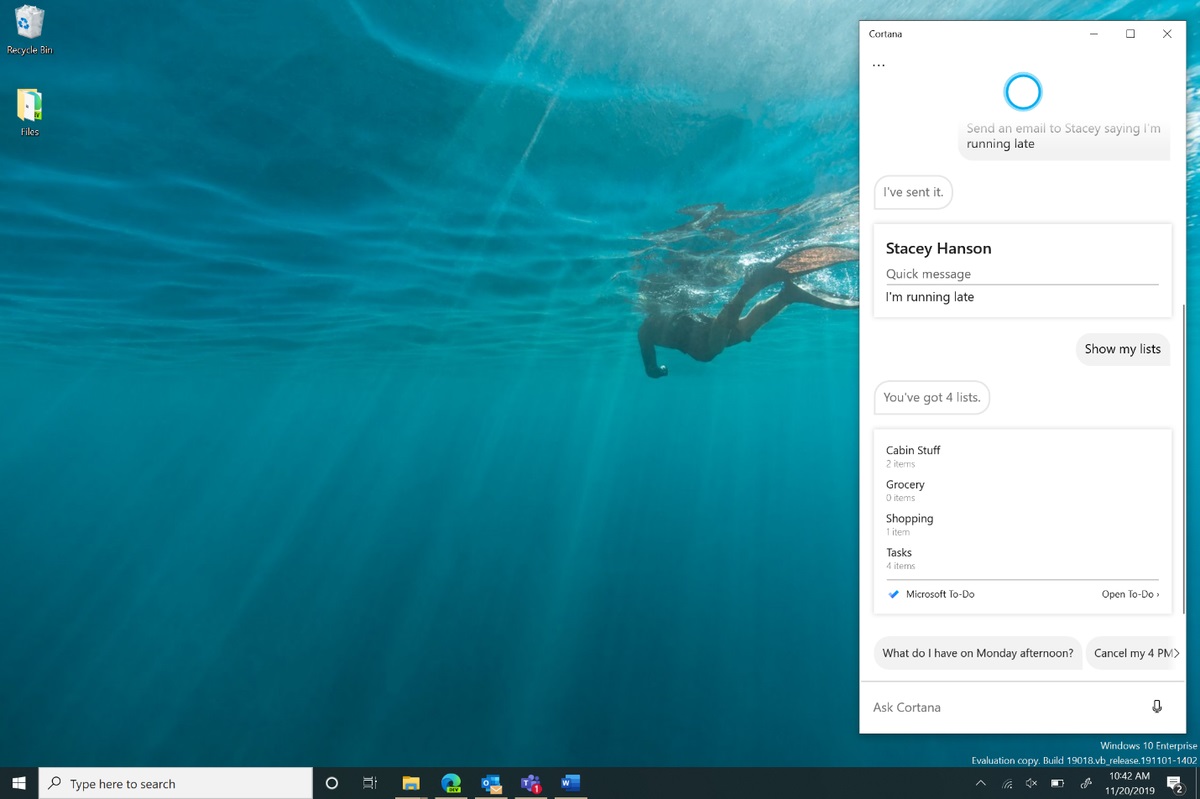 This is a significant change as it finally allows Microsoft to update Cortana more frequently with new features directly from the Microsoft Store.
8. Task Manager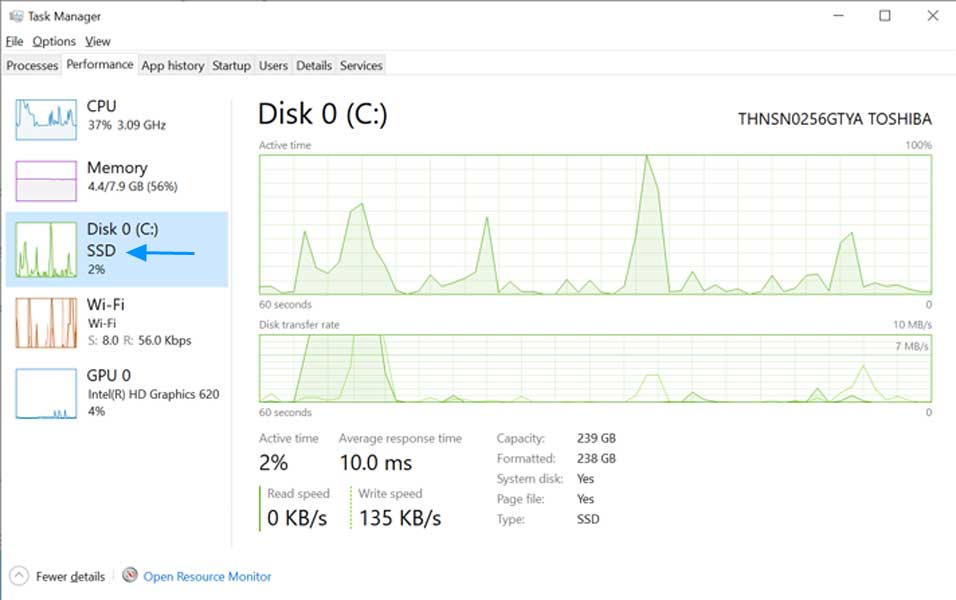 In May 2020 Update, Task Manager now displays your disk type (SSD or HDD), which allows you to identify the storage hardware installed in your system.
Microsoft is also updating the performance tab in Task Manager to display your GPU temperature.

If you have a dedicated graphics card with a driver that supports WDDM 2.4, Task Manager's performance tab will finally display the GPU temperature.
9. Specialized Displays
For some computers, Microsoft is introducing a new feature called "Specialized Displays", which can be configured from Settings > System > Display.
This feature allows you to use the second monitor as a Specialized Display for a specific purpose, such as gaming rigs, monitor panel for testing and validation in factories, etc.
In Display settings, you need to select "Advanced display settings" and check "Remove display from desktop" option.
10. Kaomoji
Based on feedback from testers, Microsoft is adding more kaomoji to Windows 10's emoji panel, which can be accessed with Win+(Period) keyboard shortcut.
11. DirectX 12
The May 2020 Update also includes support for new DirectX 12 features including Raytracing tier 1.1, Mesh Shader, and Sampler Feedback.
In this release, multi-monitor support will get some improvements, thanks to the Windows Driver Display Module (WDDM 2.7) support.
WDDM 2.7 improves multi-monitor refresh rates, which should addresses stuttering when you switch between monitors with different refresh rates. Microsoft is also adding hardware-accelerated GPU scheduling to improve video playback performance, reduce latency and improve FPS for some games.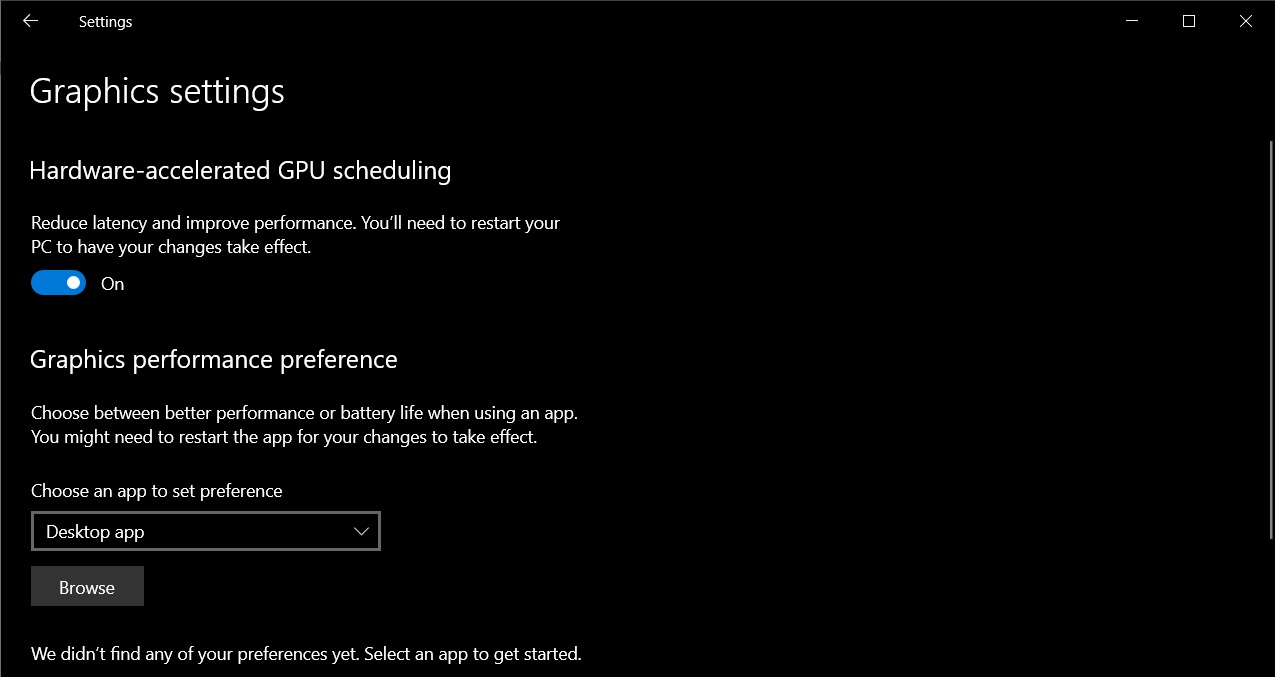 You'll not see these improvements if you use an older version of Graphics driver. Currently, only Intel has added support for WDDM 2.7 in its DCH drivers.
12. Windows Hello improvements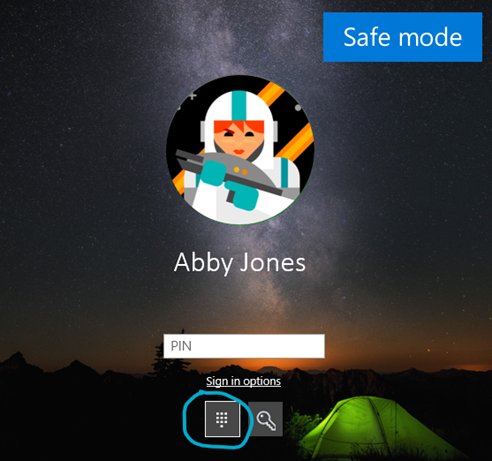 Windows Hello is a Windows 10 exclusive feature that allows you to use biometric security on your PC with facial, fingerprint and even PINs.
In May 2020 Update, you can now use Windows Hello to sign in when you're in the Safe mode, which is a basic state with a limited set of files and drivers to troubleshoot problems on your PC.
13. Network cameras
Windows 10 now also allows you to configure support network cameras, which are IP based cameras used in security scenarios.
With May Update, you can configure Windows to use network and stream photos or videos captured by the camera.
14. Automatic restart for UWP apps
You'll now be able to restart UWP apps automatically when you restart your PC. Previously, this feature was limited to just Win32 apps.

You can configure the feature under Settings > Accounts > Sign-in options.
May 2020 Update also gives you more control over when Windows 10 should automatically restart your Win32 and UWP apps.
If you turn on the feature, Windows will save your restartable apps when you log out or shut down the system. Apps are resumed the next time when you sign.
Turning off the feature will reduce the startup time.
15. Bluetooth pairing experience
Microsoft is introducing improvements for pairing peripherals.
Bluetooth pairing for devices made by Microsoft is now done in Action Center's notifications, which means you won't have to open the Settings app to finish pairing.
16. Virtual desktops improvement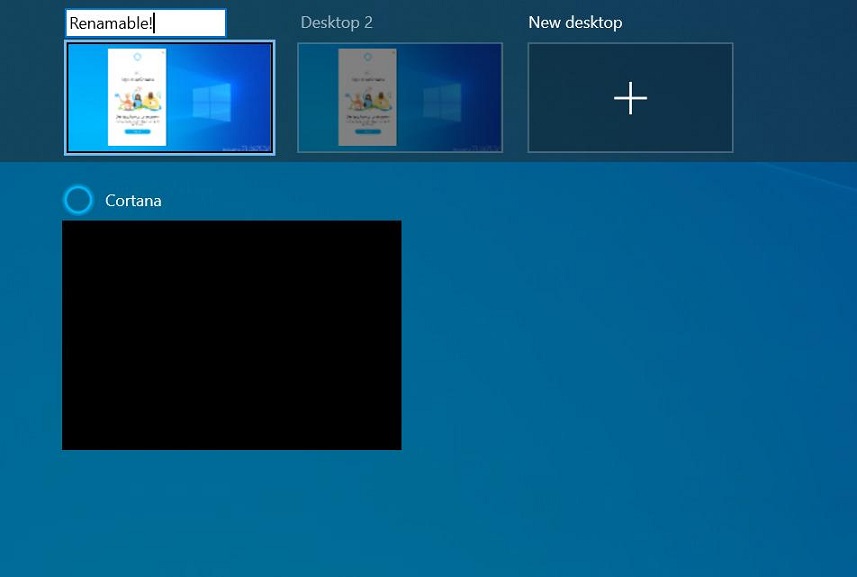 Windows 10 comes with Virtual desktops, which allows you to create multiple and separate desktops. Each desktop display different open windows and apps.
May Update adds the ability to rename virtual desktops. To use this feature, press Win+Tab keyboard shortcut and select 'New Desktop'.
Once you select the desktop option, the field will become editable and you can rename the desktop.
You can also right-click the desktop thumbnail and edit the name.
17. New tablet experience for 2-in-1
The update also focuses on tablet experience and it comes with a new tablet experience for 2-in-1 devices. The feature is for convertible devices, which are supposed to easily serve as laptops or tablets.
According to Microsoft, the new tablet experience should make it easier for users to switch between the two form factors.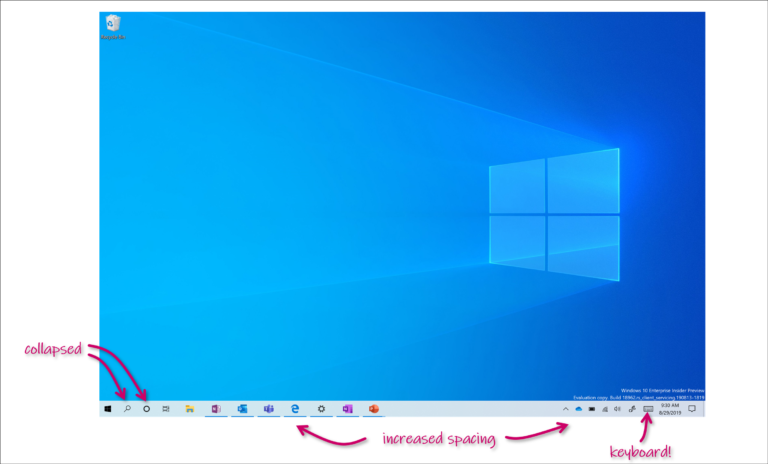 When you use your device in the tablet mode, Windows will now increase the spacing between Taskbar icons, collapse Search box on taskbar into an icon, optimize File Explorer layout, and touch keyboard auto invokes when you tap text fields.
18. Paint, WordPad and Notepad are now optional
The Optional features app list in May 2020 Update contains three new entries: Paint, Notepad and WordPad. The apps won't disappear from Windows 10, but you will have the choice to uninstall them and use third-party alternatives such as Paint.NET or Notepad++.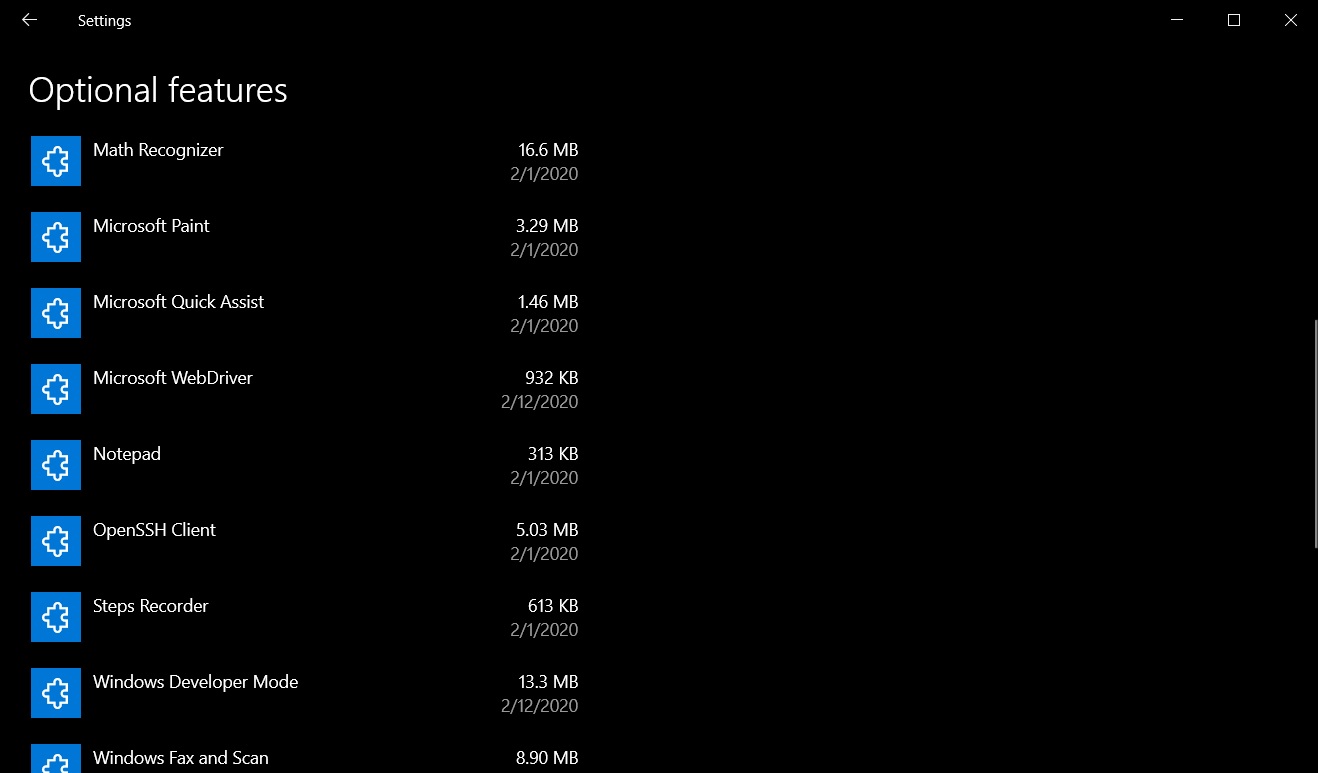 Notepad and Paint have come pre-installed in Windows since Windows 1.0, which was released in 1985. WordPad was added to the operating system in 1995. While Microsoft has always allowed users to replace WordPad, Notepad or Paint functionality with a third-party app, none of them could be uninstalled from Windows.
With Windows 10 version 2004, Microsoft has added these three programs to the optional features list, which means you can uninstall the apps if you wish. To uninstall the apps and reinstall them again, head to the 'Optional features' page within the Settings app.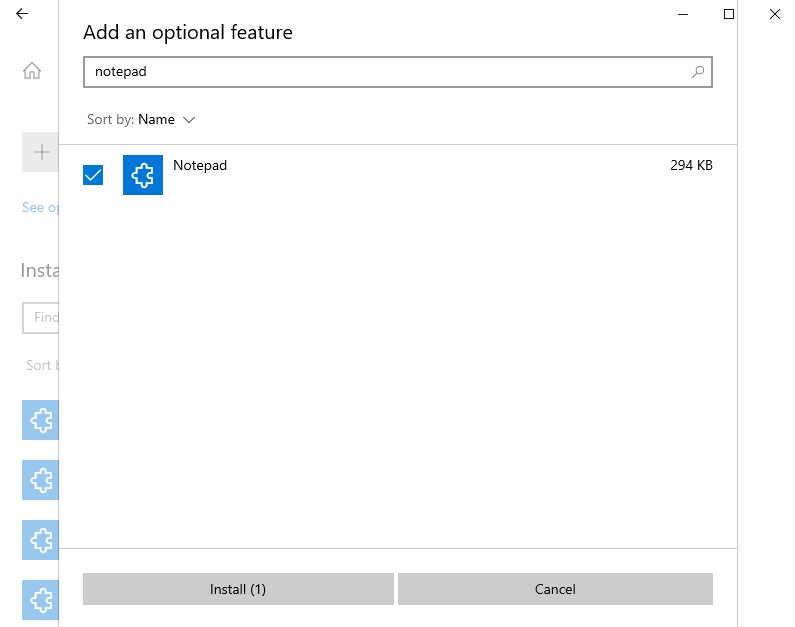 Microsoft is also updating the UI of Optional features app list page with a few new additions.
You can now select and install multiple optional features at the same time, search through lists of optional features, and find out the install date for each optional feature on your system.
19. Redesigned Network Status page
Microsoft is redesigning Network status page within the Settings app to display all available connection on the Status page and as well as the data usage.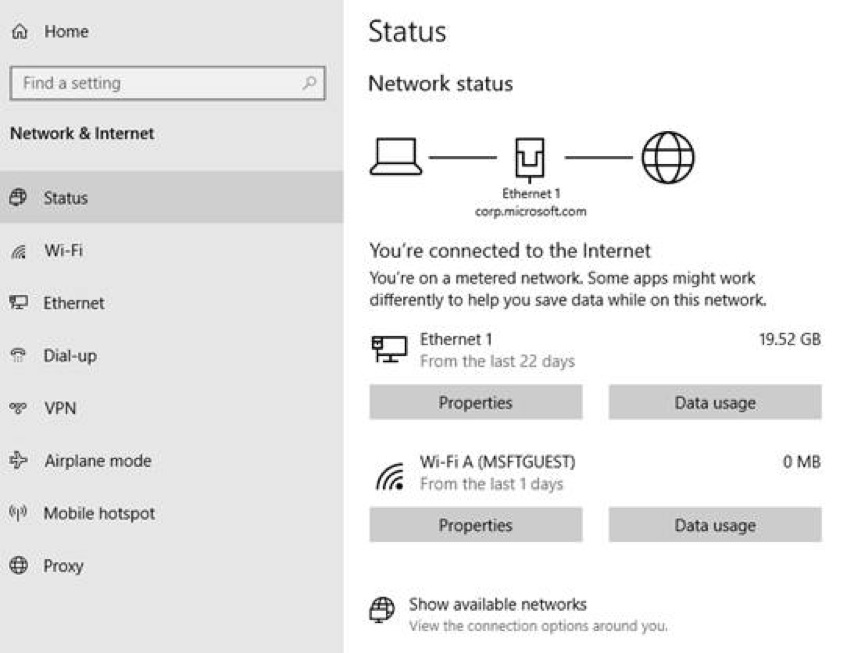 You can now see how much data is being used directly from the Network Status page.
Other improvements in May 2020 Update:
You can now change your mouse cursor speed from Settings > Devices > Mouse.
Chinese IME and Japanese IME improvements.
You can now easily change the picture for the account you use to sign in to Windows from the Settings.
Sideloading setting for MSIX is no longer required.
Microsoft has updated the Narrator's Outlook folder reading for the optimal triaging experience.
When and where to get the update
Microsoft started rolling out the May 2020 Update on May 27, 2020.
Microsoft says that it won't download and install the update automatically on your PC. If you want it immediately, you'll need to manually check for updates in the Windows Update page.
If you don't see it in the Windows Update page, use Media Creation Tool and Update Assistant to get the update right now.