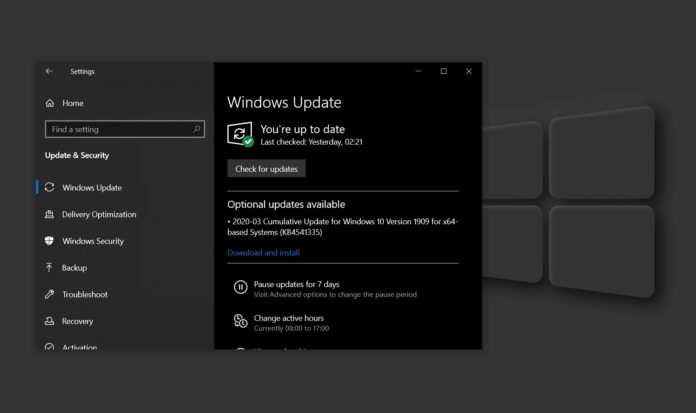 Windows 10 KB4541335 optional update, which was released in the third week of March, is causing installation problems for users whose machines run May 2019 (1903) and November 2019 (1909) builds.
Some users in Feedback Hub are reporting that they are unable to install Windows 10's latest optional and they are being greeted with error messages.
"2020-03 Cumulative Update for Windows 10 Version 1909 for x64-based Systems (KB4541335) – Error 0x800f0831″ and "There were problems installing some updates, but we'll try again later." These are some examples of error messages.
In addition to installation issues, some people are also experiencing system crashes during the update process.
"It reached 74% installed and then anything I'd send input to would stop working. For example, Firefox became unresponsive when I tried visiting a URL, PC Settings became unresponsive when I clicked a Windows Update option like "Pause Updates for 7 days" (hovering over them didn't freeze the software), clicking something on the Taskbar freezes it, Task Manager couldn't be opened," another user noted.
Others have documented the problem on Reddit (1, 2, 3) and Microsoft forums.
The good news is that if you get an error, you can do the in-place upgrade with Microsoft's Media Creation Tool or you can also download offline installers from Microsoft Update Catalog.
It is also worth noting that you can always skip the optional update and you'll still get the fixes with April's Patch Tuesday release. If the update is stuck at installation, simply click on pause update option and it would disappear.
In related news, Microsoft announced that it will pause optional Windows 10 updates starting in May to prioritize important updates during the medical outbreak. This change will only apply to non-security optional updates and security updates will continue as normal.
Windows 10 20H1 storage sense problem
According to several users, as well as both myself and my colleagues, Windows 10 20H1's Storage sense has been having some issues for the past few weeks.
Windows 10 is updated every month and Microsoft also caches Windows Update files to improve the upgrade process, and you can delete those files to reclaim several gigabytes of space.
To delete Windows Update files, you need to open the Settings app and navigate to Storage options. In Storage options, look for Temporary files and select 'Windows Update Cleanup' to free up space. Currently, though, there seems to be an issue with the feature, rendering it useless to affected users.
After installing recent Windows 10 20H1 preview builds, users are unable to delete Windows Update cache files as Storage setting refuses the command and simply ignores the action.
Microsoft said it's looking into the issue and it's possible that the bug might delay the rollout of Windows 10 20H1 update.