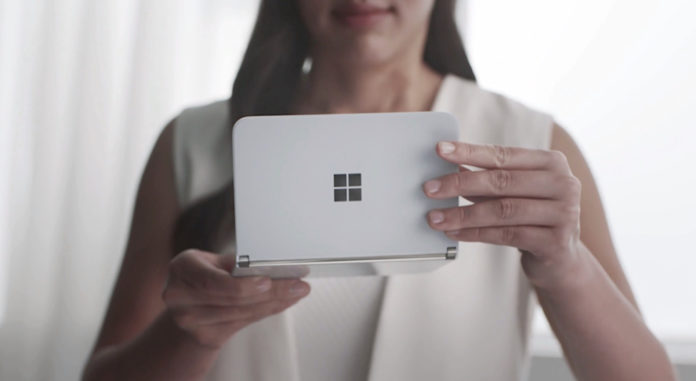 Microsoft's Surface Duo is one of the most exciting new smartphones coming out later this year. The Duo marks Microsoft's entry into the new foldable market segment and it'll be the company's first attempt back into the mobile space since it stopped developing Windows 10 Mobile in 2017.
A leak recently confirmed that Surface Duo might launch as early as the summer and some people also claimed that the foldable phone may not come with that great camera, which was promised by Panos Panay.
The Surface Duo will still come with pretty big bezels and Microsoft is also not working on multiple cameras setup for the first iteration of the device, which is because the hardware has been ready for quite some time.
The device may not come with multiple cameras, but it appears that Microsoft is working on software-based camera capabilities. As per a job post, the Surface camera team is creating competitive camera solutions with artificial intelligence and machine learning methods for 'computational photography solutions'.
Microsoft is also developing algorithms for single and multi-camera systems using RGB and IR sensors to define and deliver new camera features.
As per a new patent application published earlier today, the tech giant is also looking into camera solutions for scanning three-dimensional object.
"Data from an infrared sensor and data from a sensor (e.g., RGB sensor, a depth sensor, a camera, a scanner, a digital camera, a digital video camera, a web camera, depth sensor, etc.) can be utilized to generate a three-dimensional model of the three-dimensional object," Microsoft noted in the patent, which was filed for a mobile and other computing devices.
Sources have revealed that Surface Duo will come with a Snapdragon 855, 6GB of RAM, and 64GB of storage. The Duo uses Qualcomm's 2019 processor, which means that it won't support 5G.
Microsoft will also offer different configurations with more gigs of memory and storage, but 5G won't be an option.
According to reports, Microsoft could launch Surface Duo at its Spring event where the company is also planning to unveil Surface Go 2 and Surface Book 3.