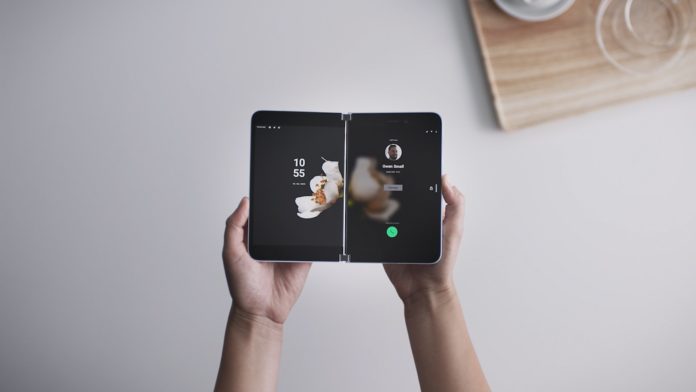 In addition to the dual-screen Surface Neo with Windows 10X, Microsoft also unveiled a new foldable phone called 'Surface Duo' and it runs Google's Android!
The Surface Duo comes with Android and it has two displays connected by a hinge. This innovative device features two 5.6-inch displays and it can rotate 360 degrees, allowing you to keep it in your pocket with all the glass facing inward.
It also folds into half and supports calling, and the device is essentially a smartphone in this form factor. When you take it out of your pocket, it can open like a miniature tablet and rotate 360 degrees.
The design of the device resembles Microsoft's dual-screen Surface Neo but it looks and works more like a pocketable device (smartphone).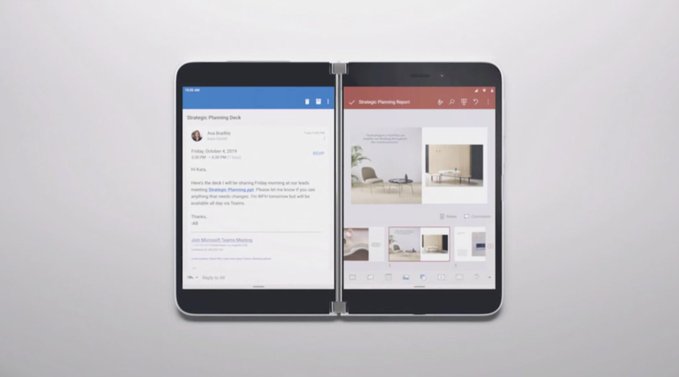 Qualcomm's Snapdragon 855 processor powers the Surface Duo and it can also run multiple apps at the same time on both panels. Microsoft says the two-paper thin 5.6-inch screens can unfold to 8.3-inches and it can be used in a variety of form factors.
While Surface Duo supports calling, it's more than a basic smartphone and it can be used as a mini-laptop with a keyboard or as a gaming console with a game controller.
Surface Duo runs a heavily skinned version of Android and resembles the feel of Windows 10X, a new operating system for a dual-screen Surface Neo laptop. We don't know if the Surface Do will feature a rear or front camera and other design elements haven't been finalized yet.
Given that many popular apps in the Google Play Store are created by Microsoft, including Office, Launcher, Microsoft Edge – a foldable Surface phone with Android is not a crazy idea and it would also address the app gap concerns.
With Surface Neo and Surface Duo, Microsoft now has a Surface device for every productivity opportunity, and the company could finally bridge the gap between a phone and tablet.