WhatsApp today released a new update for its beta app on Windows 10 Mobile. The latest update pushes the app to new version 2.18.352.
After the latest beta update, WhatsApp shows a notification to remind users that support for the messaging app is ending soon. The reminder recommends users to switch to a supported phone such as Android or iOS to continue using the platform.
"Microsoft has ended support for Windows Phone. As a consequence, WhatsApp will stop working on this phone after 31-12-2019. Tap on 'learn more' to learn about switching to a supported phone," the message reads.
The learn mode button opens WhatsApp FAQ page that states support for Windows Phone will end on December 31, 2019, and you won't be able to use the messaging service unless you switch to a supported device.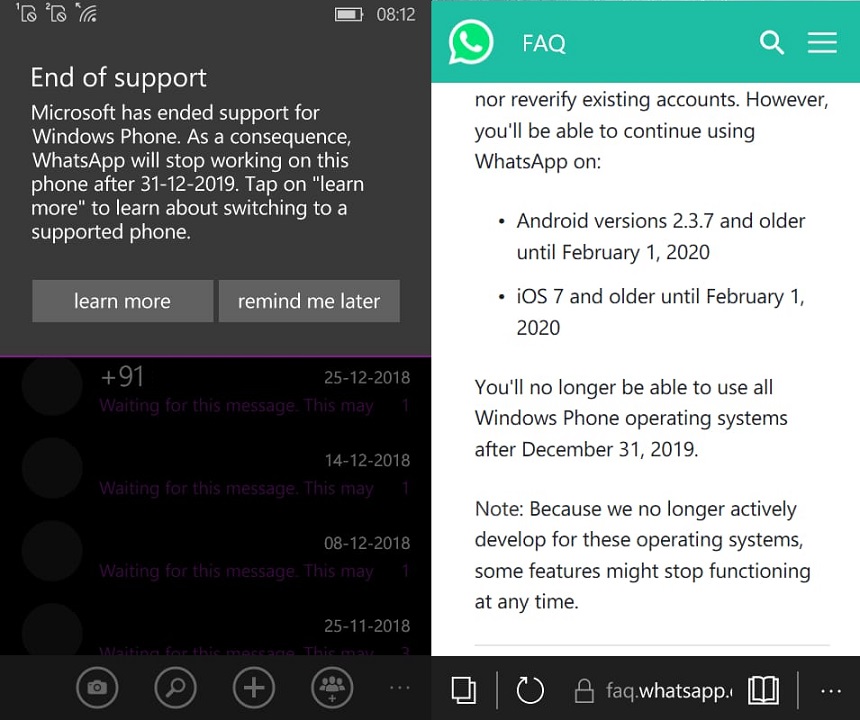 WhatsApp is still maintaining its Windows Phone app as the company had recently released an update with a security fix for a vulnerability.
WhatsApp's new Windows 10 app rumours
Reports recently claimed that Facebook is working on a new WhatsApp app for Windows 10 devices and the app is said to be built on UWP platform.
The reports of new UWP app from Facebook hasn't been confirmed, so take this with a healthy dose of scepticism for now.