Microsoft is quite passionate about making an extraordinary foldable mobile device. The latest discovery shows that the U.S. Patent and Trademark Office has granted the patent to Microsoft for a hinged computing device with the function of recording and delivering 3D audio.
Computing devices with singular or dual microphone system cannot achieve this. Microsoft's patent claims that the hinged device will have microphones in precisely spaced locations and it will have that computing power that can capture one or more face characteristics for customizing the binaural audio stream for a user. This device also can capture ambient noise of nature or a city in 3D audio system.
The patent is titled "HINGED COMPUTING DEVICE FOR BINAURAL RECORDING" and it was published by USPTO on November 15.
Overview of the Patent
The hinged tablet-like computing device will have a pair of microphones positioned in such a way that approximates the user's ear-to-ear spacing by putting two device modules such as- a first device component with the first microphone and a second device component with a second microphone. These two device modules are pivotally connected to each other to make a binaural computing processing module.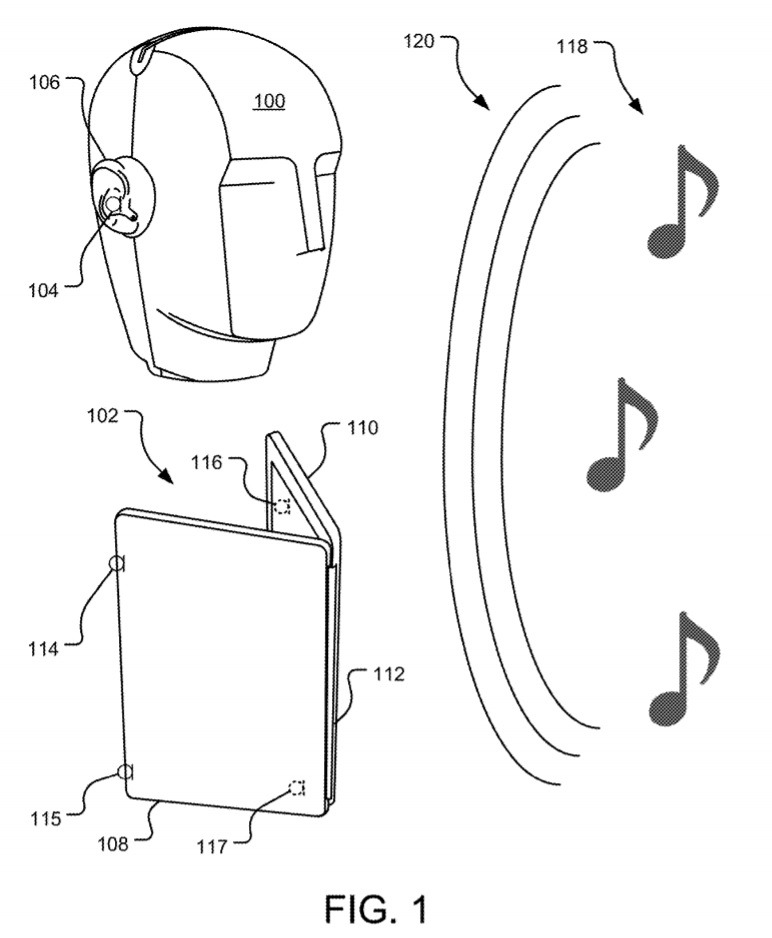 The binaural processing system will collect the sound data from the first microphone within the first device component and then from the second microphone within the second device component for doing the rest of processing.
This method consists of creating an angle between two pivoting device components. The recording of this device's environment may be conditioned and reproduced as a binaural stereo audio feed for playback.
"Conventional stereo audio recordings do not factor in natural ear spacing or "head shadow" of a user's head and ears. Head shadow occurs naturally as the user listens to his or her surroundings, which generates ITDs (interaural time differences) and ILDs (interaural level differences). The hinged computing devices disclosed herein incorporate a pair of microphones that approximate the user's ear-to-ear spacing and orientation, as well as a physical structure that approximates the user's head shadow. A resulting recording of the computing device's environment may be conditioned and reproduced as a binaural stereo audio feed for selective playback to the user or other users," Microsoft explains.
What do you think about such a device? Let us know your thoughts in the comments below.