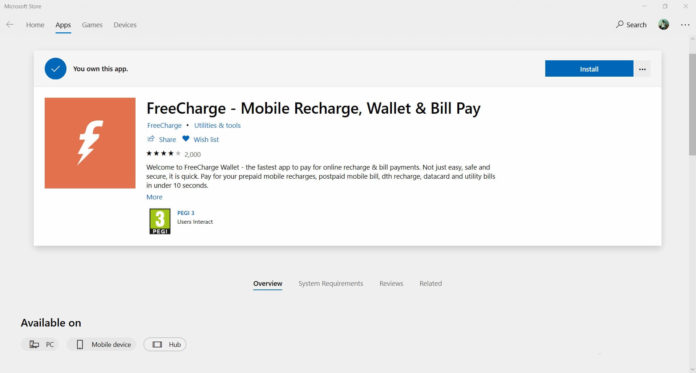 FreeCharge, a popular app that provides facility to recharge any prepaid mobile phone, postpaid mobile, and similar services is ending support for Microsoft's Windows platform.
In an email sent to the users, FreeCharge announced that it's ending support for its Windows 10 app which is available for PCs and Phones.
FreeCharge is still available for download in the Microsoft Store but it'll stop working on August 29. According to FreeCharge, the Windows 10 users won't be available to login to the app and you're recommended to download Android or iOS app.
Yes, FreeCharge Windows app is shutting down on 29-Aug-2018. Please use our Website, Ios, Android App.

— FreeChargeCares (@FreeChargeCares) August 24, 2018
It's worth noting that you can still use FreeCharge website in Microsoft Edge or other browsers.
"Hi, We are writing to let you know that we are shutting down the FreeCharge Windows app from 29th August 2018. After 29th August, you will be unable to login to your Windows app. We apologise and recommend you use our website instead. You can also download our app for Android and iOS devices," FreeCharge said in a statement.