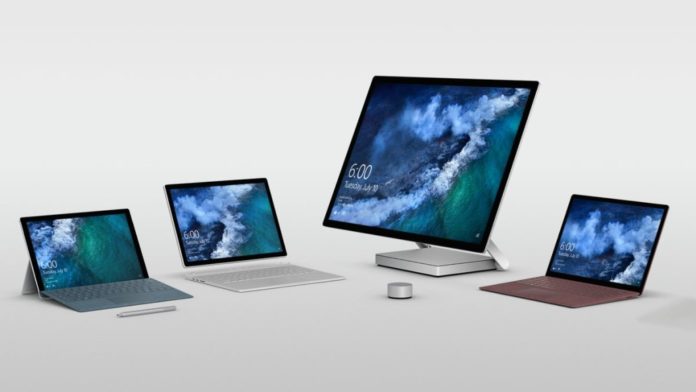 Over the past few weeks, several reports from multiple sources have leaked the Microsoft's low-cost 10-inch Surface devices. The long rumoured Surface tablet has already cleared the FCC and another report confirmed that the device will be powered by Intel's low-cost Pentium processor.
A post on social media platform Reddit claimed that Microsoft might launch the 10-inch Surface as early as this week. Microsoft in a tweet appears to be teasing a new Surface device announcement for tomorrow and it could be none other than the low-cost Windows 10-powered tablet.
"Where will Surface go next?" the official Twitter handle of Microsoft Surface said in a tweet. There's not much to this latest post, but the image shows the current Surface lineup with a date of July 10th displayed on the screen.
It's worth noting that the Surface devices in a tweeted photo feature a date of July 10th and a time of 6AM.
Where will Surface go next? pic.twitter.com/9lz3MJmBAT

— Microsoft Surface (@surface) July 9, 2018
A leaked document posted on social media website Reddit claim that Microsoft Stores will be adding "New Microsoft Hardware Display and Type Cover" on Friday, July 13th.
https://twitter.com/stroughtonsmith/status/1012767411156799488
A previous Bloomberg report suggested that the 10″ tablets would be powered by Intel processors and the higher-end model will feature a Pentium Gold processor.
Surface 3, which was the last 10-inch Surface tablet from Microsoft came with Intel Atom processors.
It makes sense for Microsoft to go with Intel Pentium processor to make the tablets more affordable than the Surface Pro. We should also expect these tablets to come with 20% lighter body and rounded corners. Unlike the latest Surface devices, this tablet will feature a USB-C port and an LTE option will be offered as well.
It's a small and underpowered device compared to the 12-inch Surface Pro. The rumoured Surface Tablet will run full Windows 10 operating system and it could start at $400.
It will compete with Apple iPad in the education niche and it could be a great value for consumers, teachers, students and Microsoft fans.