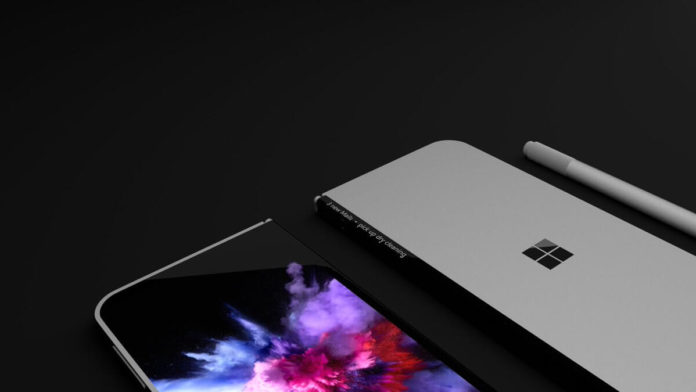 Earlier this week a code in latest Windows 10 preview build revealed that the rumoured Andromeda (commonly referred to as Surface Phone) could support five different modes depending on the positions of the screen. A new report now claims that Microsoft's rumoured Windows 10 mobile-type device, codenamed Andromeda has appeared in a internal email.
The reports and patents have revealed that the rumoured Andromeda is an ambitious project that could be a 2-in-1 device and not a new smartphone. It will feature a dual-screen design and it could offer several form factors. The patents suggest that the device will use hinge to enable support for multiple form factors,  depending on the positions of the displays.
The reliable media outlet The Verge has obtained a internal document and it claims that the rumoured Andromeda could be a pocketable Surface-branded Windows 10 device.
The leaked document adds that the device will blur the lines between mobile and stationary computing. Microsoft's Andromeda is supposed to create a "new and disruptive" device category. Microsoft's Surface team is reportedly developing the device that is innovative and it could create a truly personal and versatile computing experience.
It's likely that the rumoured foldable mobile device will offer different capabilities based on screen orientation. It will apparently support a stylus and include notepad-like apps as well. Certainly, there's more to find out about this ambitious project.
The report also adds that Microsoft is planning to launch the innovative Windows 10 device later this year.
The latest evidence
The code discovered in latest Windows 10 preview build revealed that the software giant is still working on a dual-screen device, Andromeda. The code in Windows 10 suggests that there may be five positions that would be supported by mythical Andromeda.
The five modes are closed, concave, flat, convex and full. The first one apparently suggests that the pocketable device could be closed like a book and concave could be similar to the laptop form factor. The third mode represents the tablet mode.
It appears that the Redmond-based tech giant Microsoft is moving a step closer to inventing a new product category.
It's worth noting that the latest prototypes also feature phone calling capabilities. We'll learn more about this device in coming months as we get closer to the launch date.