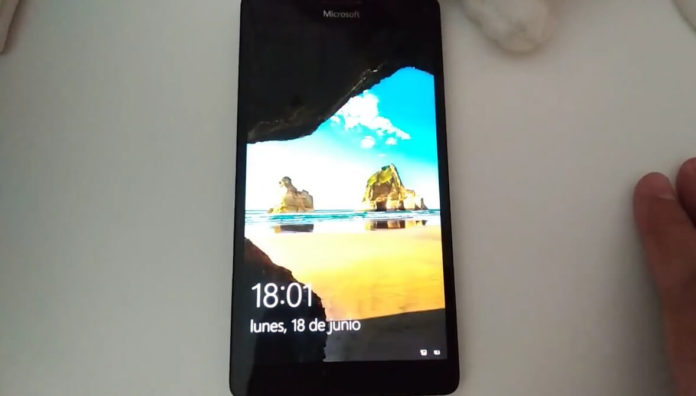 Running full Windows 10 on a phone has long been a dream for many Microsoft enthusiasts, and while the software giant is not working on such a project, the developers have shown us a preview of full OS running on a Lumia Windows Phone.
The project shows that it is possible to run Windows 10 ARM with an older chip (in this case, Lumia 950 XL is powered by Qualcomm Snapdragon 810, paired 3GB of RAM).
The recent hacks discovered by developer Ben has allowed the fellow enthusiasts to install the full version of Windows 10 ARM on Lumia devices and, naturally, some of them decided to take this project to next level by dual-booting the two OSes on Lumia phones.
José Manuel Nieto Sánchez recently uploaded a video on YouTube demonstrating a Lumia 950 XL running both Windows 10 ARM and Windows 10 Mobile. The developer has somehow managed to dual-boot Windows 10 ARM and Windows 10 Mobile on Microsoft Lumia 950 XL.
This is not the first time we've seen Windows 10 running on a Windows Phone, what is a first, however, is the hack that allowed the Lumia 950 XL to dual-boot Windows 10 ARM and Windows 10 Mobile at the same time.
But don't get your hopes up yet.
The project is a living proof that it's possible to run the OS on lower-end devices. And while the method of hacking the phone is available, but unless you're a developer familiar with the things, we'd suggest leaving this project altogether.
While it's indeed possible to hack Windows Phone and dual-boot two OSes, but the feat is largely a tech demo at this point. There are multiple incompatibilities, issues and it's certainly impossible to live with such a device.
Microsoft hasn't optimized Windows 10 ARM for small-screen devices, and the projects like this are exciting, but it's still not feasible. It also sounds mind-bogglingly complicated, and not to mention risky.
The interface is of full Windows 10, and the icons are also very small because there's no code for Windows 10 to run the phone. It's too small for everyday use. It could have been useful only if the 950XL supported a pen or stylus.