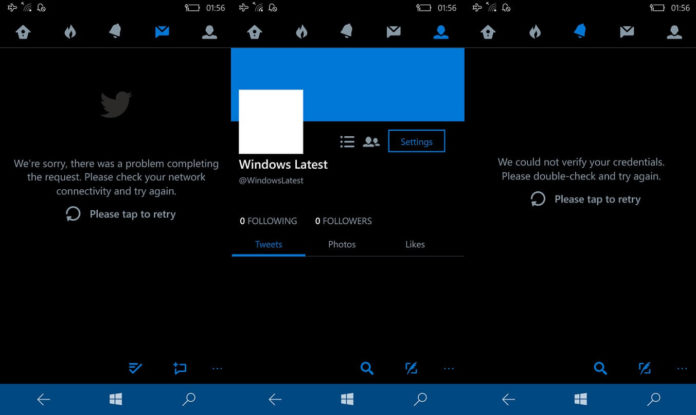 Twitter this week ended support for its old UWP app for Windows 10. If you're on a device that runs Windows 10 version 1709, Windows 10 Mobile and older, your Twitter app will stop working anytime. You can always upgrade your supported device to Windows 10 April Update 2018 Update and download Twitter's new PWA.
The Twitter app is not unsupported as of June 1. If you open the Twitter app on your Windows 10, it will show a network error or it will fail to verify the credentials.
Twitter's new Progressive Web App (PWA) is available in the Microsoft Store for a while now, and it works only on devices with Windows 10 April 2018 Update and Fall Creators Update or newer.
With Windows 10 version 1803, Microsoft introduced support for Progressive Web App, which allows a web app to work more like a native app. Unfortunately, the new app is not available on phones, as it doesn't support PWA.
You'll no longer be able to use the Twitter's old UWP app on Windows 10 version 1709 (and older), Windows 10 Mobile, Windows 8, Windows Phone 8 and 7. Of course, the news isn't exactly surprising.
Twitter's UWP app for Windows 10 devices hasn't received updates in a long time. The app doesn't even support Twitter's new characters limit and other features. You can upgrade to the supported devices to download PWA, or use Twitter's new mobile website, which is a web app and provide a better experience than the UWP.
"We encourage everyone to update the Windows app as soon as you update your OS as previous versions will no longer be available for download starting today and no longer supported starting June 1st.  If you're running Windows 8.1 or below, you can access the latest update by updating to Windows 10 or through twitter.com in your browser to continue enjoying the full Twitter experience," Twitter said last month.
Microsoft appears to be committed to Progressive Web App, and the company in a blog post also promoted Twitter's PWA. The app is on a par with Android and iOS, it supports longer tweets, explore tab, bookmark, night mode, taskbar pinning, push notifications and more. Additional features are coming soon.
As noted above, you can download Twitter's new PWA from the Microsoft Store on devices running the Windows 10 April 2018 or Windows 10 Fall Creators Update.