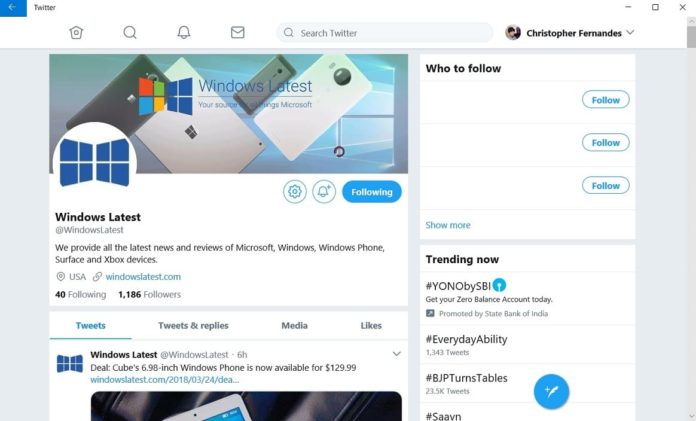 Last month, Twitter made their new Progressive Web App (PWA) for Windows 10 official and confirmed that they are still committed to Microsoft's desktop platform. Twitter today in a series of tweets announced that they are updating the Windows 10 app with support for night mode and more.
Twitter for Windows 10 has been updated with night mode feature, ️real time updates on reply, Retweet, and like counts, and a new Tweet compose box.
The update for Twitter is finally bringing the Windows 10 app inline with the features found in the native apps on iOS and Android.
What's new in the latest update for Twitter PWA
You can now switch to night mode for all that midnight scrolling.
The reply, Retweet, and like counts now update in real time.
The new Tweet compose box has been designed to allow you to move more easily between your Tweet and timeline.
Interestingly, the dark theme in Twitter PWA for Windows 10 will be enabled automatically if you're using dark mode system-wide. The new Tweet compose box has been redesigned to appear as a popup box rather than a dedicated page that overlays the timeline.
Twitter has also improved the performance of the PWA on Windows 10. It is also worth noting that the above-mentioned changes are also available on Twitter's web version, Android and iOS apps.
"This release represents a renewed commitment to Windows that has been long overdue and is part of a longer-term strategy to reach greater feature parity to all of our platforms. We wanted to make sure the app represented a modern Twitter experience while taking advantage of unique Windows features," Twitter said last month.