Last week we discovered that Microsoft quietly updated the support page to announce Windows 10 April 2018 Update for mobile devices. Windows 10 Mobile is currently in maintenance mode and the new update for the operating system was certainly surprising for everyone.
While the announcement of Windows 10 Mobile April 2018 Update seemed to be an error on Microsoft's website, some people believed that the software giant is preparing a big update for the mobile operating system.
As speculated, this support article was merely a mistake on an employee's part, and Microsoft yesterday rectified the error. The company on May 9 quietly updated the support page and changed Windows 10 Mobile April 2018 Update to Fall Creators Update. The page in question no longer states any new big update Windows 10 Mobile.
It apparently makes sense now as Microsoft has never publicly discussed the Windows 10 Mobile 2018 Update for mobile devices, and the company has already confirmed that no new feature update is in development for the Windows Phones.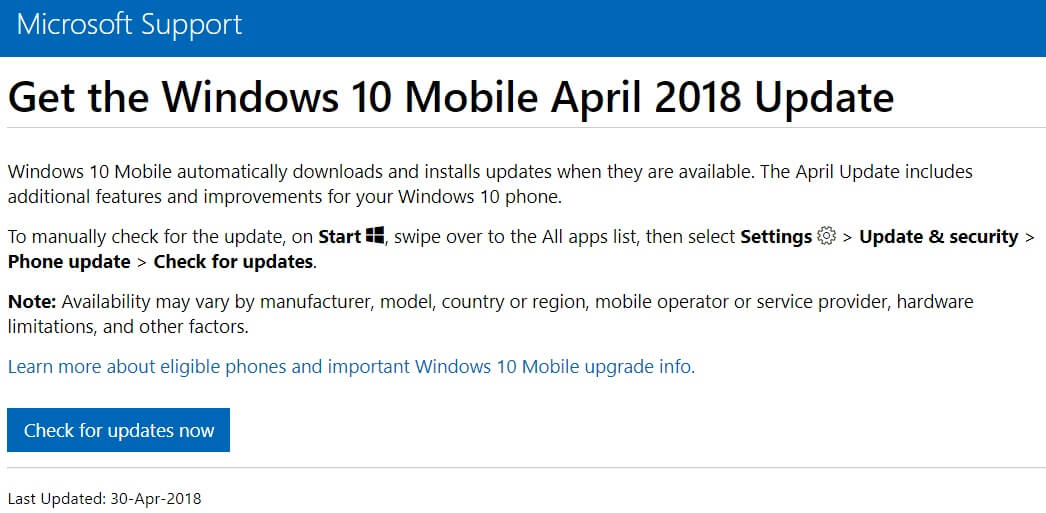 "Windows 10 Mobile automatically downloads and installs updates when they are available. The Windows 10 Fall Creators Update includes additional features and improvements for your Windows 10 phone," the support page explained.
While no new feature updates are planned for Windows 10 Mobile, Microsoft will continue to provide security updates for the supported phones until late 2019. The availability of Progressive Web Apps in the Microsoft Store could also help the platform in the long run.
Unfortunately, Windows 10 Mobile still won't be getting any new feature updates, but the patches will be continued to be released. After 2019, Microsoft will dump all Windows Phones and security patches will be released.
Microsoft is however believed to be working on Windows Core OS for a new mobile-type device codenamed Andromeda. The foldable tablet is expected to launch later this year and while it's going to be a tablet with foldable body, the new form factor device could come with phone capabilities. The device will run Windows Core OS, a modular version of Windows 10, rather than Windows 10 Mobile. The Windows Core OS if ever launched will feature a new interface optimized for all form factors.