Microsoft's Joe Belfiore last year announced that no new feature updates for Windows 10 Mobile will be released, and recommended customers to switch to iPhone and Android if the company's mobile platform doesn't meet their needs. Microsoft would discontinue Windows 10 Mobile in late 2019, which means that all of the phones will stop receiving the security updates.
It looks like that Microsoft has quietly updated the support page with more information about the next update for Windows 10 Mobile. More information about Windows 10 Mobile April 2018 Update has been spotted on Microsoft's support site.
Microsoft's support page is promoting Windows 10 April 2018 Update for phones and notes that the April Update includes additional features and improvements for Windows 10 phone. The company says that the Windows Phones will automatically download and install the April update when available.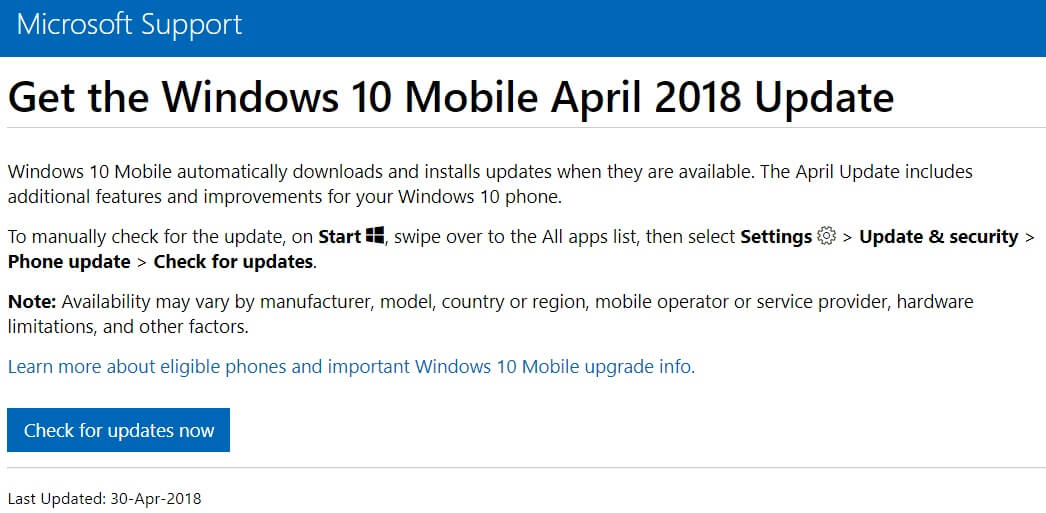 Furthermore, the page also provides instructions on how to get the Windows 10 Mobile April 2018 Update. But if you'll check for updates on your phone, nothing shows up and it's not known whether all Windows Phones are supported. Microsoft has also added a link to the list of supported phones but the information is for Fall Creators Update.
It is also worth noting that there's a good chance this is just an error, and there's no such thing as Windows 10 Mobile April 2018 Update. But it could be possible that Microsoft is developing a new update for Windows 10 Mobile with additional fixes and improvements. Or maybe there's something big coming to Windows phones? Of course, not.
On the other hand, Windows 10 April 2018 Update is already available for PCs, and Microsoft could release the feature update to more PC users on Tuesday, but it's not clear if Windows Phones are part of the rollout or not. On the same day, Microsoft is also expected to release this month's Patch Tuesday security updates for Windows 10 Mobile.
Windows 10 Mobile will continue to receive support until the late 2019 but it won't be getting any new features, and no new devices are planned either.