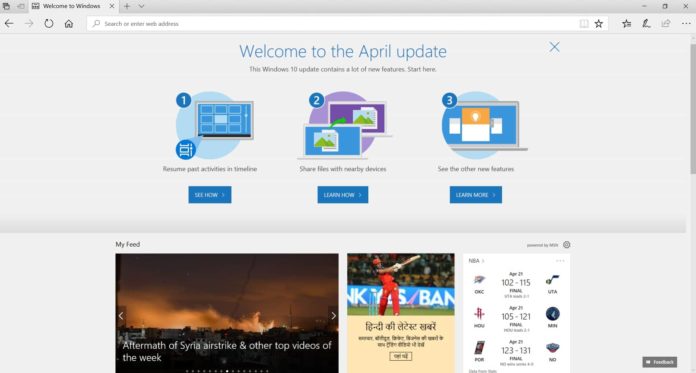 Microsoft recently pushed a new RTM build to all rings of the Windows Insider program, suggesting that the company is ready to begin the public launch of Windows 10 Redstone 4. Today, Microsoft has confirmed that the next version of the operating system could be called "Windows 10 April Update'.
Microsoft Edge is getting a server-side update in the Redstone 4 builds and the browser displays a new welcome page which confirms that the "Windows 10 April Update" could be the name of the next update. The welcome page is also promoting the features of Windows 10 April Update including Windows Timeline. You can find the welcome page here.
This could also mean that Microsoft is very close to completing the testing process of the RTM ahead of the release. The company has already pushed the Windows 10 Build 17134 for download for users in the Fast, Slow, and Release Preview rings.
It is, however, worth noting that the release depends on the bugs and other factors. If no major bugs are found, the update could be released as soon as next week, and the second wave of the update should begin next month. It shouldn't be surprising as Microsoft prefers gradual rollout of the operating system.
Microsoft was supposed to begin the rollout of Windows 10 April Update on April 10 but the company delayed the launch after it discovered a critical blocking bug in the previous RTM build. There is one more bug in the operating system that causes the Settings app to crash when changing the default app. Microsoft is aware of the bug and it could be fixed with a cumulative update.
Microsoft delayed the next version of Windows 10 operating system to avoid any potential upgrade issues that could have happened on some devices when installing the update.
The said cumulative update could be released in the coming days and it would add final touches to the RTM build. Microsoft could publish another cumulative update on day one in order to fix some bugs.
Earlier it was believed that Microsoft could call the update as Windows 10 Spring Creators Update, but the plans have changed and the April Update name certainly makes more sense given that the update will be released this month. It is worth noting that Windows 10 version 1803 will remain same regardless of the public name or release date.