It's no news that Microsoft has discontinued Windows Phone. Everyone knows that even Microsoft has no commitments left for Windows Phone. The platform may still have a few million users and that count is reducing at a slow rate. Mostly because these few people love the platform or the rival platforms doesn't excite them. Windows Phone users are very well aware of its limitations and they are still putting up with it. Loyal fans still praise the platform for its security and unique UI.
As of now, third-party Windows Phones are no longer available even in Microsoft's online stores. Of course, it doesn't mean that Windows Phones are completely off the market. You can still get some models from offline Microsoft Stores and other online and offline vendors. Microsoft has already ceased production of Lumia smartphones. So the chances of getting a Lumia are pretty low.
The HP Elite X3 and the Alcatel Idol 4S were the only two models left in the Microsoft Online Store but recently these have also gone out of stock. It appears that even third-party Windows Phones are running out of stock at the company's one store. The Elite X3 which was originally available for 799$ got a price cut to 299$ and the Idol 4S got a price cut to 99$ from 299.99$. These were quite compelling deals for a Windows Phone fan.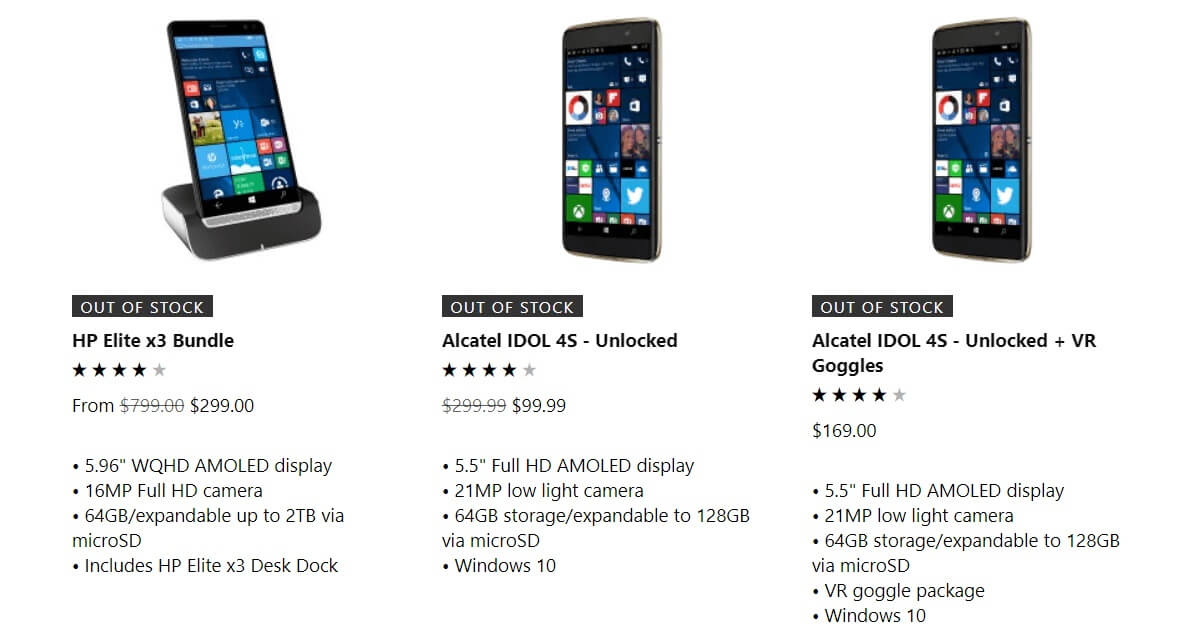 Microsoft has often been accused of moving away from consumer-focused business model to the enterprise-focused company. Microsoft needs to generate profit, and needless to say, the enterprises are becoming the company's main cash cow for the products that it builds.
In the past few years, Microsoft has started treating both enterprise solutions and Windows for consumers equally. Needless to say, assuming that Microsoft is de-emphasizing Windows is absurd.
In comparison to Android and iOS, Windows Phones indeed had a small user base but it was one of the most-loved mobile platforms we ever had. Windows Phone's live ties differentiate it from Android, and reliability is one of the reasons why some people are still using Windows phone these days despite Microsoft itself confirming that there are no plans for any big update.