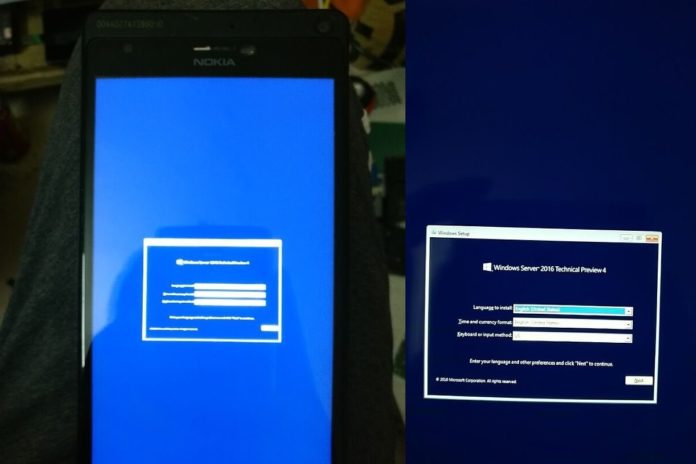 While the enthusiasts are booting Windows RT on Windows Phones, a developer has successfully managed to run the Windows 10 ARM64 installer on an unreleased Lumia 950 prototype. It appears that the project which is supposed to bring Windows 10 ARM operating system to Windows Phones is advancing pretty nicely, though there are many bugs and we are not sure whether the developer has successfully installed the OS or not.
The screenshots shared on Twitter shows an unreleased Lumia RX-130 (a Lumia 950 early prototype) and the handset is running Windows 10 ARM64 (Windows Server 2016) installation screen.
Lumia RX-130 is actually the Lumia Hapanero, a Windows Phone which was created for demo at Build 2015 developer conference. The Lumia Hapanero also had Surface Pen support and sensitive touchscreen. According to reports, the Lumia Hapanero was powered by Qualcomm Snapdragon 810 processor with 4 GB of RAM and 32 GB of storage.
Recently, a developer managed to install Store apps on the Windows RT-powered Lumia 640 XL Windows Phone. Since Microsoft isn't involved in this project, the developers couldn't fix the bugs that are super-difficult to address. The developer Ben has already managed to install Windows RT and fixed the bugs that were blocking the installation of Windows Store applications.
The Lumia Windows Phone handset running Windows RT or Windows 10 ARM cannot perform certain important tasks such as the ability to make cellular calls, it is one of the limitations that the developers can't deal with it. "Windows and Windows Phone shares a different RIL stack, unless you develop a set of tools that deal with AT commands, you will not get cellular connectivity on Windows RT on Lumias," the developer explained.