Today, yet another patent has confirmed the existence of Microsoft's foldable mobile device 'Surface Phone'. Similar to the previous patents, this new patent of Microsoft's Surface Andromeda also gives us a closer look at the foldable body of the mythical device. With this patent, Microsoft has finally addressed the haptic arrangement in the foldable mobile device. Haptic Feedback basically lets the user know a touch has been accepted.
"A multiple part electronic device is disclosed, the device comprising a first housing portion, a second housing portion, a connecting element that mechanically couples the first housing portion to the second housing portion, and a haptic element configured to induce a haptic effect arranged in at least one of the first housing portion or the second housing portion. The haptic element is in direct contact with the connecting element. The connecting element is a haptics guiding element configured to transmit the haptic effect between the first housing portion and the second housing portion," Microsoft explains.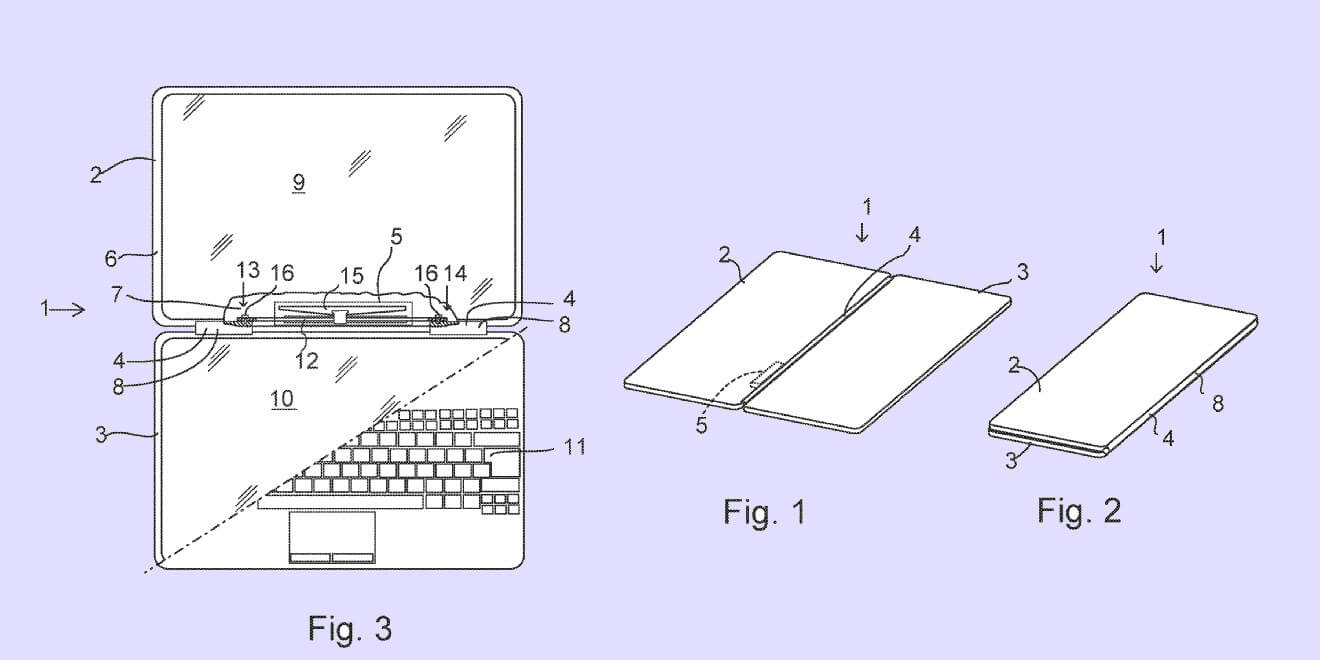 The haptic element has been implemented in such a way that it is in a direct contact with an element that connects to two displays of the device. "At least some of the embodiments may allow that the haptic effect, such as vibration, is amplified by the mass of said housing portion whereto the haptic effect is transmitted via the connecting element, and a strong haptic feedback can be generated therein without having to arrange further haptic element in that another housing portion," the company added. Microsoft applied for this patent on 18th August 2016.
Yesterday, we reported about a statement from Microsoft executive on 'Surface Phone'. Anant Maheshwari, President for Microsoft India, in an interview revealed that the company is working with OEM partners to improve the mobile experience.
"I would say in the form-factors we are currently really focused on, clearly the Surface line of products which has Surface Hub, the Surface Studio, the Surface Book and the Surface Pros, we have a lot of capabilities across those devices, and we are continuing the focus on those form-factors," he said.
It's worth noting that the patent of the foldable mobile device does not confirm that the Surface Phone or Andromeda is on its way. The rumoured device will be powered by Snapdragon processor and run on Microsoft's latest Windows 10 ARM project.
According to the latest updates, Microsoft's foldable mobile codenamed Andromeda is not a typical smartphone, the device is more like Microsoft's cancelled Courier, a booklet form device. The rumours also claim that Microsoft is testing an improved version of OneNote application and Surface Pen for the note-taking capabilities of the device. One of the latest patents recently painted the design of the device where two different screens are attached using a hinge and the device could produce a single image with no gap between the screens.