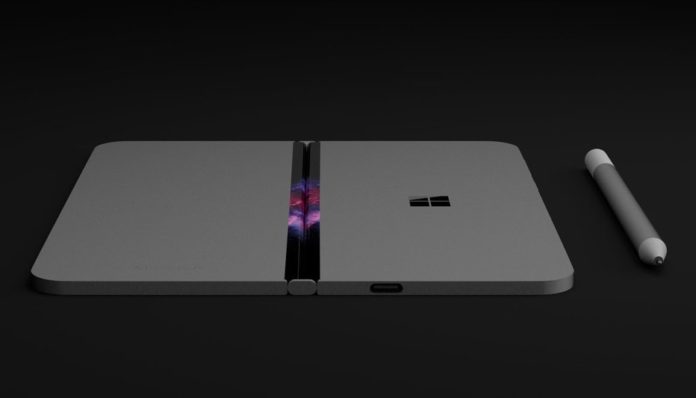 Microsoft is working on a new mobile device with a unique design. The ultimate mobile device 'Andromeda' which appears to be commonly referred to as "Surface Phone" on the web, is reportedly arriving next year. Patents that have surfaced lately shows us a mobile device with foldable body and display. Today, we have discovered yet another patent and unlike the previous patents, this one gives us a closer look at Surface Phone's hinge design.
The patent titled "Hinge with Free-Stop function" shows us a mobile-type device with a hinge that supports rotation of 360-degree. Microsoft patented this design as the users are looking for devices with larger displays since they provide a richer and better user experience. Microsoft says that the patented device is for those users who want their phones to fit in their pocket despite the large display size.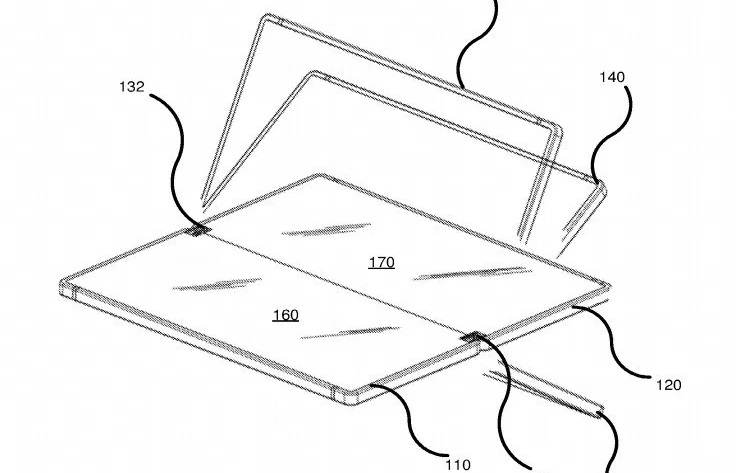 "With a dual-display device, the mobile phone or tablet can include an open, expanded position where both displays are flush so that the user feels like there is a single integrated display. In a closed, condensed position, both displays are face-to-face so as to protect the displays. In a fully-open position, the dual displays can sit back-to-back so the user needs to flip the device to view the opposing display," Microsoft explains why a foldable phone-phablet-tablet makes sense.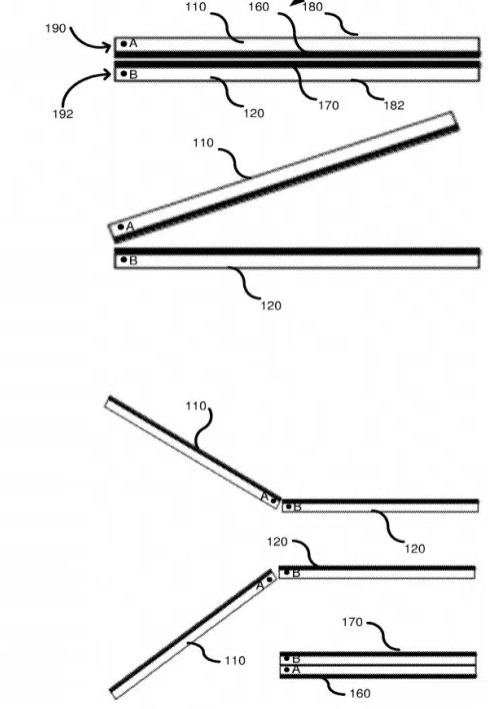 Microsoft also explains the hinges on such dual-display devices are problematic. The "problems include that the displays do not open and close smoothly. Yet another problem is the ability to stop the displays in any position as the displays are opened and closed," the company explained.
The patented design could be implemented in any handheld device such as 'smartphone and laptop,' or a portable computer. The hinges in such devices allow a full 360-degrees of rotation between the first and second display devices. The company also explains that the patented device could potentially be used in different "modes" including 'tablet mode'.
Recently a skilled designer David Breyer created some renders of the mythical Surface Phone. The concept imagines a foldable mobile device based on all these latest patents and the look of the device is similar to Microsoft's Surface laptops lineup. The conceptual foldable device is pictured in burgundy and cobalt blue.
The report claims that the alleged Surface Phone could convert from tablet to laptop and note-taking device. Unlike the ZTE's foldable phone, Microsoft Surface Andromeda is supposed to create one seamless screen when flat. The ultimate mobile device is also rumoured to feature Surface Pen support since the key feature of this device would be note-taking capabilities. Microsoft's foldable phone is something that could easily crush the competitors, include Apple's iPhone.