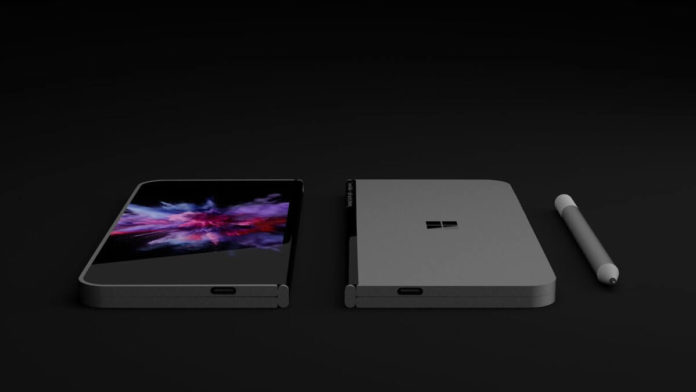 It was a good week for Microsoft's Surface Phone / Surface Notepad patents and references. For the first time, Microsoft's internal documents detailed the features of the foldable phone. Today, a fan has converted the mythical Microsoft's foldable mobile device into a concept. This new concept of Surface Phone / Surface Notepad paints a much clearer picture for the foldable mobile device based on the latest patent.
The concept shows a device that doesn't look like other offerings in the smartphone world. We've seen patents, software details and more so far, but there hasn't been a stunning concept like this one. Designer David Breyer today shared images of Microsoft's foldable mobile device.
These beautiful renders of Surface Andromeda show a foldable device in two colours; Burgundy and Cobalt Blue. It seems that the body of the device uses Alcantara, a luxury fabric sourced from Italy, it features a soft, velvety feel. Microsoft is also using the Alcantara material with Burgundy colour on its Surface keyboards.
In the concept, the Surface Phone / Surface Notepad has two screens joined with a hinge and a USB Type-C cable at the bottom. The concept also shows different form-factors of the rumoured device.
The rumours have already confirmed that Microsoft's next mobile device could come in the form of a Courier-like model with the full version of Windows 10 on ARM. The device will also feature foldable body, thanks to innovative hinge design that will be used to obtain one seamless display. Recently, we came across a webpage that revealed Microsoft's plans for an exclusive ecosystem for Andromeda mobile devices, apparently, Microsoft still wants to fix that so-called app gap and this time it would be easy as Microsoft is also testing a modular version of Windows 10 operating system, internally referred as Windows Core OS.
As Microsoft keeps changing its strategy, a healthy dose of salt is obviously recommended when reading all of these stories. It goes without saying that this concept of the mythical foldable phone is stunning and it's likely that actual product might not look like this concept. What do you think about this concept? Let us know in the comments below.