Microsoft has been trying to increase market share of their search engine Bing, by introducing new features. Microsoft generally, tests any new features by first taking it to only selected users on the web and depending on their response or feedback they either make it available to all users or discards them. Since the last couple of month, Microsoft has tried different ways to allows users to do Bing search on Windows 10 like testing Cortana search UI with a new integrated Bing search, Bing Integration in the Photos app on Windows 10 etc.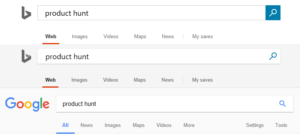 Now Microsoft has been testing a new UI for Bing search that has pretty much similar color selection to the way Google search UI has. In the picture shared to Windows community by MSPowerUser, we can easily identify that Bing Search now has a gray background which is same as of google search. Microsoft has also removed the dark blue color filled search icon and replaced it with a simpler search icon.
Bing has gained a lot of market share in 2016 when it reached nearly 21% in the US. And since Cortana is powered by Bing and is present on all Windows 10 devices and on all other smartphones platforms, this number is expected to go up. Our readers can tell us how they feel about this new search UI for Bing.