Microsoft has been testing a new Cortana search UI that has a much improved bing search integration. Earlier Windows 10 had a inbuilt cortana search which would give results directly into the cortana UI. But new images on Reddit reveals that Microsoft seems to be testing an improved integration of bing where the results are directly shown on an new side bar to the search UI of Cortana.
The sidebar is basically Bing optimized for small area where you would not only see your cortana search results but also having an option of searching images, News ,videos for the same search that you had done previously. You can see this by yourself in the two pictures below: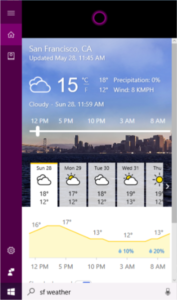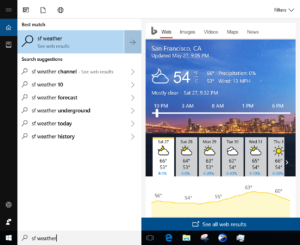 The new changed interface may be something that Microsoft would bring for all only after users feedback over this. Most would have definitely liked the old one which shows the search results in built into the Cortana UI. Even though the bing navigation bar brings different options to users for searching News, videos, images but that should have been part of Cortana Search. A user can search images directly if he/she wants by simply asking for images in Cortana search. But having another side bar is not necessary.
Our readers can give their views on this change in comments below.