WhatsApp Team released a new update to its Beta App on  Windows Phone and  Windows 10 Mobile. The app has been bumped to new version 2.17.24. The update for the app  brings some new features to the Beta App for Windows Phone. Below is the list of feature:
List of Feature:
New Status alert  (DISABLED BY DEFAULT)
Screenshot: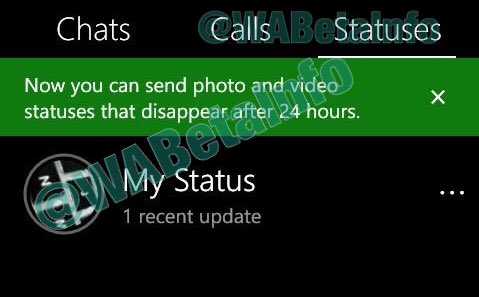 The company is releasing a lot of features which are currently Disabled for the app on Windows Phone. The team just yesterday released new hidden features like: New button to choose contacts who can see your Statuses, New UI for GIF, albeit Disabled by Default.
The team is working very hard on bringing more new features to the Windows Phone app and making it on par with Android and iOS. Hope the team will activate/enable the above hidden features in the coming Beta Updates sooner than later.
The update for the WhatsApp Beta app is currently live and you can get it by clicking the below link.