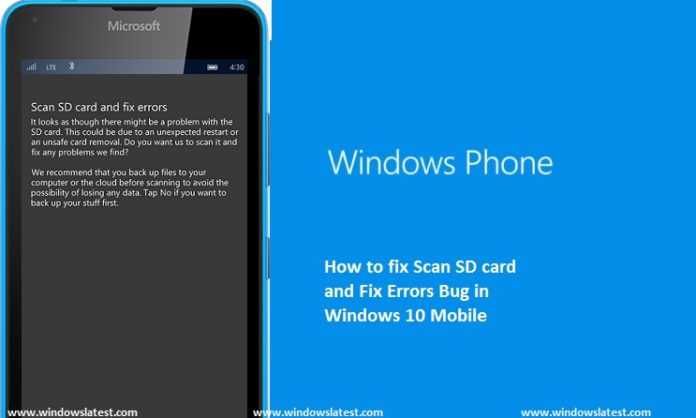 When you turn on your Windows 10 Mobile device, do you get get a pop-up message, "Scan SD card, and Fix Errors"? If yes, we have a solution to fix Scan SD card and Fix Errors annoying bug came up with Windows 10 Mobile. Our tutorial will not only fix up the "Scan SD card and Fix Errors" bug, it will also improve the performance of the apps and games installed in SD Card on Windows Phone. However, you will need to wipe your SD Card to get it fixed. Make sure to take a backup of SD Card before following the guide.
Remember that the performance of apps installed in SD Card will also depend on your SD Card's Class. For example, Class 10 Card has better performance compared to Class 4 SD Cards.
Steps to fix Scan SD Card and Fix Errors in Windows 10 Mobile
First of all, you need to have a PC and SD Card adapter
Go to This PC and right click on SD Card.
After context menu appears, click on format.
Change FAT32 to ex-FAT  as the File System.
Now select Default Size as Allocation unit size.
Click on start.
Now your SD Card has been formatted.
Fixed! Your SD Card is now supported by Windows 10 Phone and you will no longer get the error
Are you still getting any SD Card problem in Windows 10 Mobile? Let us know in the comments below.