Microsoft's new flagship phones, Lumia 950 and Lumia 950 XL are already available for purchase and the market share of Lumia 950 and Lumia 950 are growing slowly, however, we expect to see some more growths in market share of both Lumias after a few months when the price of the Lumia 950 and Lumia 950 XL will drop.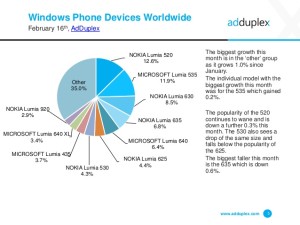 Today, AdDuplex published their new report of February 2016. The report is almost similar to the previous report, which was published in January 2016. However, the latest report again confirms Lumia 520 is still the most popular Windows Phone device but, the market of Lumia 520 has been dropped by 0.3 % which is negligible.
One other hand Lumia 535 market share has jumped by 0.2 %. Nokia Lumia 635 seen a major drop by 0.6 % which quite interesting. We expect to see more decrease in market share of Nokia Lumia 520 and others, as Lumia 650 and Lumia 550 has just arrived in the market.
Do let us know what do you this about the new status of Windows Phone Device, comments below: