KEY POINTS
Google is blocking some Microsoft Edge users from watching YouTube videos if they have the "strict" tracking protection mode enabled.
Microsoft Edge offers three levels of tracking protection: Basic, Balanced (default), and Strict. The "Strict" mode limits the tracking ability of companies like Google, possibly affecting content and ads.
Users encountering this issue on YouTube see a message indicating that ad-blockers violate YouTube's terms
Google won't let some users watch YouTube videos unless they turn off Microsoft Edge's built-in and optional tracking protection mode "strict".
Google has been trying to block ad-blockers with its anti ad-block feature on YouTube for a while now, and the experiment was first spotted in May. More users have now started seeing warnings and a pop-up message that blocks YouTube playback unless they turn off their adblockers. It looks like Google is also blocking Microsoft Edge users.
Our tests showed that Google has drawn a line for certain YouTube users who opt for Microsoft Edge's powerful tracking protection mode called "strict". Microsoft Edge, the default browser of Windows 11, comes with a tracking prevention feature that protects users from online tracking by limiting the tracking ability of companies like Google.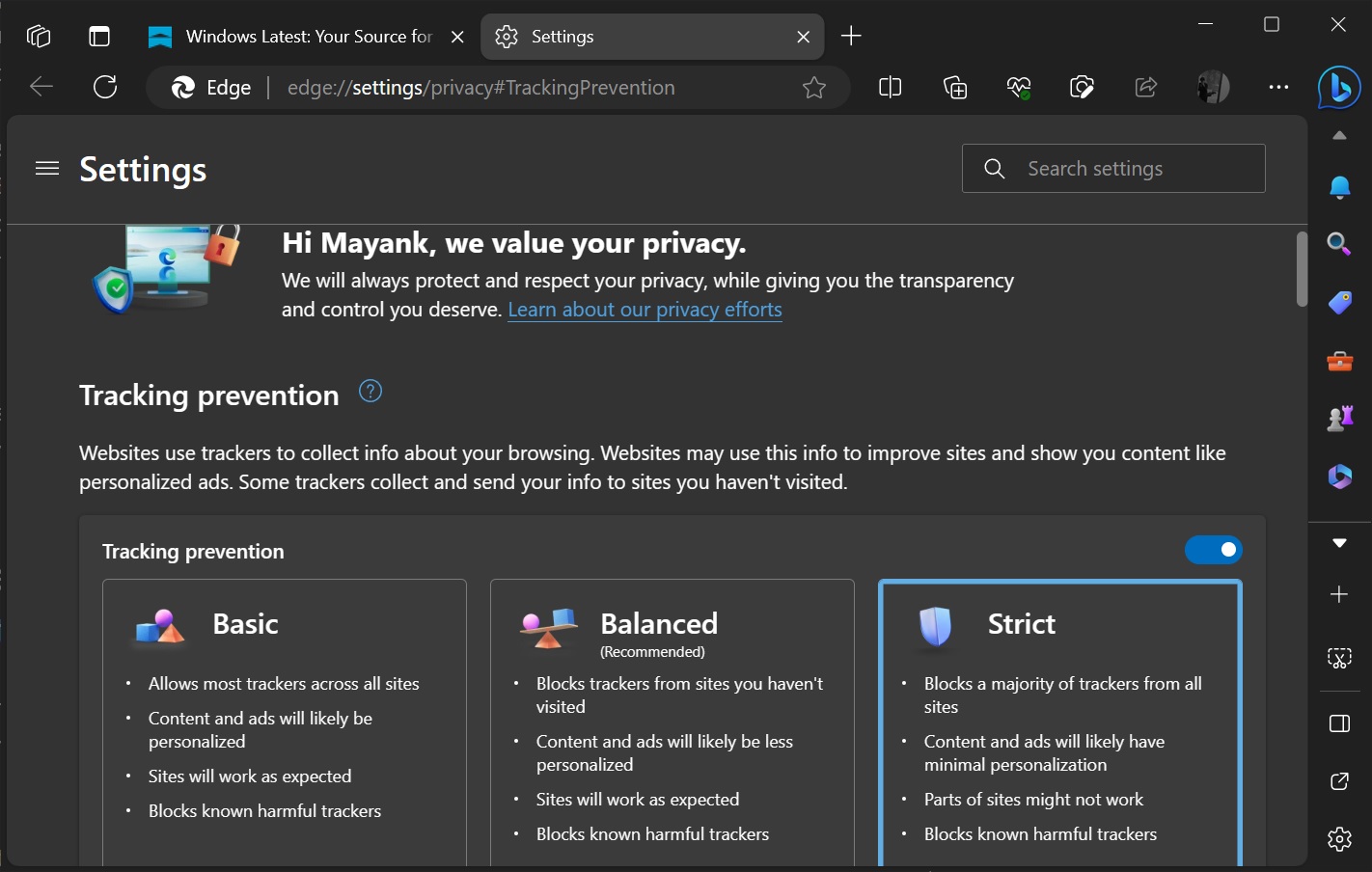 Edge ships with three protection modes – Basic, Balanced (Default), and Strict. The third and optional "Strict" mode may have minimal impact on "content and ads", according to Microsoft.
Google blocks YouTube in Microsoft Edge's tracking-protected sessions
In addition to our testing, multiple users using the "strict" mode of this protection feature on the Windows 11 default browser confirmed they are blocked from viewing videos on YouTube.
However, this doesn't seem to affect everyone, which makes sense as Microsoft claims the feature has minimal impact on ads.
Unfortunately, if you run into the YouTube adblocker pop-up, turn off the tracking protection in Microsoft Edge or switch to the default "Balanced" mode to resume video playback.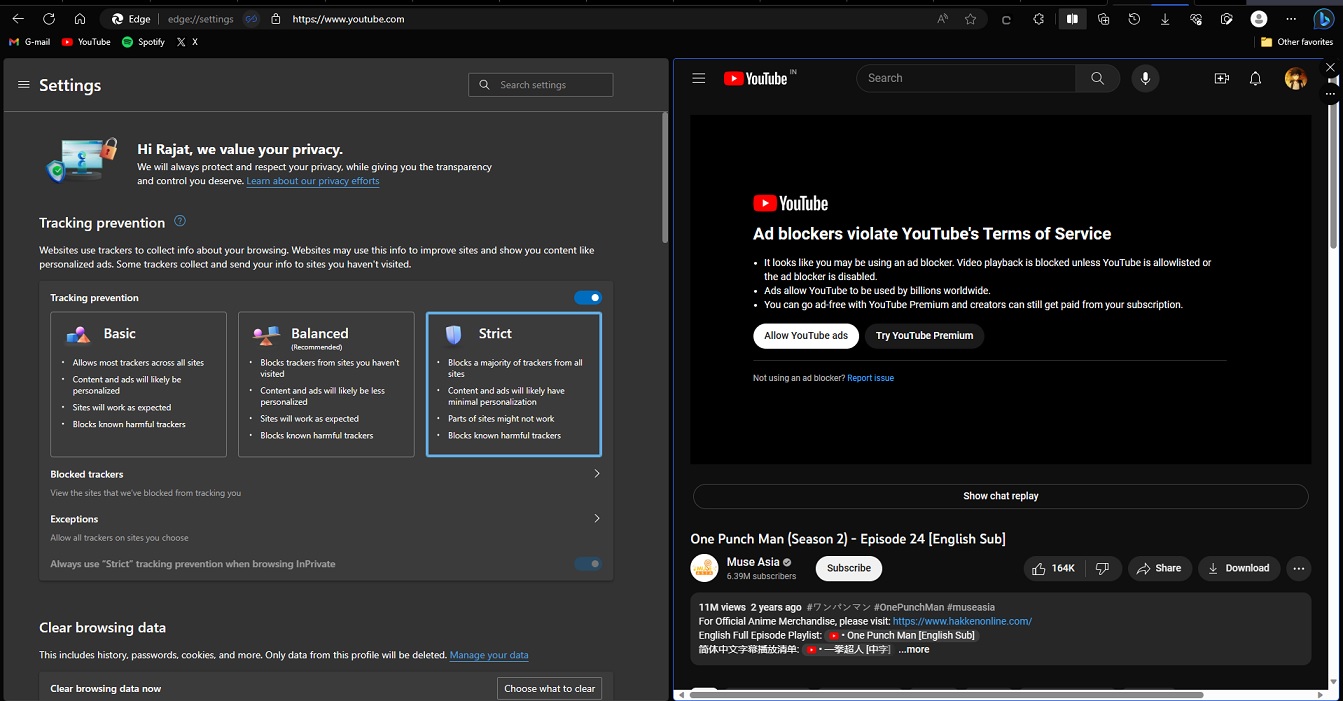 That's because Google doesn't want Microsoft Edge or any browser and extensions to block ad requests, and when requests are blocked, you will see the above screen.
The message appears in Microsoft Edge's strict mode and reads, "Ad blockers violate YouTube's Terms of Service." Google's standpoint is transparent on this matter. They argue:
It appears you might have an ad blocker activated. You must allow YouTube or turn off the ad blocker to proceed with video playback.
Advertisements enable global access to YouTube.
For an ad-free experience, users can opt for YouTube Premium, ensuring content creators are still remunerated.
You have two choices: allow YouTube ads or purchase YouTube Premium.
To provide a clearer picture, Microsoft Edge presents users with three distinct levels of tracking prevention. By heading to edge://settings/privacy, one can toggle between:
Basic: This mode is essentially for those who do not mind tailored ads and don't particularly shy away from web tracking. Its primary function is to thwart harmful trackers, focusing on threats like fingerprinters and crypto miners. This mode does not block ads.
Balanced: This is the default state of tracking protection in Edge, and it doesn't block ads on YouTube. It's crafted for users seeking fewer personalised ads, ensuring minimal disruption while surfing the web.
Strict: Tailored for privacy enthusiasts, this is the pinnacle of tracking prevention. It's for those willing to compromise on website compatibility for uncompromised privacy. This mode may have minimal impact on ads, and it may block ads or trigger YouTube alerts.
It's important to understand that Microsoft Edge's strict tracking protection doesn't block all ads but those which are believed to be tracking the user. When YouTube detects ad requests are blocked through any medium for any reason, it triggers the alert.
As a result, you will need to turn off tracking protection on Microsoft Edge or settle for its default "balanced" setting. Or wait until Google acknowledge the situation as an issue, which isn't going to happen anyway.